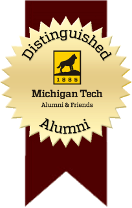 Presented by the Alumni Board of Directors to alumni who have made outstanding contributions both in their career and to Michigan Tech over a number of years.
2018 Award Recipients
Nominations
Anyone may nominate Michigan Tech alumni for the award which may be given out annually, as deemed appropriate by the Board of Directors. The deadline for nominations is December 1.
If you have any questions about the nomination process, or would like to submit a nomination by mail, fax, or phone, please contact Alumni and Friends at 906-487-2400, toll-free at 1-877-688-2586, or alumni@mtu.edu.
*Deceased