Julie Fream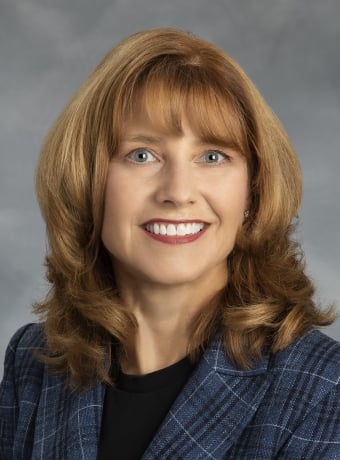 BS Chemical Engineering 1983
Having served as Chair of the Michigan Tech Board of Trustees and in numerous leadership positions in the automotive industry, Julie Fream has had a distinguished career since earning a chemical engineering degree in 1983.
"Michigan Tech changed my life. Through the opportunities and friendships, I was able to successfully launch my professional journey."
Fream currently serves as President and CEO of the Original Equipment Suppliers Association (OESA), a trade association for automotive suppliers.
Prior to that, she was Vice President of the North American Customer Group at Visteon Corporation, successfully working with many automotive manufacturers and launching numerous programs.
Fream began her career with General Motors in 1983 as a manufacturing engineer. She moved to Ford in 1989 and later had a five-year stint at TRW
In 1998, she moved to Visteon as the Associate Director of Global Marketing, Sales, and Service for the company's Ford account. She then was named Visteon's Director of Ford Sales, where she was charged with leading the sales activity for a four billion dollar account with Ford in North America. Fream also held roles of Director of Global Marketing and Vice President of Marketing. In 2002, she was named to Crain's Detroit list of "40 Under 40."
In addition to her work on MTU Board of Trustees (2011-18), Fream has served on the Michigan Tech Alumni Board of Directors (1988-2000). She currently serves as the Chairperson for the Beaumont Health Board of Directors.
"I have always felt it was very important to give something back to the broader community," she said. "I support Michigan Tech and other organizations to do this for the various communities I live and work in."
A native of Mt. Clemens, Michigan, Fream moved to Dearborn at the age of three and graduated from high school there in 1980. Along with her degree from Michigan Tech, Julie also holds a master's degree in business administration from the Harvard Business School.
Fream was presented with Michigan Tech's Outstanding Young Alumni Award in 1994 and its Distinguished Alumni Award in 2021.
Updated August 2021