Melvin Visser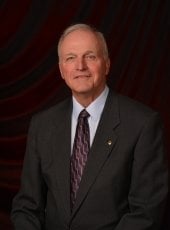 BS Chemical Engineering 1959
1938–2021
"Enjoy what you are doing. We are here to serve. Those who have gained knowledge and experience are obligated to share it with others in a beneficial manner."
Those are the words from Melvin Visser, this year's Distinguished Alumni Award recipient.
Visser, who graduated with a bachelor's degree in chemical engineering from Michigan Tech in 1959, says the post-World War II hype "better things for better living through chemistry" hooked him into the field and led him to Tech. And, he wanted a small school with hunting and fishing nearby.
At a jam-packed Dee Stadium hockey game, Visser moved to allow Gloria Curtin, a Suomi College cheerleader, a better view. He says he ended up with a wife, a family, a love of Lake Superior, and an education.
After graduation, Visser's early career was in the development of corticosteroid chemistry processes and antibiotic manufacturing at The Upjohn Company and in his later career he managed environmental compliance, retiring in 1995 as Vice President for Environmental Health and Safety. He obtained several technology patents, including that of soil vapor extraction, a widely-used tool to clean up fuel and solvent spills.
He and his wife have remained closely associated with Michigan Tech and the Copper Country. "Gloria's work with John MacInnes, in the Registrar's Office, led to a lifelong friendship and a lot of hockey association," he says. Visser would later serve on Michigan Tech's Alumni and Fund boards and was inducted into the Chemical Engineering Academy in 1995.
After retirement, Visser wondered why banned chemicals such as PCBs, chlordane, and toxaphene remained at static levels in Lake Superior and other waters. His quest, which included three trips to the Canadian High Arctic, was published as Cold, Clear and Deadly: Unraveling a Toxic Legacy by Michigan State University Press (2007).
Visser was invited to talk about this work at Tech and Valoree Gagnon, a student from L'Anse, became interested in the effects of fish consumption on the KBIC Tribal members. She, now Dr. Gagnon '16, has become an expert in indigenous issues. He later studied the role of methane hydrate in paleo-climatology and self-published The Climate Trap, a chemical engineering viewpoint of Earth's glaciations and de-glaciations.
The Visser's daughter, Lori '89, met her husband Paul '88, at Tech. Their daughter Emily Morin '17, met Ben Stelzer '15 at Tech. The couple will be married in September 2018 in Houghton. The Visser's son, Patrick, serves as the Chief Commercialization Officer of the Tech Smart Zone and board member of the Finnish American Chamber of Commerce.
For the past few years, the couple have sponsored Michigan Tech Enterprise projects with the goal of improving the life of the Copper Country elderly. Their first project allowed a neighbor with ALS to drive a computer with his eyeballs. Subsequent projects were launched with Little Brothers, Friends of the Elderly. One Little Brothers Enterprise project captured a $25,000 prize, one of 10 nationally, from the Ford Foundation, and a follow-up prize of $10,000.
"Working with the people of Tech and the Copper Country is not work, it is fun," Visser says. "We hope to continue the fun."