Bhakta Rath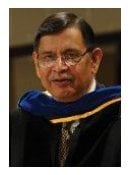 MS Metallurgical and Materials Engineering 1958
Honorary PhD Engineering 2007
Bhakta Rath '58 has used his Michigan Tech education to reach great heights, achieve honors at the highest levels, and sponsor important initiatives.
He was awarded the 2009 Padma Bhushan from the Indian government, its second highest civilian award. Established in 1954 by the president of India, it recognizes distinguished service of a high order to the nation in any field.
For Michigan Tech, he and his wife, Sushama, have endowed the Bhakta Rath Research Award. They hope to motivate Michigan Tech faculty and doctoral students to conduct the kind of research that will meet America's needs and the challenges of emerging technologies. The annual award will be $2,000, split between a graduate student and his or her faculty advisor.
A senior executive of the US Department of Defense, Rath is head of the Materials Science and Component Technology Directorate and associate director of research of the Naval Research Laboratory (NRL). For his long standing service for National Security he received NRL's Lifetime Achievement Award and the most prestigious Fred Saalfeld Award from the Office of Naval Research.
Rath has received awards from several countries, including the US, during his career, which spans more than four decades. He graduated from Ravenshaw College in 1954 and completed his master's and doctoral studies at Michigan Tech and the Illinois Institute of Technology. He joined the faculty of Washington State University in 1961. He was the commencement speaker at Michigan Tech's 2007 Midyear Commencement and was awarded an honorary doctorate.
He has published more than 200 technical papers and reports, received two publication awards, and edited and co-edited over twenty books on topics in materials science and engineering. He was elected 2004-05 President of American Society of Metals (ASM) International and to the Board of Trustees of the ASM Materials Education Foundation to promote science, engineering and mathematics education in high schools in the US, India, Canada, and other countries.
For his exceptional contributions to science, engineering and research management he has received a number of honors and awards including being conferred by President Clinton and subsequently by President Bush to the rank of Distinguished Executives in 2005, DoD Distinguished Civilian Service Award presented by Secretary Rumsfeld in 2006 and Doctor of Science, Honoris Causa from Ravenshaw University in 2010.
He has been elected to the National Academy of Engineering, and he is a fellow of the Washington Academy of Sciences, the Minerals, Metals and Materials Society, the Materials Research Society of India, and the Institute of Materials of the United Kingdom.
In 2011, the Alumni Association bestowed it's highest honor, the Distinguished Alumni Award on Dr. Rath in recognition of his outstanding contributions both in his career and to Michigan Tech over a number of years.