Dianne Marsh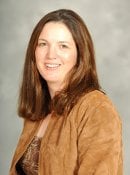 BS Computer Science 1986
MS Computer Science 1992
For the past 10 years at Netflix and throughout her distinguished career, Dianne Marsh has applied the lessons she learned at Michigan Tech to her work.
"The solid computer science fundamentals from Michigan Tech have made it possible to keep up in this ever changing industry," she said.
Marsh earned a BS in Computer Science (CS) from Michigan Tech in 1986 and a master's in CS in 1992.
Between her two Tech degrees, Marsh worked in industry as a software engineer for LECO Corporation, AEG-Mictron, and Candid Logic.
While at Michigan Tech, Marsh was a member of the Society of Women Engineers. She helped organize a student-led lecture group to instruct other students and was given an Outstanding Graduate Student Award. She has fond memories of her time on campus.
"My first memory of a professor at Michigan Tech was Linda Ott. I had no idea at the time that she would later agree to be my graduate student advisor and be such an influence on me and the University."
After earning her master's, Marsh worked for several different companies as a software engineer, independent consultant and software architect before realizing her dream of starting her own company. In 2000, she co-founded SRT Solutions, which specialized in keeping companies at the forefront of technology. From 2007-2012 her firm was awarded the Ann Arbor Business Review Fast Track Award. It was also named to the Michigan 50 Companies to Watch in 2011, and to the INC 5000 Fastest Growing Companies in 2012.
In 2013, Marsh took a position as Director of Engineering Tools at Netflix, where she was responsible for the tools and systems used by nearly all engineers at the company for continuous integration, delivery, and deployment to the AWS cloud.
Marsh is currently Director of Consumer Product Security and Trust at Netflix, where her team is responsible for securing the Netflix consumer products and defending against fraud and abuse.
"In my first job, I worked as a programmer in an analytical instrumentation company," she recalled. "Since then, I have taken jobs in a variety of industries from automotive to decision support, human genomics to streaming entertainment. The breadth of domains where I could apply my software expertise has made for a long and rewarding career that has never been boring."
Marsh has continued her involvement with Michigan Tech by mentoring students and participating on the Computer Science External Advisory Board. She was inducted into Michigan Tech's Presidential Council of Alumnae in 2008.
"I came from a small town in mid-Michigan and was the first in my family to graduate with a college degree," she said. "Michigan Tech was not then and is not now only for elite students and well-heeled families. I'm happy to help out and ensure the MTU student base continues to grow and evolve."
For her successful career and leadership in industry, Marsh earned Michigan Tech's 2023 Distinguished Alumni Award.
Updated May 2023