Glenn and Gail Mroz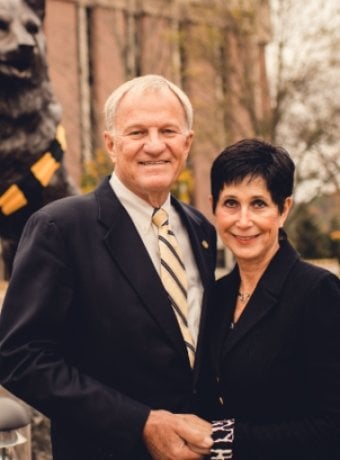 BS Forestry 1974
MS Forestry 1977
BS Business Administration 1986
Glenn '74 '77 and Gail '86 Mroz are synonymous with Michigan Tech. It's difficult to summarize a 47-year legacy for a couple who are almost unanimously beloved. That legacy includes time as students, instructors, fundraisers, and for Glenn, 14 years as the University's ninth president.
Coming to and Staying at Tech
Glenn, a Chicago native, claims a big part in his decision to come to Tech was that it had a ski hill. He chose forestry over studying architecture at Northwestern or Purdue.
Having dated since the eighth grade, Glenn and Gail were married between the second and third years of his undergraduate degree. "I followed Glenn up here, but he promised me when he graduated in two years we'd leave."
But they decided to stay. After earning a BS in Forestry in 1974, Glenn began working toward an MS in Forestry. He also became involved in writing proposals for research grants. "I was able to work with a group of really smart people. I was the scribe," he said. "We ended up receiving a $300,000 grant, which was at that time one of the University's largest. After that I decided I'd get a PhD and do this for a living. If that proposal had flopped, I'd probably be cruising timber in Montana still."
The couple moved to North Carolina for Glenn to work on his PhD in Forestry. He completed that degree from North Carolina State in 1983, but to Gail's dismay it was Tech and not NC State which offered him a job. "I loved it in North Carolina and hoped they would offer him a position," she said.
Although she still gets questions from family as to when they're moving back to Chicago, Gail admits she came to love life in the U.P. "It was a great place to raise a family. We always had opportunities here, and now it's home."
Glenn's Service to Tech
Glenn was hired as a full-time professor in the School of Forest Resources and Environmental Science in 1983. He taught classes for the next 17 years before being named Dean in SFRES. During that time, he remembers putting an importance on helping his students be prepared for life after school.
"Because of my experience early in my career writing proposals, I understood the importance of persuasive writing," he said. "I incorporated that into my classes to have students practice."
He went on to become Dean of the School of Forestry in 2000. Among his accomplishments were finishing off the expansion of the U.J. Noblet Forestry Building in 2000. "It was good training in managing people's expectations," he said.
In 2001, Glenn and several others devised a plan to develop the Tech Trails as a way to secure funding for the Michigan Tech varsity Nordic skiing programs. The vision for the project included the creation of a facility that would be a differentiator for the University and attract outdoor-loving students. Glenn proposed that revenue could be generated from timber harvesting to support the team and upgrade the Trails.
In 2004, Michigan Tech named Glenn its ninth president. Some of his accomplishments prior to retiring in 2018:
Michigan Tech conferred more than 20,000 degrees (more than 25 percent of the total number of degrees in the University's history). For PhDs specifically, that number is more than 50 percent.
The average ACT composite score for incoming first-year students rose from 25.1 to 27.2, while the national average remained flat at 21.1.
Renewed focus on faculty hiring increased tenure and tenure-track faculty from 295 to 340. Much of this was accelerated by the Strategic Faculty Hiring Initiative (SFHI) that targeted faculty hires to address university, state, and national priorities around sustainability, energy, health, computing, and materials.
The University purchased the Environmental and Emerging Technologies Division of the Altarum Institute and reorganized it as the Michigan Tech Research Institute (MTRI), giving Tech a downstate presence in Ann Arbor.
Michigan Tech incubated between two and four start-up companies each year.
The University completed its second major capital campaign, raising $215 million, 108 percent of the original goal.
Creation of the William G. Jackson Center for Teaching and Learning and the Waino Wahtera Center for Student Success.
Michigan Tech hockey returned to prominence, winning the WCHA in both 2016 and 2017.
When asked, one of the favorite things he accomplished as president was making campus a more welcoming place for women. "I asked PCA (Presidential Council of Alumnae) for help," he said. "One part of that was campus beautification. Campus had no gardens. PCA raised funds, and we recruited student volunteers to plant flowers."
That effort eventually led to the hiring of a full-time gardener and continued work on campus beautification. With both major gifts and the sales of pavers, alumni and friends helped add Rovano Plaza (2013), the Husky statue (2014), and the Bernard Family Clock Tower (2018). The John Edgar McAllister Welcome Center, drawing on a donation from the estate of one of Tech's earliest alumni, was completed in 2014 and changed the "front door" of the University.
Glenn's work with PCA also hatched the idea for the Little Huskies Child Care Center. "Making the campus a more attractive place for female students also meant making it more attractive to our female staff. Being able to offer on-campus child care was important."
Another point of pride for Glenn was his success going after cross-discipline buildings such as the Great Lakes Research Center and the in-the-works HSTEM (Health Science Technology Engineering and Mathematics) facility. "There are complex issues facing the world today that aren't going to be solved by any one area. For example, we looked across campus and saw 60 people working on health-related research. We wanted to create spaces for people to get together and do their work."
Gail's Service to Tech
Gail earned her bachelor's degree in business administration in 1986. She was hired right away at D&N Bank in Hancock as an accountant. She later worked as the controller for Copper Country Mental Health and began teaching classes at Tech.
"I taught evening accounting classes for six years in the School of Business," she said. "I really enjoyed it because I got to interact with students, and it was energizing."
Beginning in 2000, Gail came to Tech full time. She held the following roles over the next 18 years: director of finance and operations for the Michigan Tech Fund, MTF Chief Financial Officer, and Director of Stewardship.
Distinguished Alumni Award
Because of his long-standing service to Michigan Tech, Glenn was selected by the Alumni Board of Directors to receive the Distinguished Alumni Award presented at the 2020 Alumni Reunion. The award is given to alumni who have made outstanding contributions both in their careers and to Michigan Tech over a number of years.
The Future
The Mrozes still attend campus events and volunteer their time in the community. They plan to travel and spend time with their grandchildren in retirement.
And, like it was when he decided to come to Tech, Glenn is drawn to the ski hill.
"I volunteer at races. I'm probably the only course worker who gets his ski pass for the senior citizen rate," he jokes.
Written by Alumni Engagement January 2020.