Jim Mack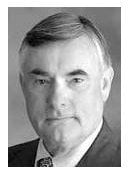 BS Chemical Engineering 1959
Honorary PhD Engineering 2000
Jim Mack has provided significant service to Michigan Tech since graduating with honors with a BS in Chemical Engineering in 1959. While a student, he was active with Tau Beta Pi, Sigma Rho fraternity, student government and Air Force ROTC. He also received an MBA from Western New England College and did graduate work in Chemical Engineering at the University of Toledo.
He served 10 years as a trustee of the Michigan Tech Fund and as a member of the President's International Advisory Board. He received the Board of Trustees Silver Medal in 1999 and delivered the midyear Commencement address in 2000, when he also received an honorary Doctor of Engineering degree. He and his wife, Lorna, sponsored a scholarship fund and the Mack Chair in Biomedical Engineering, currently held by Dr. Peng.
Mack spent his entire career in the chemical industry. He recently retired as chairman, president and chief executive of Cambrex Corporation. The company has repositioned itself recently as a life sciences organization, manufacturing active pharmaceutical ingredients for over-the-counter and prescription drugs. He was selected as Entrepreneur of the Year in 2002 and 2003. Mack remains on the Board of Research Corp. Technologies, a venture gap firm.
Before joining Cambrex in 1990, he was a vice president of Olin Corp., president of Oakite Products and president/general manager of the Sherwin Williams chemicals division. Mack started his career as a Project Engineer with Monsanto.
Mack has been inducted into Michigan Tech's distinguished alumni academy in chemical engineering and is a life trustee of the Michigan Tech Fund. In 2004, he received the Distinguished Alumni Award.
He and his wife have five children and six grandchildren and live in Westport, Connecticut. With retirement they are now able to enjoy more time with golf, fishing, sporting clays and raising thoroughbred horses.
Excerpted from the 2004 Alumni Reunion Awards Program
Updated February 2009