Donors to the Project | Special Thanks
Where to Pay Your Respects
The War Memorial Wall is located in the Second Floor Lobby of the Memorial Union Building. Alumni may remember the memorial from the main floor entrance. That's where it was originally installed as part of a 1952 building project. It was moved to the second floor during renovations in 1989 and expanded in 2014.
Michigan Technological University has had a War Memorial Wall ever since its Memorial Union Building was dedicated in May 1952. But it only named those lost during World War I, World War II, and the Korean conflict.
Through the efforts of a number of people across campus a new, companion wall was dedicated on Veterans' Day 2014, listing 13 Michigan Tech students and alumni lost in Vietnam and Afghanistan. And in case any names were missed, an inscription reads: "In memory of the men and women who served our country in war and in peace and later died as a result of their service. We honor and remember their sacrifice."
Excerpted from New Memorial Wall Honors Fallen Michigan Tech Veterans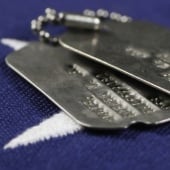 In keeping with the tradition of the physical Memorial Walls, this online listing of our Michigan Tech alumni who made the ultimate sacrifice in the line of duty is categorized by the actual wall upon which each name appears. You may choose which list you would like to see.
---
Memorial Union Building History: The evolution of a campus landmark is detailed in this excerpt from the Michigan Tech Centennial 1885–1985.