Joseph Nowosad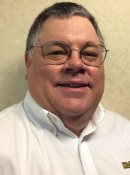 BS Metallurgical and Materials Engineering 1987
So much of Michigan Tech's mission encompasses preparing our students to be problem-solvers in real-world situations. Our industry partners help to make this mission a reality, and alumni like Joseph Nowosad '87 make it all possible.
Joe's long connections with both ArcelorMittal and Michigan Tech have helped the two entities work closely together to the benefit of our students and our community. As the primary ArcelorMittal contact for Michigan Tech, Joe has also served on the advisory boards for the College of Engineering, the Department of Materials Science and Engineering, and Career Services. And with his help, a number of Enterprise and Senior Design projects have gotten off the ground.
Joe has matched his undergraduate education in material science with the savvy that comes with an MBA, earning him his current position as ArcelorMittal's manager of customer technical service for General Motors–NAFTA. He has previously held management positions in quality assurance for steelmaking, hot rolling, coating, finishing, and lab services, as well as manager of flat roll operations technology.
It is the hard work and generosity of our alumni that helps to form the opportunities for the next generation, and Joe Nowosad's dedication to Michigan Tech is an inspiration to all of our students and alumni.
From the 2015 Alumni Awards Induction Program