Susan Kiehl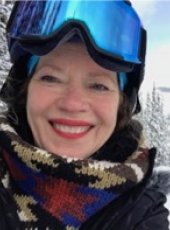 BS Metallurgical Engineering 1983
*
Susan (Brechting) Kiehl has recently retired as the Vice President of the F-16/F-22 Integrated Fighter Group Product Development for Lockheed Martin Aeronautics, based in Fort Worth, Texas. She had previously served in several leadership roles within Lockheed Martin, including as the Vice President of Program Management, Director of the F-35 Joint Strike Fighter International Business Development, Director of Business Development Operations, and Team Leader for the F-16 Airframe Integration. Susan began her career at Fort Worth Heat Treating Company following her graduation from Michigan Tech in 1983 with a degree in Metallurgical Engineering, and was soon thereafter recruited into a position within the nearby General Dynamics Aircraft Division's Materials and Processes Engineering Group, which was later acquired by the Lockheed Corporation.
Susan has distinguished herself as a generous advocate for Michigan Tech. In 2016, she delivered the First-year Engineering Lecture to the entering class of 953 Michigan Tech engineering students, where she shared a portion of her life experiences as an engineer and manager, and touched upon the qualities that have been instrumental for her success in both life and work. She recently served as an active and highly contributive member of the External Advisory Board (EAB) for the College of Engineering for several years, and hosted the 2014 spring meeting of the COE EAB at Lockheed Martin's F-35 manufacturing and assembly facilities in Fort Worth. In 2006, she delivered the spring commencement address to Michigan Tech graduates. In 2003, she was inducted into Michigan Tech's Presidential Council of Alumnae, and remains active in her promotion of diversity on campus and within the engineering profession as a whole by way of her yearly participation in the on-campus meetings of that group.
Susan has strong family ties to Michigan Tech. Her grandfather, Gilly Boyd, taught Metallurgy at the university for many years; her father, Frank Brechting, earned two bachelor's degrees and a master's degree from the school; and her brother, Frank, also graduated from Michigan Tech.
In addition to her bachelor's degree from Michigan Tech, Susan holds an MBA in Engineering Management from the University of Dallas. She serves as a board member for Brechting Bridge and Engineering of Spring Lake, MI. Ms. Kiehl has three children, a daughter-in-law, and a son-in-Law (Sam and Robin, Lilli and Josh, and Isabelle), and now resides in Grand Haven, Michigan.