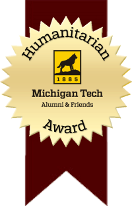 This award is presented to alumni who, through outstanding involvement and dedication, have made a significant contribution of volunteer leadership or service which has improved or enriched the lives of others and the welfare of humanity, and whose accomplishments reflect admirably on or bring honor to their Alma Mater.
2019 Award Recipients
Nominations
Anyone may nominate Michigan Tech alumni for the award which may be given out annually, as deemed appropriate by the Board of Directors. The deadline for nominations is December 1.
Nominees will be evaluated on the following factors:
Serves with distinction in a long term volunteer capacity
Impacts upon the quality of life of others
Demonstrates leadership and a creative ability to deal with human problems proactively
Sets an example for others to follow with their actions and sacrifices
Contributes in one or more of the following areas: health and human services, arts and culture, education, civic, or other areas.
If you have any questions about the nomination process, or would like to submit a nomination by mail, fax, or phone, please contact Alumni and Friends at 906-487-2400, toll-free at 1-877-688-2586, or alumni@mtu.edu.