James Trethewey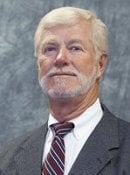 BS Business Administration 1967
Switching from mechanical engineering to business worked out very well for Jim Trethewey. The Ironwood native was inspired to switch by legendary accounting professor Sam Tidwell and never looked back. Beginning his career with Copper Range, a local mining concern, he soon joined Cleveland-Cliffs (now Cliffs Resources) and advanced through management positions over the years.
From Ishpeming to Ontario to Cleveland, Trethewey worked in positions of increasing responsibility and became vice president-controller and chief accounting officer. Along the way, he also earned his MBA from Baldwin-Wallace College.
In his final years with Cliffs, Trethewey was senior vice president of business development and worked with the senior corporate team in reshaping the company, adding international experience to his career. He retired in 2007. He was also a member of the American Mining Association, the Society of Mining Engineers and other professional organizations.
But he never forgot his alma mater. He's been on the Advisory Board for the School of Business and economics since 1994, and has served as a trustee for the Michigan Tech Fund, too. He and his wife have funded the James and Dolores Trethewey Applied Portfolio Management Program (APMP) Professorship, given to APMP creator Dean Johnson, and have also supported students through scholarships.
Since his retirement from Cliffs, Trethewey has remained active in social, business and industry activities. He serves on the board of two charities, participates as a Member and CEO of the limited partnership DJD Investments, and is a Board member of Steel Dynamics, Inc., a major US steel producer, where he also serves as chairman of the Audit Committee.
In 2013, Jim received the Michigan Tech Alumni Association's Distinguished Alumni Award in recognition of his many contributions.