Octave Du Temple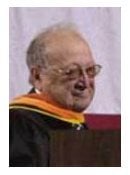 BS Chemical Engineering 1948
MS Chemical Engineering 1949
Honorary PhD Engineering 1996
1920–2015
Octave Du Temple, a native of the Copper Country, received bachelor's and master's degrees in chemical engineering from Michigan Tech in 1948 and 1949. His studies were interrupted by military service during World War II, when he taught flying and navigation. He also studied at Northwestern University, where he earned a master's degree in business administration in 1955.
Du Temple worked at the Argonne National Laboratory for several years, and in 1958 he was appointed executive director of the American Nuclear Society, a position he held for 32 years. He has traveled and lectured extensively around the world on the peaceful applications of nuclear energy.
He is a member of the International Nuclear Energy Academy, an honorary fellow of the Institute of Nuclear Engineers in London, an honorary life member of the Chinese Nuclear Society and is the former secretary of the Pacific Nuclear Council. Currently he is executive director emeritus of the American Nuclear Society. The society's headquarters, in LaGrange, Ill., is dedicated in his name.
Du Temple lectures periodically on campus to Army and Air Force ROTC cadets and business school students. He has received the University's Board of Trustees Silver Medal, the Distinguished Alumni Award (1996), and an honorary doctorate of engineering. In 1995 he was inducted into Michigan Tech's Distinguished Academy of Chemical Engineering. His support of the University has earned him membership in the Second Century Society, the Presidents Club and the McNair Society.
In 1996, the Michigan Tech Alumni Association presented Du Temple with a Distinguished Alumni Award and in 2003; he was given the University's highest honor, the Melvin Calvin Medal of Distinction.
A detailed profile of Dr. DuTemple appeared in the Fall 2010 issue of the Michigan Tech Magazine