William Bernard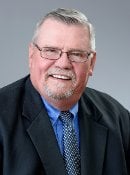 BS Metallurgical and Materials Engineering 1969
William J. Bernard, Jr. '69 is tenacity personified.
A local boy without resources to afford schooling and living expenses elsewhere, he stayed close to home and worked nearly 40 hours a week while completing his studies. He's been with the same company for more than 40 years, recently ascending to sole owner and CEO.
The CEO & Chairman of Surface Combustion, Inc. chose Michigan Tech because he could work year 'round close to home—and he was following in the footsteps of his brothers and sister, as well as his father, who attended Tech in the 1920s.
"Tech allowed me to receive my degree in just over four years even though I worked close to 40 hours per week during my college career. Professors and local business people were instrumental in finding me positions. I gained valuable business experience while I was the evening student manager at the Union and I gained an immense amount of technical skill at Central Foundry, a division of GM and US Steel in the Iron Range. All of these experiences would not have happened without the support of Tech," he says.
He also managed to build both a controversial and award-winning snow statues with his Sig Rho brothers, and to enjoy the pleasures of the Copper Country's outdoor beauty in the company of family and friends.
His first job after graduation was field engineer in the Surface Combustion division of Midland Ross. He progressed into engineering design, contract engineering, marketing, chief engineer, and business manager roles. When the New York-based private equity firm Forstmann Little & Co. bought out Midland Ross and threatened to close the Surface Combustion division in the mid-1980s, Bill and several others spearheaded a successful buyout, creating Surface Combustion, Inc., a leading manufacturer of thermal processing equipment. He was appointed executive vice president of marketing and technology.
"In 1997, when my partners wished to retire, I bought the company yet again, becoming the sole owner, president and CEO. Since then, with the maturation of key personnel and in accordance with my succession plan, I have taken on the role of CEO and chairman of the board," the 2004 Entrepreneurial & Business Excellence Northwest Ohio Hall of Famer explains. In 2004 he was also named the national Metal Treating Institute Associate Member of the Year, the Ernst & Young Northwest Ohio Entrepreneur of the Year and a national nominee, and received the Ohio Thomas Edison Program Emerging Technology Award.
The 2000 Michigan Tech Academy of Material Science and Engineering Inductee and 2011 ASM International Fellow has earned numerous other honors, including the 2009 Center for Heat Treating Excellence Distinguished Service Award, the Ohio Governor's Excellence in Exporting Award in 2010, 2006, and 1999, and the 2013 ASM International Distinguished Life Membership Award. The three-patent holder is proud to be a founding member of the Center for Resource Recovery and Recycling with Worcester Polytechnic Institute, Colorado School of Mines, and Katholieke Universiteit Leuven, Belgium, as well as a founder of the Center for Heat Treating Excellence (CHTE) at Worcester Polytechnic Institute.
"I have also enjoyed multiple positions on the Boards of Metal Treating Institute, ASM International and the Industrial Heating Equipment Association (IHEA). These experiences have helped me lead a life where I have been able to provide for my family and to maintain a strong and secure company that has been able to support the families of Surface Combustion over the past 40 years," Bill says.
The Minerals, Metals & Materials Society 2010 Blue Ribbon Panel member remains active on numerous professional societies and boards. Networking and paying it forward are more than concepts. They're put into action. In keeping with his company's motto, Bill combines tradition and integrity with tomorrow's technology.
"My philosophy is to use your God-given skills to the best of your ability and to recognize the people around you as key players in your development," he says.
His advice for Tech students and young alumni? "Work ethic is the key. Taking on assignments you are given—good or bad—with a high degree of energy and with the tenacity to finish, no matter where the assignment takes you or who you have to work with."
This profile is excerpted from the text of the 2016 Alumni Awards Dinner program.
Michigan Tech is a part of Bill Bernard's family, and vice versa. His father and four of his five siblings, and son went to Tech. Last summer he gave back to the University he feels gave him so much.
On August 2, 2018 the Bernard Family Clock Tower was officially dedicated. Located between the Memorial Union and R. L. Smith buildings, the 37-foot tower with four clocks and a large bell, can be seen and heard, both on and off campus. The tower's design is reminiscent of railroad trestles from the region's copper mining heyday. The twin decks are a nod to the iconic lift bridge that links the University to the Keweenaw Peninsula. The base upon which the tower sits is constructed from Jacobsville sandstone that was reclaimed from the Power House, one of the structures built on the Michigan Tech campus that has since been demolished.
In addition, they have created the William J. Bernard Jr. Family Endowed Scholarship Fund which is awarded to a student enrolled in the Department of Materials Science and Engineering.