Discover Yourself—From Your Molecules to Your Global Impact
Gain a deep understanding of humans through a biological perspective—from the chemical through organismal level, and how humans impact and interact with their environment. Our broad-based curriculum allows students to obtain the knowledge and skills necessary to study, understand, and apply concepts in the real world.
You will benefit from hands-on interdisciplinary opportunities in human health-related fields across our campus and beyond. Graduates will be ready for what tomorrow needs in human health in educational, industry, research, or healthcare settings.
Discover Human Biology
Human biology encompasses a variety of sub-disciplines such as anatomy, physiology, genetics, nutrition, ecology, evolution, and anthropology to understand human beings and human populations. Understanding each of these fields and their interrelationships is the key to advance human health.
Become a Certified EMT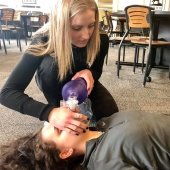 Have you ever wanted to be the one with the skills and tools to save a life? Michigan Tech offers EMT training for students! We cover almost the entire cost of training in exchange for one year of service to our Emergency Medical Services team on campus. Find out if you're a good fit for our team.
Rigorous, But Flexible Curriculum
Our program requires students to complete a total of 120 academic credits. On average, a student can comfortably complete the degree within four years by taking an average of 15 credits, or four to five classes, each semester.
Take classes in the basic sciences of biology, chemistry, physics, and mathematics, which are essential for an understanding of human biology. You will be able to choose elective courses like microbiology, cancer biology, molecular diagnostics, cardiopulmonary physiology, developmental biology, and epidemiology to tailor the degree to your interests and goals. The BS in Human Biology, includes all commonly required and recommended courses for medical school.
All students in the Human Biology BS Degree Program will...
develop knowledge of biology principles, including evolution, structure and function, information flow, exchange, and storage, pathways and transformations of energy and matter, and systems.
investigate the biological processes of the human body at the chemical, molecular, and cellular levels.
explore advanced concepts in human physiology at the
cellular, tissue, systems, and organismal levels.
examine the impacts and implications of human activity at the ecosystem and societal levels.
apply their knowledge during applied experience in research, industry, or education.
employ the scientific method to address questions, formulate hypotheses, design basic studies, and synthesize and report results.
communicate effectively (orally and in writing) about issues related to ecology and science, in general.
Undergraduate Research Opportunities
Our undergraduate degree programs emphasize hands-on research at all levels. Our faculty members are advancing basic and applied research in biology, and students are welcomed into their research groups.
Contact the faculty member you are interested in working with to learn more. Specific positions in each lab depend on availability and funding.
Learn more about undergraduate research.
Career Pathways
Our graduates are prepared for careers in research with public and private companies, teaching, and healthcare. Many of our graduates decide to pursue additional graduate training in Biological Sciences or health professional programs, such as Medical School.
In addition to the larger Michigan Tech Career Fair, the Medical Careers Series gives our students an opportunity to explore careers in the medical field and healthcare industry. Additionally, students can participate in our health professions interview workshop to prepare for admission interviews.
Companies and Organizations that Routinely Recruit at Michigan Tech
Kimberly Clark
Dow
Kraft
Smith Kline Beecham
Abbott Labs
Stryker
Welch Food, Inc.
Merck Pharmaceuticals
Eli Lilly and Co.
Medtronic
Government agencies
University research laboratories