Human biology is the study of all aspects of the human organism including evolution, genetics, ecology, anatomy and physiology, development, anthropology, and nutrition, among others.
A deep understanding of human biology is helpful for those studying medicine, entering healthcare as physicians, physical therapists, pharmacists, dentists, optometrists, or conducting research.
What is the Difference Between Biology and Human Biology?
Biology is the study of living organisms and encompasses a number of different disciplines, from biochemistry to microbiology to ecology. Often biologists study life at many different levels (think cells, tissues, organs, body systems, etc.) across many different organisms like plants, animals, and bacteria. Human biology specifically answers questions about how humans got here, how we function, and the role we play in the natural world.
What Do Human Biologists Do?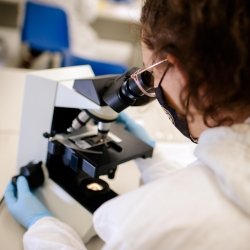 A human biologist is a scientist who studies humans and their relationship to their environment. There are a number of things human biologists can do:
Research: Human biologists may perform fundamental research to understand the mechanisms controlling the functioning of humans. Human biologists involved in applied research try to develop or improve processes in areas such as medicine and industry. Research can be done in industry, private laboratories or research institutions, public health departments, colleges, and universities, or state/federal government.
Examples of careers in this category include:
Research Assistant
Laboratory Technician
Clinical Researcher
Project Manager for Pharmaceutical Development
Biostatistician
Those interested in research may also consider further education at the doctoral level (Ph.D.).
Health Care: Human biologists can go to medical school and become physicians. Or they can go into public health where they may work to improve community health and outcomes, develop public health campaigns to prevent the spread of deadly diseases. Examples of careers in this category include:
Dentist
Health Communications Specialist
Physician (general practitioners and specialists (e.g. Cardiologists, Pediatricians, Oncologists, Ophthalmologists, etc.)
Program Manager/Director Public Health
Public Health Analyst
Public Health Officer
Forensic Science: A growing field thanks to the popularity of television shows like CSI, forensic biologists work with law enforcement agencies to discover and process evidence, helping to solve crimes using scientific methods. Examples of careers in this category include:
Forensic Scientist
Forensic Technician
Polygraph Examiner
Public Policy: Working as science advisors, human biologists partner with lawmakers and agencies to create new legislation and regulations on topics such as healthcare and public health, biomedical research and environmental protection. Examples of careers in this category include:
Epidemiologist
Legislative Analyst
Policy Analyst
Biotechnology: Human biologists apply scientific principles to develop and improve all kinds of products and services in industries such as agriculture, food production, and medicine. Examples of careers in this category include:
Business Development Manager
Field Application Scientist
Product Manager
Quality Assurance Associate
Business and Industry: Human biologists work with drug and science product companies in new product development, testing and quality control, marketing, and sales. They can document processes and technical manuals, too.
Career opportunities that often combine business and biology include energy, medicine, research, and even environmental law. Having a background in both biology and business can be beneficial when applying to business and industry positions. Here are some example titles:
Pharmaceutical Sales Representative
Medical Device Sales Representative
Business Analyst for Biotech Company
Insurance/Claims Adjuster or Examiner
Recruiting/Headhunting
Education: Human biologists can become educators to help others learn about biology in the classroom, research lab, parks, or in museums. They can create illustrations in textbooks and newspaper/magazine articles thanks to their understanding of biology. Examples include:
Biology Professor
Biology Teacher
Educational Programs and Projects Manager
Adjunct Professor
Anatomy and Physiology Instructor
Communications/Writer: If you have an interest in biological science and writing, explore careers in the communication field. From writing for a scientific magazine to managing communications for a hospital system, there are many opportunities to combine your interests in writing and science. Examples include:
Grant Writer
Technical Writer
Public Relations
Communications Manager/Director
How Much Do Human Biologists Earn?
Below are just a few of the jobs human biologists hold and their median annual salary in 2022 according to the United States Bureau of Labor Statistics.
What Is The Future of Human Biology?
The future looks bright for those who study human biology. Graduates are able to obtain good paying jobs in a number of growing fields. These jobs are among the 100 Best Jobs according to US News. Pairing an undergraduate degree with a professional degree can lead to a lucrative position in the medical field.
Some high growth and desirable jobs include:
For someone just starting out with an undergraduate degree you will likely go into a technician role where you will operate equipment, conduct tests, and record data for those in more senior positions. You will likely spend most of your time performing routine tasks regardless of where you are employed, but these tasks help you to learn quickly and ally yourself with more senior experts in your field.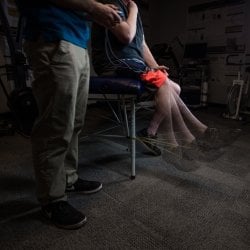 As you gain experience, you will gain more responsibility and possibly a promotion to a more senior role. A return to graduate school may increase your earning potential. Hard work and long hours often lead to greater responsibilities and increased salary. If you are highly involved in interesting research and enjoy writing, you might seek to distinguish yourself by publishing your research.
If you remain in the field for ten years or more, you might become an assistant director or director of research with limited control of disbursement of funds and distribution of personnel. Or you may oversee a business unit at a private company overseeing product development or operations. Or you could work overseeing a health department or other government entity. The options are limitless.
What Skills Do Human Biologists Need?
There are a number of skills human biologists need in order to be successful.
Investigative Skills
The ability to dig deeply to answer a question. Human biologists need to be able to gather data and generate insights to reveal important facts. Someone possessing investigative skills can identify problems, ask questions to better understand the problem, assess risk, and define potential/expected results.
Research/Quantitative Skills
Human biologists use research and quantitative skills to define problems and design experiments to test hypotheses. They utilize tools in the lab to aid in research. They record observations and interpret results. Human biologists will utilize statistical tests to predict outcomes.
Analytical Skills
Someone with analytical skills can examine the components of problems / ideas and reason logically to understand what is happening. They often will categorize data to make sense of it, organizing ideas and information.
Communication Skills
Human biologists rely on their communication skills to relay information they have uncovered in research or help lead a project team effectively. For instance they may write research proposals, summarize research findings, and apply for grants. They need to be able to explain complex information or ideas to both technical and non-technical audiences. Communication skills need to be strong both orally and in writing.
Additional Skills
Looking to be a physician or other medical professional, you should also have these skills:
Acceptance
Adaptability
Compassion
Confidence
Diligence
Directness
Emotional Intelligence
Empathy
Leadership
Teamwork
What Types of Things Will I Study in Human Biology?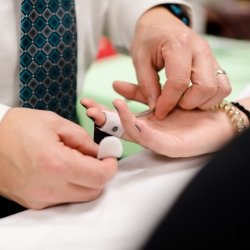 There are a wide variety of courses available to take because the field of human biology is interdisciplinary and closely linked to the social sciences. You'll likely start by taking classes in the basic sciences of biology, chemistry, physics, and mathematics; subjects which are essential for an understanding of human biology. You'll take classes in anatomy, physiology, genetics, nutrition, ecology, evolution, and anthropology to deepen your knowledge and better understand human beings and human populations. And finally, you will be able to choose elective courses like microbiology, cancer biology, molecular diagnostics, cardiopulmonary physiology, developmental biology, and epidemiology to tailor the degree to your interests and goals.
You can augment your studies outside the classroom to learn more about human biology.
Job shadowing allows you to observe a professional working in human biology or related fields. You can shadow researchers who are looking to better understand human disease or illness; how different systems function; or the impacts of certain drugs or exercises on humans. Or you can observe physicians to better understand aspects of human biology in their chosen specialty.
Direct patient care lets you better understand human biology by having direct human contact, like taking blood pressures or drawing blood. You can see how professionals in the field interact with patients and better understand the human condition. This experience occurs on either a paid or volunteer basis. You can get this experience in a number of different ways:
Certified Nurse Aide
EKG Technician
Emergency Medical Technician (EMT)
Emergency Room Technician
Medical Volunteer
Medical Assistant
Paramedic
Patient Care Assistant/Tech (PCA)
Phlebotomist
Registered Nurse (RN) or Licensed Practical Nurse (LPN)
X-Ray Technician
Research lets you immerse yourself in a variety of research topics related to human biology. Many larger colleges and universities have extensive research in human biology and other related fields like kinesiology, exercise science, cancer, cardiology, you name it. If research interests you, be sure to ask a professor how you can participate.
---
Human Biology at Michigan Tech
The bachelor of science degree in human biology at Michigan Tech offers undergraduate students many unique, hands-on learning opportunities:
Undergraduate Research
Many undergraduate students choose to take on research, gaining hands-on experience in the lab, doing more than just washing dishes. Research projects often require students to collect samples, record data, analyze results, etc. Many opportunities may even be paid, depending on the availability of funds on the particular project.
Students are encouraged to apply to the Summer Undergraduate Research Fellowship (SURF) program, which offers summer fellowships for paid work on undergraduate research projects. Undergraduates conduct research with faculty members for approximately 10 weeks. Awards of up to $4,000 are available.
All undergraduate students are able to apply to the Undergraduate Research Internship Program. Award recipients conduct a research project under the guidance of a Michigan Tech faculty mentor during the regular academic year. Afterwards, they will present their work at the Undergraduate Research Symposium. Awards up to $1,600 are available.
The Health Research Institute is a renown health research center on campus, tackling a variety of health-related challenges, whether that is developing material for better wound care, creating vaccines, studying alcohol's effects on the nervous system, designing a magnetoelastic sensor for use in an artificial knee, or growing heart muscle cells faster and stronger with less chance of rejection.
Real-World Experience
Get ready to contribute on the job from day one with these valuable experiences.
H-STEM Enterprise Team: Students get project-based experiences that ultimately aim to improve human health. The team includes students from a broad range of backgrounds (e.g., biology, biochemistry, biomedical engineering, exercise science, electrical engineering, mechanical engineering, medical lab science, robotics). These students work collaboratively on projects in the areas of rehabilitation engineering, healthcare, and public health.
Shadowing: Interested in a health profession? Observe a health professional in order to see what they really do on a day to day basis to see if that is the career you want.
Emergency Medical Service (EMS): Gain valuable direct patient care experience by becoming a volunteer EMT with our Michigan Technological University Emergency Medical Service. Tech EMS services our campus and local area.
Prepare for Graduate Study
Our undergraduate program in human biology prepares you for advanced study in the field. Earn your MS and/or PhD degrees in biological sciences or your PhD in biochemistry and molecular biology, prepare to enter medical, dental or another pre-professional health program, or a related field either at Michigan Tech or at another university.