Push the Edge of What is Possible
Our graduate programs in biological sciences (MS, PhD), biological sciences accelerated master's, and biochemistry and molecular biology (PhD) along with our labs and facilities provide for exciting academic and research experiences. Studies interdisciplinary in nature and practice and are lead by our diverse faculty members.
Our research collaborations encompass cutting-edge topics including: aquatic biology and ecology, biotechnology, human infectious diseases, pathology, environmental remediation and restoration, microbiology, plant molecular biology and biochemistry, genetics and physiology, developmental biology, effects of emission-control devices, and the use of alternative fuels. Explore our programs to learn more about what the Department of Biological Sciences at Michigan Tech can offer you.
Departmental Opportunities
Biological Sciences—MS, PhD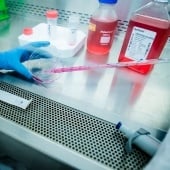 There has never been a more exciting time for you to become a biologist! As our knowledge advances, graduate-level education has become even more necessary for pursuing a career in the biological sciences in areas such as industry, government, and academia. We offer two graduate degrees in biological sciences: the MS and the PhD. Our programs provide a stimulating, interdisciplinary, and intellectual atmosphere for career development.
Biological Sciences Accelerated Master's (BS-MS)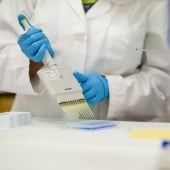 MS Focus in Medical Laboratory Management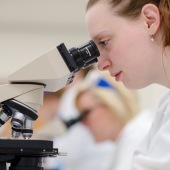 MS Focus in Medical Laboratory Management
Students may elect to focus their MS studies in medical laboratory management (MLM). The focus option consists of approximately one-half science courses and one-half business courses—integrating both theoretical and practical aspects of laboratory sciences with management theory. The program is flexible and suitable for both the experienced medical laboratory scientist and the recent graduate. It not only provides knowledge and expertise in MLM, but also challenges the student to learn more about rapid developments in immunology, microbiology, and biochemistry. This non-thesis option within the MS degree allows for completion of the Biological Sciences MS degree within a relatively short period of time. Past candidate projects have included studies using computer analysis of cost accounting to study MLM, computer models for productivity analysis, and writing and assembling laboratory manuals. Applicants must have MLS(ASCP) certification.
Interdisciplinary Opportunities
Our department is associated with some diverse interdisciplinary degree programs and departments on campus, giving our students interesting and unique opportunities for graduate study:
Biochemistry and Molecular Biology—PhD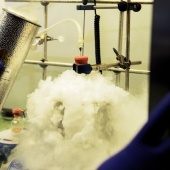 The Biochemistry and Molecular Biology (BMB) PhD program at Michigan Tech allows students and faculty to come together and seek answers to some of the world's most pressing problems. Built on the strength of pre-existing graduate programs in biological sciences, chemistry, and the School of Forest Resources and Environmental Science, the interdisciplinary BMB program provides students with the opportunity to focus on the study of biochemistry and molecular biology through the lens of a wide variety of subject areas.
Learn More About the PhD in Biochemistry and Molecular Biology
Department of Kinesiology and Physiology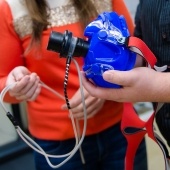 The Department of Kinesiology and Integrative Physiology at Michigan Technological University is one of the fastest growing on Michigan Tech's campus. The Biological Sciences Department has partnered with them to offer a number of graduate topics related to biological sciences.
Admissions and Departmental Requirements
Applications are reviewed on an individual basis using a holistic approach.
Graduate School
Program Specific
Résumé / Curriculum vitae
International Students
TOEFL: Recommended Score of 85 iBT
IELTS: Recommended Overall Band Score of 6.5
Admissions Decisions
Made on a rolling basis.
Recommended Deadline
Fall Semester: January 15
Spring Semester: September 15
Apply at least a semester in advance of projected admission to improve your chances of receiving funding
Prospective students are strongly encouraged to contact individual faculty members.
Departmental Requirements
All grades must be a B or better in the major subject areas and GPA of 3.0. If your GPA falls below a 3.0 then you are automatically on probation.
All graduate program options in the department require 2 credits of graduate seminar (BL5012). In order to complete Responsible Conduct of Research (RCR) training, all graduate students must take The Scientific Profession (BL5025) as well.
The MS thesis option requires a minimum of 20 credits of coursework, and the report option requires a minimum 24 credits of coursework. Both options have a minimum of 12 credits of 5000 level or above and a maximum of 12 credits at the 3000-4000 level.
The MS coursework option requires 30 credits of coursework. Students in this option must take Scientific Writing and Publishing (BL5051) as part of their coursework. A minimum of 18 credits of 5000 level or above and a maximum of 12 credits at the 3000-4000 level.
The PhD requires 30 credits beyond the MS. If MS is 'skipped' then 60 credits total are required and they need to fulfill the MS requirements of 12 credits of 5000 or above and a maximum of 12 credits at the 3000-4000 level.
For additional University minimum requirements for a course to accepted at the graduate level see Degree Requirements for the Graduate School.
Annual CV updates required to track performance and improve our program, used to determine GTA allocations include: Professional Preparation, Awards, Publications, Teaching Experience, Funding History, Presentations and Professional Meetings Attended, and Service.
Be an active member of the scholarly community (e.g., attend seminars, be productive member of academic community)
Participate in our peer-mentoring program
Be responsible to staying on top of the required forms for your degree as found at Graduate School website.
Your Advisor is a member of the faculty with whom you work to design, implement and defend your graduate academic program and thesis. The ideas generated are not only yours but are intellectual property of many (you, your advisor and committee members, and possibly the funding source) please consider and acknowledge that.
If for some reason you feel you are not getting the guidance you feel you need please see the Graduate Director before considering any change in advisor. Open communication will help to limit the likelihood of needed change.
Your graduate committee must have at a minimum:
For PhD students: your advisor plus at least one faculty from the department and two external members (outside the department) Total number: 4.
For MS students: your advisor plus 2 faculty from within the department.
Select committee in consultation with your advisor and meet by the second semester (forms M2, D4A). Meet with potential committee members to get a feel for your potential working relationship, committee advises on coursework, future career direction/tools, etc. Visit the degree requirements on the Graduate School website for additional information about requirements.