Twice the Science, Twice the Experience
Biology and chemistry—the study of life is intricately linked with the investigation of chemical processes. Michigan Tech's Bachelor of Science in Biochemistry and Molecular Biology is an innovative collaboration between the two sciences. You'll learn fundamental biology and chemistry concepts in a truly unique and integrative way, gaining a deeper understanding of living systems.
Whether you're preparing for a career in health care, pharmaceuticals, product development, or research; or planning to pursue advanced studies in biology, biochemistry, or medicine; Michigan Tech's quantitative, science-focused program will prepare you thoroughly for what comes next.
Achieving Excellence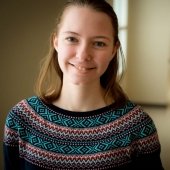 Tessa Steenwinkel, a biochemistry and molecular biology-biological sciences major, has been named a 2019 Goldwater Scholar. The Goldwater Scholarship is the preeminent award at the undergraduate level for STEM fields.
From an estimated pool of more than 5,000 college sophomores and juniors, 1,223 natural science, engineering and mathematics students were nominated by 443 academic institutions to compete for the 2019 Goldwater scholarships.
Steenwinkel has been selected as one of the 493 Goldwater Scholars this year. She is a Pavlis Honors student in the Research Scholars pathway.
One-of-a-Kind Program
Michigan Tech's biochemistry and molecular biology degree program is unique in that it is offered collaboratively through both the chemistry and biology departments. That means you'll have the opportunity to specialize your program of study to your unique interests by choosing a concentration in either biological sciences or chemistry. You'll also benefit from access to both departments—twice the research opportunities, twice the technology, and twice the faculty experts.
By choosing a concentration in biological sciences, you'll start with the fundamentals and then delve into more specialized studies of molecular concepts and biochemical pathways as applied to biological systems.
Undergraduate research is a required component of the program. You can gain hands-on experience in DNA, RNA, and protein analysis; gene cloning and transformation; chromatography; and more.
Explore your interest in biology, chemistry, physics, or math by getting involved with the Enterprise Program—teams of undergraduate students working on real-world products and research for industry.
Technology in undergraduate labs is cutting edge: Advanced research labs include the Applied Chemical and Morphological Analysis Lab and the Neuroscience and Proteomics Lab.
Get involved outside the classroom. Students at Michigan Tech get involved with any number of professional organizations—Phi Sigma, the National Biology Honor Society; Microbiology Club; Botany Club; Pre-Health Association; and more.
All graduates in the Molecular Biology and Biochemistry (MBB) BS Degree Program will:
| | |
| --- | --- |
| Goal 1 | know the concepts of biochemistry and molecular biology pertinent to MBB. |
| Goal 2 | apply the concepts of the scientific method. |
| Goal 3 | synthesize and communicate information applicable to MBB. |
| Goal 4 | increase critical thinking and problem solving skills. |
| Goal 5 | be aware of ethics and moral issues in their field. |
Undergraduate Research Opportunities
Our undergraduate degree programs emphasize hands-on research at all levels. Our faculty members are advancing basic and applied research in biology, and students are welcomed into their research groups.
Contact the faculty member you are interested in working with to learn more. Specific positions in each lab depend on availability and funding.
Learn more about undergraduate research.
Career Pathways
Biochemistry and molecular biology majors are in demand. The program provides excellent, rigorous preparation for careers in biotechnology, pharmaceuticals, product development, environmental consulting, quality assurance, research, and academia. Other graduates go on to pursue advanced education in biochemistry, medical school, professional health programs, and more.
Companies and Organizations that Routinely Recruit at Michigan Tech
Kimberly Clark
Dow
Kraft
Smith Kline Beecham
Abbott Labs
Stryker
Welch Food, Inc.
Merck Pharmaceuticals
Eli Lilly and Co.
Medtronic
Government agencies
University research laboratories