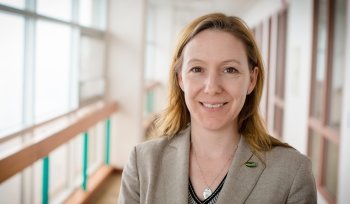 Welcome to the College of Computing! We are Michigan Tech's newest college and are situated to educate our students for our ever-increasing computational world.
The news headlines note future technologies: Automation and artificial intelligence are changing job market dynamics; emerging technologies cause jobs to shift; workers need to upskill. Traditional college degrees need to evolve to include computing skillsets to remain relevant for current and future industry needs.
Today's high school graduates have the opportunity to embrace change with ethical, economical, and sustainable lenses. The responsibility to make "future-proof" choices to ensure your prosperity, your community's well-being, and global health starts with a solid, contextualized foundation here at Tech.
At Michigan Tech, we're preparing students today to address the needs of tomorrow. Because tomorrow demands new solutions and agile thinkers. It welcomes inventors, artists, engineers, innovators, and visionaries. Tomorrow's workforce requires those who can solve complex problems, think critically, and collaborate with others; it's looking for humans who are creative, self-directed, and interdisciplinary.
In classes and across campus and the community, Michigan Tech students practice all these attributes, and more. Because you'll need to excel at learning and employing new knowledge, now and always. And because tomorrow needs more. More than an engineer. More than a scientist. More than a mathematician. And more than technology.
Tomorrow's world belongs to those who are agile and adaptive, to those who understand that the only constant is change. The future will be here tomorrow and it belongs to you. Take a look around. You'll be ready with a Michigan Tech College of Computing degree.
Please contact us with your questions and plan a visit to Houghton. I look forward to seeing you on campus. I'm sure that you'll embrace the challenge and love it here!
Adrienne R. Minerick, PhD
Dean, College of Computing