Master's in Health Informatics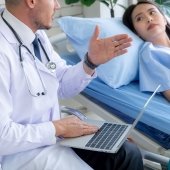 The Health Informatics field is robust and growing.
Demand in the health informatics field is being fueled by the health care industry's sharp focus on the use of artificial intelligence, population health, precision medicine, quality improvement, and data security and accessibility.
Health Informatics Employment Outlook
Employment of medical and health services managers--the BLS sector into which Health Informatics falls, is expected to grow by 32% through 2029, with professionals earning a median average salary estimated at $100,980 per year (bls.gov). Students graduating from the MTU MS in Health Informatics program have a median average starting salary of approximately $107,900 per year and often have multiple job offers.
---