Step into a rewarding, well-paid Health Informatics career with a Master's Degree or Certificate from Michigan Tech.
---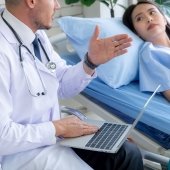 The Health Informatics career field is robust and growing.
With demand being fueled by the health care industry's sharp focus on evidence-based medicine, quality improvement, and data security and accessibility.
---
Gain the training, tools, and opportunities for your career in this leading-edge field.
Take a look at these videos.
Health Informatics News