Step into an emerging, well-paid career with a Master's in Health Informatics from Michigan Tech.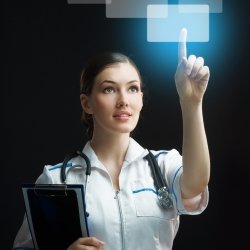 The Health Informatics career field is robust and growing.
With demand being fueled by the health care industry's sharp focus on evidence-based medicine, quality improvement, and data security and accessibility.
And here's some great data:
Employment of medical and health services managers, the classification into which Health Informatics falls, is expected to grow by 32% through 2029, with workers earning a median average salary estimated at $100,980 per year. (Bureau of Labor Statistics, bls.gov)
---
Gain the training, tools, and opportunities for your career in this leading-edge field.
Ready to learn more? Take a look at these videos.
Play Health Informatics at Michigan Tech video
Health Informatics at Michigan Tech
Learn more about Health Informatics. Prepare to become a leader in the growing, high-impact field of Digital Health.
Play Health Informatics Info Session, Nov. 2020 video
Health Informatics Info Session, Nov. 2020
Director Guy Hembroff and Jacque Smith of the Grad School discuss the HI M.S. degrees, HI research, and the free application.