Justin Fitch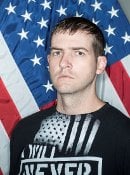 BS Business Administration 2005
Justin Fitch was born and raised in Hayward, Wisconsin. An analytically minded student who enjoyed the sciences, computers and math, he arrived at Michigan Tech in 2000. The summer after his first year, Justin joined the Army ROTC program. After his sophomore year, he attended the US Army Airborne School with hopes of being a paratrooper. He graduated Cum Laude in 2005 with a Bachelor's of Science in Business Administration with a concentration in Industrial Marketing and Management and a minor in Military Science.
He was commissioned into the Army on the day of his college graduation, and a few weeks later Justin married his loving wife, Samantha Marie Wolk. Too shortly thereafter, he reported to officer training courses at Fort Benning, GA before being deployed to Forward Operating Base McHenry in Iraq.
Justin was assigned to the Natick Soldier Research, Development, and Engineering Center (NSRDEC) in Natick, MA in February 2012, taking command of the Human Research and Development Detachment, NSRDEC. Justin was diagnosed with metastatic colon cancer in May 2012. Since then, Justin has undergone multiple, intensive surgeries and more than fifty rounds of chemotherapy and various other treatments.
He fought to hold onto his command and leadership role in the Army. Additionally, he felt the need to take on an additional, more important mission. He learned that his fellow veterans were committing suicide at the alarming rate of 22 suicides a day—more than 8000 a year. It hit Justin personally because, while deployed, he came close to suicide and has dealt with PTSD. He wanted to do what he could to show other veterans that it is okay to get treatment and increase public awareness of this issue, reducing the stigma.
On Veterans Day weekend 2013, Justin led a team of about 30 veterans and civilians on a ruck march (also called a "forced march" or a "hump," involves walking at a fast pace with a weighted backpack) along the Boston Marathon route. Since then, he has worked tirelessly to recruit and grow this Carry The Fallen program through the Active Heroes organization. It is now an event that is held in multiple locations across the US, and even in some other countries. The ultimate goal is to raise enough money to build a one-of-a-kind national retreat in Shepherdsville, KY, where veterans and their families can heal from the invisible wounds of war. Each weighted step taken is one step closer to that goal.
Despite his protests, Justin was medically retired from the military on January 29, 2015 having attained the rank of Major. He continues his cancer treatment, now living in Pleasant Prairie, Wisconsin with his wife, Samantha, and their two dogs, Nox and Luna. Despite deteriorating health conditions, he fights to live his life to the fullest and enjoy his retirement while dedicating what time he can to Carry the Fallen. He believes that every day, every minute, is a gift to be used wisely.
Sadly, Justin died on October 4, 2015.
From the 2015 Alumni Awards Induction Program