Nicholas Schreiner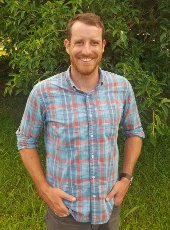 Travel. Push yourself out of your comfort zone. Go to unfamiliar places.
Nicholas Schreiner '11 lives that every day and encourages others to do that too.
"The world is big and beautiful," he says. "I think it is important to see as much of it as you can, the good and the less good, and if you are able, to offer compassion to those who are not accustomed to receiving it."
Schreiner, who earned a master's in environmental engineering at Michigan Tech, is a water and sanitation engineer with Medecins Sans Frontieres (also known as Doctors Without Borders).
He was part of a team who responded to the Ebola outbreak in West Africa in 2014. He says the experience was challenging but also one of the greatest privileges of his career and life. "I was terrified, and I witnessed first-hand the devastation and suffering the disease brought to communities and families in Sierra Leone."
He says the experience taught many life lessons. "Make an effort to better understand the world, your place in it, and how you can apply a fantastic education and university experience to something much bigger and greater than yourself."
Schreiner came to Michigan Tech to learn and develop as an engineer but also to provide service to at-risk people and communities. "I learned that innovation is more than just the application of technical knowledge and skills," he says. "Innovative solutions incorporate the social, cultural, political, economic, and other factors that are crucial to the success and sustainability of ideas."
From the 2017 Alumni Awards Program