Amber Lily Kenny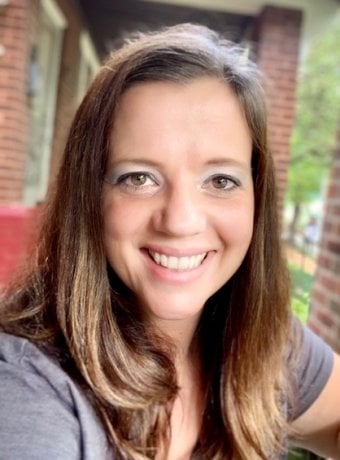 Amber Lily Kenny has worked in Togo, Iraq, Afghanistan, Kenya, Uganda, and Ghana to help vulnerable populations improve agriculture methods and food security. Her journey began through the Peace Corps Master's International program at Michigan Tech.
A Houghton native, Kenny earned a bachelor's degree at the University of Michigan's School of Natural Resources. She returned home to gain her master's degree in forestry and volunteer in the Peace Corps through MTU's Masters International Program. She was assigned to Togo as a natural resource management/agriculture volunteer. In this role, Kenny provided agriculture extension services to over 500 subsistence farmers, which included planting trees to decrease erosion, improve soil fertility, and start timber stands to diversify income sources.
"Together with the farmers, we planted over 2000 trees, 500 fruit trees, and even established a small indigenous forest on community land," she said. "I'll always remember planting trees with my friends in Togo and am happy to have found out they are still collecting fruit from those trees today."
After graduating from Tech, Kenny took a position working for the U.S. Department of Agriculture's Foreign Agriculture Service. She worked on programs in both Iraq and Afghanistan, coordinating with government agencies on emergency preparedness and agricultural and natural resources reconstruction.
Kenny spent a year working as the community outreach arborist for the Urban Forestry Administration in Washington, D.C., helping increase and monitor green space areas in District.
Since 2010, Kenny has worked for the United States Agency for International Development (USAID). In those 10 years, she has lived and worked in Kenya, Uganda, and Ghana with USAID, supporting food security development. That is accomplished through designing and managing programs to increase the resilience of farmers and pastoralists. The programs help farmers increase incomes, connect producers to markets, and support governments to become stronger trade partners with the U.S., ultimately, strengthening food security in those countries.
Another notable aspect of Kenny's work has been humanitarian programs for refugees.
From 2014 to 2019, she served as one of the Refugee Points of Contact for USAID/Uganda. In this role, she represented the U.S. government's humanitarian program to the Ugandan government, donors, UN agencies, and NGO partners. During this time, Uganda was in the midst of a refugee crisis. Over one million refugees had fled to Uganda from South Sudan and the Democrat Republic of Congo, seeking refuge in Uganda that already could barely support their own people.
"As the refugee population rapidly increased, we were able to increase USAID's support to provide life-saving food assistance for refugees by four-fold," she said. "I was especially proud of organizing a congressional delegation that brought senators to refugee settlements where they could hear first-hand from refugees and then advocate for continued support for our programs back home."
Kenny credits the Peace Corps Master's International program at Michigan Tech for starting her on the path of her life's work.
"All of the diverse experiences I've had started with a seed planted when I was a new Master's International MTU student. As part of a field exercise, my cohort and I were dropped off in a forest a few miles from Michigan Tech's Ford Center and told to find our way back using compasses and GPS units. We started lost in swampy woods but, by working together, we ended back at the camp at dusk: muddy, hornet-stung, and exhausted, with a taste for adventure that has guided my professional career."
Kenny was honored by Michigan Tech's Alumni Board of Directors with the 2020 Humanitarian Award.
Alumni Award Profile August 2020