Alumni Resources
As alumnus of Michigan Technological University's Graduate School, take pride in being a member of our alumni family! Reconnect with old classmates, stay current on Michigan Tech related news, share your story—where has life's journey taken you since leaving campus? And please, if you can, give back by supporting our hard-working Graduate Students!
John Drake
'64, '69
John Drake is serious about giving back to his alma mater. He attributes his success in large part to "the training and rigor of a Michigan Tech education with its insistence on understanding." Drake earned a bachelor's degree in mechanical engineering in 1964 and a master's in business administration in 1969. "Nobody was better prepared to understand and solve problems than Tech grads were," he says. . . .
Janet Garvey
'77
Jan received a Bachelor of Science in Chemical Engineering from Michigan Tech in 1977. She also earned a Master of Science in Business Administration from Central Michigan University. Currently, she is the commercial development manager for Dow Chemical's new Contract Manufacturing Services business and a manager in Pharmaceuticals Process Research. She is a member of the United Way Leadership Circle and a Dow Chemical . . .
Charles Hansen
'65
Mr. Charles F. Hansen earned a degree in Chemical Engineering from Michigan Tech in 1965. After graduating, he joined the Grain Processing Corporation in Muscatine, Iowa as a Process Engineer. In 1966, he returned to his native town, Neenah, Wisconsin, as a Chemical Engineer with Kimberly-Clark Corporation. Soon after joining Kimberly-Clark he was transferred to South Carolina, where he participated in the construction . . .
Stay Connected
Boost the New Graduate Emergency Fund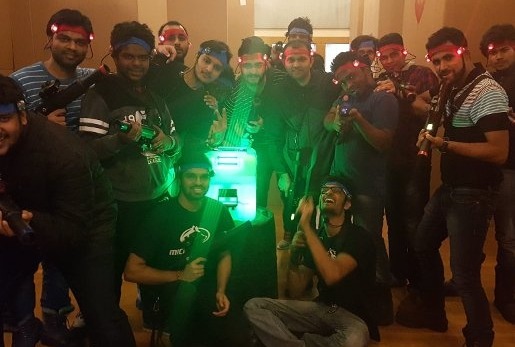 Our industrious Graduate Student Government has seeded the newly created Graduate Student Emergency Fund with donations raised from a laser tag event. Please help them build this fund to give meaningful help to a graduate student who finds themselves in sudden need of help.