What is environmental science and sustainability?
Physical and biological science. Social, political, and technological aspects of the environment. Sustainability.
A bachelor's degree in environmental science and sustainability from Michigan Technological University provides you with the tools to create a sustainable future for the environment. Integrate societal needs and perspectives with science-based environmental practices. Gain an understanding of the natural world in our own backyard that may be applied to global issues. Become what tomorrow needs.
What will I learn?
Students in this program gain a technical foundation in measuring and monitoring environmental factors and the environmental challenges faced by society. You will specialize in one of three tracks to gain an interdisciplinary perspective on Climate Science, Environmental Policy, or Geospatial Science.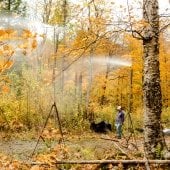 Climate Science
Complete classes relating to topics such as the science of climate change, wildland fire, and environmental biogeochemistry. Utilize team dynamics and decision making to gain skills for the workplace.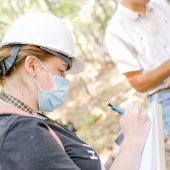 Environmental Policy
Take courses related to policy such as conservation biology and wetlands, as well as social sciences to broaden your perspective on linkages between the environment and the needs of humans.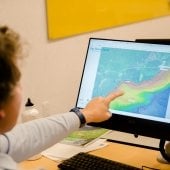 Geospatial Science
Complete courses that add to your skill sets in collecting geospatial data, visualizing this data and large-scale landscapes. Understand physics relevant to remote sensing technologies.
Earn and Learn - Get paid for research work
Attain the fundamentals of environmental sustainability. Explore social and cultural aspects of the environment and the ways in which society perceives sustainability. Understand the policies and regulations that affect a more sustainable future. Collaborate with leading scientists to address issues in climate change, environmental policy, and sustainable use of natural resources. Get skills to land a summer job in your field, and start building a career after your first year of classes. Choose an area that you are most passionate about.
Where do environmental science and sustainability graduates get jobs?
Our graduates attain careers with federal agencies (such as the Environmental Protection Agency, Department of Agriculture, Fish and Wildlife Service, and National Oceanic and Atmospheric Administration), state agencies, nonprofits, and private companies.
Environmental Scientist
Environmental Policy Specialist
Conservation Scientist
Sustainability Specialist
Air Quality Forecaster
Climate Change Specialist
GIS Technician or Analyst
Learning Goals
At the completion of this degree students will be able to:
Explain core concepts in the field of environmental science and sustainability.
Identify and evaluate sources of information relating to the environment and sustainability.
Summarize and analyze alternative solutions to situations or problems associated with issues in environmental science and sustainability.
Assess the diverse human relationships, perceptions, and policies related to the environment.
Communicate effectively (orally and in writing) about issues related to environmental science and sustainability.
Recognize the professional standards that ensure their behaviors are consistent with working in the environmental science field.
Perform effectively in teams.
Concentration Specific Learning Goals
Climate Science – Students will explain atmospheric processes, describe defining features of climates, and discuss the major factors that influence climate change
Environmental Policy – Students will evaluate and apply environmental policy to environmental and sustainability issues.
Geospatial Science – Students will integrate the use of geospatial tools to address issues relating to the natural environment.
Tomorrow needs a sustainable environment, community, and future. Be what tomorrow needs