Oversee wildlife populations through habitat management, implement policies to protect endangered species, and explore population dynamics. Be what tomorrow needs with a Bachelor of Science in wildlife ecology and conservation at Michigan Tech.
Other schools own forests—but ours is right out the back door at the Ford Center and Forest. There isn't a better place to study natural resources than the wild Keweenaw Peninsula, bordered by Lake Superior, blanketed with forests and wetlands (and 218+ inches of snow each winter). First-year students have two outdoor field labs and are all eligible to participate and be paid as Earn and Learn students, acquiring the hands-on knowledge and experience to land a summer job or internship after their first year.
Upon graduation, students will have obtained hundreds of hours in the field, from classroom labs, to research. This experience puts our students a step above the rest when it comes to working for government agencies, non-profits, consulting firms, and others.
What is Wildlife Ecology and Conservation?
Wildlife Ecology and Conservation is the study of animals in their natural habitats and how these systems compete and interact with humans in our world today.
Wildlife ecology is about managing populations in an ethical, sustainable way to benefit the coexisting relationship that humans and wildlife have. Conservation efforts aim to enhance these systems, restore them, or protect them in today's climate-driven world. Observe patterns of distribution, combined with the biology and habits of animals to balance ecosystems. Study bird movement across fragmented Hawaiian landscapes, osteoarthritis risk in wild moose, aquatic-plant herbivore habits, and distributions in urban areas. Your studies take you to the places where humans and wildlife intersect, from endangered species prevention or mitigation, to hunting and fishing regulations, to habitat protection or restoration. Wildlife ecology and conservation is about managing wildlife for tomorrow.
What Will I Study?
If you love to be outside and are interested in studying animal populations and how land-use and management decisions affect them, you'll feel at home in our wildlife ecology and conservation program—home to the longest-running predator prey study in the world.
Study conservation science, population ecology, conservation genetics, wildlife techniques, and mammalogy. Fieldwork, teamwork, leadership, and professional development prepare you to model, analyze, compare, communicate, and deploy tools and techniques used to understand nesting, migration, food supply, and how biodiverse systems like fish streams are affected by factors and systems ranging from hydrological development to climate change.
Roam ecosystems of your proving ground: the wild Keweenaw Peninsula, bordered by Lake Superior and blanketed with forest and wetlands.
Digitize wolf howls. Tag birds. Track wildlife with radio telemetry. Assess, monitor and manage wildlife populations. Learn the process for making effective land management decisions for wildlife habitat maintenance and protection of ecosystem composition.
Learn how to use Geographic Information Systems (GIS), and be proficient in GPS, land measurement and remote sensing skills.
Put your newfound skills and knowledge to work ASAP. After the first year of classes you'll be qualified to find a summer job in your field and start building your future career.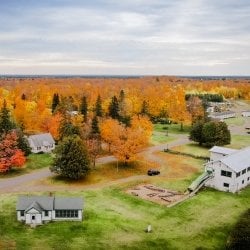 "Camp" at the Ford Center and Forest
Spend a semester outdoors at our 3,500 acre forest just 40 miles away from main campus in Alberta, MI. During student's third year, they will live, eat, sleep, and study with peers while living in dorms located right on the property. Get out in the field Monday through Friday for classes such as survey of silviculture, forest health, and wildlife habitat to collect samples, study natural ecosystems, and learn the necessities that will help you attain your natural resource career. Learn more about "camp" - or integrated field practicum - here.
Be Career Ready
As the climate continues to change, it is vital to understand and manage wildlife in their ever-adapting habitats in a way that is ethical and sustainable.
Each year, the College of Forest Resources and Environmental Science hosts its own Natural Resource Career Fair. ~20 companies from across the US travel to the college in late fall to educate and recruit employees.
Our wildlife ecology and conservation graduates go on to work at government agencies, non-profits, and even create their own consulting companies.
Career Opportunities for Wildlife Ecology and Conservation
Wildlife biologist

Fisheries Biologist

Conservation biologist

Endangered species specialist

Wildlife refuge manager

Natural resources manager

Wildlife researcher

Veterinarian

Environmental Educator
Michigan Tech Wildlife Ecology and Conservation Majors Have Been Hired By
Pheasants Forever

Department of Natural Resources
Fish and Wildlife Service
US Forest Service
County Conservation Districts