A Bachelor of Science in Forestry at Michigan Tech prepares you to protect the world's natural resources with others who are just as passionate as you.
Other schools own forests—but ours is right out the back door at the Ford Center and Forest. There isn't a better place to study natural resources than the wild Keweenaw Peninsula, bordered by Lake Superior, blanketed with forests and wetlands (and 218+ inches of snow each winter). First-year students have two outdoor field labs and are all eligible to participate and be paid as Earn and Learn students, acquiring the hands-on knowledge and experience to land a summer job or internship after their first year.
Upon graduation, forestry students are nationally accredited by the Society of American Foresters, putting them a step above the rest when it comes to working for federal agencies, large-scale timber companies, non-profits, and others that require this accreditation.
What is Forestry?
Forestry is silviculture, combined with sustainability, backed by science.
Forestry is determining the characteristics of forested ecosystems and their connections, discovering the value trees hold to landowners, recreational users, and timber companies. Manage the land based on the needs of those directly impacted, as well as those who will be affected in hundreds of years. Assess the soils, water, and herbaceous understory beneath the trees. Study sugar maple dieback on the northern range, warming experiments in tropical forests, the future of Michigan biofuels (and bioenergy development across the Americas), intensive industrial plantation systems, and family forest conservation. Forestry is about managing forested ecosystems for tomorrow.
What will I study?
Study soil science, biometrics, hydrology, and silviculture. Identify the 37 native tree species of Michigan's Upper Peninsula. Learn the 152 trees and plants covered in the Vegetation of North America course. As a member of our scholarly community, you'll build strong working relationships with professors and peers in classrooms, labs, and out in the field for work and play. You'll find many opportunities, through social and intellectual interaction, to dive into subjects that matter most to you.
Work with communities, the College, and private landowners to develop management plans (industry and recreational) for forested landscapes.
Mark and harvest timber.
Perform field canopy, arborist, and selective harvest practices. Identify tree pests and diseases.
Learn how to use and be proficient in Geographic Information Systems (GIS), land measurement, and remote sensing skills.
Put skills and knowledge to work ASAP. After the first year of classes you'll be qualified to find a summer job in your field, and start building your future career.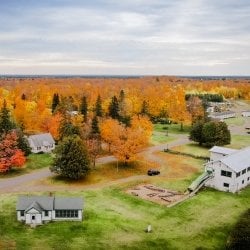 "Camp" at the Ford Center and Forest
Spend a semester outdoors at our 3,500 acre forest just 40 miles away from main campus in Alberta, MI. During student's third year, they will live, eat, sleep, and study with peers while living in dorms located right on the property. Get out in the field Monday through Friday for classes such as survey of silviculture, forest health, and wildlife habitat to collect samples, study natural ecosystems, and learn the necessities that will help you attain your natural resource career. Learn more about "camp" - or integrated field practicum - here.
Be Career Ready
As humans continue to depend on forests for a variety of values, tomorrow's foresters will need to understand how to manage our lands in an era of climate change and sustainability.
Each year, the College of Forest Resources and Environmental Science hosts its own Natural Resource Career Fair. ~20 companies from across the US travel to the college in late fall to educate and recruit employees.
Career Opportunities for Forestry
District Forester

Urban Forester

Forest Consultant

Utility Forester

Research Scientist

Timber Broker

Procurement Forester

Forest Resource Manager

Forest Economist
Michigan Tech Forestry Majors Have Been Hired By
Lyme Great Lakes Timberland

Department of Natural Resources

American Forest Management

Fish and Wildlife Service

US Forest Service

Davey Tree Company

Northern Institute of Applied Climate Science

Green Timber Consulting