What is forestry?
Sugar maple dieback on the northern range. Warming experiments in tropical forests. The future of Michigan biofuels—and bioenergy development across the Americas. Intensive industrial plantation systems. Family forest conservation. If you have a love for the woods, and a desire to sustain resources for the future, you will feel at home in our nationally recognized program, and our nationally designated Model Forest. Our College is a community on a first-name basis, connected by shared passion for study, research, and work centered on forest health and ecosystem integrity.
What will I learn?
Earn and Learn—Get paid for research work
Other schools own forests. But ours is right out the back door. There isn't a better place to study forestry than the wild Keweenaw Peninsula, bordered by Lake Superior, blanketed with forests and wetlands (and 218+ inches of snow each winter).
Watch My Michigan Tech: Emma Jones video
My Michigan Tech: Emma Jones
Learning in the forest from professors who not only know the names of all the birds and trees, they also know hers. That's Michigan Tech for Emma.
Watch My Michigan Tech: Ben Nicolson video
My Michigan Tech: Ben Nicolson
Ben comes from a family of Michigan Tech foresters. He talks about why there is no other school for him. The short answer? The reputation, the resources, the camaraderie, and fall camp.
What will I study?
Study soil science, biometrics, hydrology, and silviculture. Identify the 37 native tree species of Michigan's Upper Peninsula. Learn the 152 trees and plants covered in FW2010 Vegetation of North America. As a member of our scholarly community you'll build strong working relationships with professors and peers in classrooms, labs, and out in the field for work and play. You'll find many opportunities, through social and intellectual interaction, to dive into subjects that matter most to you.
Work with communities, the College, and private landowners to develop management plans (industry and recreational) for forested landscapes.
Mark and harvest timber.
Perform field canopy, arborist, and selective harvest practices. Identify tree pests and diseases.
Learn how to use Geographic Information Systems (GIS), and be proficient in GPS, land measurement and remote sensing skills.
Put skills and knowledge to work ASAP. After the first year of classes you'll be qualified to find a summer job in your field, and start building your future career.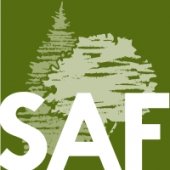 Our forestry and master of forestry programs are SAF accredited. Employers look for it.
Where do foresters find jobs?
Our graduates work for the US Forest Service, US Department of Agriculture, state forestry divisions, and the forest industry, including forestry and environmental consulting firms. They also receive job offers from public school districts, higher education institutions, nature conservancies, wildlife federations, sovereign Native American nations, and research stations. You can also pursue an advanced academic degree—many of our graduates do.
Where our foresters are working
Apple Valley Unified School District
Big Game Commission
Colorado State University
Compass Land Consultants Inc.
Congressman Dan Benishek, Michigan's First District
Conservancy of Southwest Florida
Davey Resource Group
Department of Agriculture
Department of Natural Resources
DTE Energy
Great Basin Institute
Green Timber Forestry
Hancock Forestry Management
Huber Resources
Idaho Fish and Game
Indiana State University
Lac Vieux Desert
Longyear
Martel Forestry Inc.
Michigan Department of Natural Resources
Michigan Technological University
Mississippi State University
National Wild Turkey Federation
Northern Institute of Applied Climate Science
Northern Land Use Research—AK
Prenpiss and Carlisle
Schillinger Forestry, LLC
Southern Sierra Research Station
Steigerwaldt Land Servs Inc.
UMaine Extension 4H Camp at Bryant Pond
University of New Hampshire
University of Wisconsin
US Forest Service
USDA Wildlife Services
Forester
Forest scientist
Staff forester
District forester
Fire management officer
Consultant
Urban forester
Research Scientist
Utility forester
Forest resource manager
Procurement forester
Forest economist
Forest ranger
Timber broker
Environmental advisor
Teacher
Learning Goals
At the completion of this degree students will be able to:
Develop an in depth knowledge of the field of forestry.
Develop a strong set of field skills related to the management of natural resources.
Effectively identify and evaluate sources of information relating to forestry.
Provide alternative solutions to situations or problems in forestry.
Communicate effectively (orally and in writing) about issues related to forestry.
Develop skills that ensure they behave with a high level of professionalism.
Develop the ability to work effectively in teams.