A Bachelor of Science in Natural Resource Management at Michigan Tech prepares you to use knowledge-based leadership to solve real-world environmental problems.
Other schools own forests—but ours is right out the back door at the Ford Center and Forest. There isn't a better place to study natural resources than the wild Keweenaw Peninsula, bordered by Lake Superior, blanketed with forests and wetlands (and 218+ inches of snow each winter). First-year students have two outdoor field labs and are all eligible to participate and be paid as Earn and Learn students, acquiring the hands-on knowledge and experience to land a summer job or internship after their first year.
Upon graduation, students will have obtained hundreds of hours in the field, from classroom labs, to research. This experience puts our students a step above the rest when it comes to working for government agencies, non-profits, consulting firms, and others.
What is Natural Resource Management?
Natural resource management is the way in which people and natural landscapes interact. The management of our natural resources directly affects the quality of life for current and future generations.
At the core, natural resources management is about using knowledge-based leadership to solve or prevent environmental problems. Environmental challenges are diverse and complex, and require a firm foundation in natural resources science and ecosystem management. You will learn to understand interdependent ecological and sociopolitical systems—the balance between human interests and environmental health. Planning. Environmental energy. Tribal lands. Public recreation. Private industry. Natural Resource Management is about working together to protect the environment for generations to come.
What Will I Study?
If you feel a connection with the outdoors and are willing to dig deep into a broad base of sciences and disciplines—including social, ethical, and business—you will feel at home in our natural resources management program.
Study landscape ecology and planning, forest ecology, natural resource conservation, and ethics of conservation. We emphasize professional development, fieldwork, teamwork, leadership, and communication, preparing you to meet contemporary environmental problems and debates—from wetland preservation to forest conservation—head-on. You build strong working relationships with professors and peers that will help you find and focus on your niche, developing the skills and training to solve 21st-century natural resource challenges.
A degree in natural resources management equips you with the knowledge, expertise, ethics, and perspective to address complex environmental problems that relate to renewable natural resources. What makes this program different from the rest?
a social/human dimensions sequence, based in the department of social sciences.
an economics/business component taught by faculty with primary appointments in the Michigan Tech College of Business.
a unique capstone class and requires biogeochemistry, natural resources ethics and the environment, and a natural resource conservation seminar.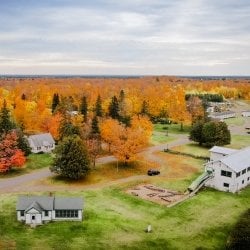 "Camp" at the Ford Center and Forest
Spend a semester outdoors at our 3,500 acre forest just 40 miles away from main campus in Alberta, MI. During student's third year, they will live, eat, sleep, and study with peers while living in dorms located right on the property. Get out in the field Monday through Friday for classes such as survey of silviculture, forest health, and wildlife habitat to collect samples, study natural ecosystems, and learn the necessities that will help you attain your natural resource career. Learn more about "camp" - or integrated field practicum - here.
Be Career Ready
As the climate continues to change, it is increasingly important to understand and manage the ecosystems that are affected by human dimensions in a way that is ethical and sustainable.
Each year, the College of Forest Resources and Environmental Science hosts its own Natural Resource Career Fair. ~20 companies from across the US travel to the college in late fall to educate and recruit employees.
Career Opportunities for Natural Resource Management
Conservation Scientist
GIS Specialist
Environmental Consultant
Environmental Lawyer
Restoration specialist
Natural Resource Communications Specialist
Environmental Policy Analyst
Michigan Tech Natural Resource Management Majors Have Been Hired By
National Park Service
Department of Natural Resources
Tribal Natural Resource departments
Bureau of Land Management
The Nature Conservancy