Josue Reynoso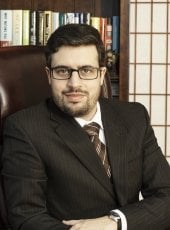 Contact
906-487-4368
Academic Office Building 128
Assistant Professor of Entrepreneurship and Management, College of Business
PhD, Strategy, Innovation and Entrepreneurship, Rensselaer Polytechnic Institute
MS, Business of Technological Innovation, Universidad Panamericana (Mexico)
BS, Mechatronic Engineering, Universidad Panamericana (Mexico)
Biography
Josué Reynoso's PhD dissertation explores how organizations and individuals identify opportunities for the commercialization of advanced technologies. Dr. Reynoso is a member of, and has presented his research at, the Academy of Management, the Strategic Management Society, and the Product Development Management Association (PDMA). In 2017, he received the best student paper at the PDMA Research Forum in Chicago.
Prior to starting his doctoral studies, Reynoso was assistant professor and head of the Computer-Aided Engineering Center at the Engineering School of Universidad Panamericana in Guadalajara, Mexico. He also worked as an application and process engineer in automotive, software, and metal-mechanic industries where he led the largest implementation of PDM software in Latin America; designed and implemented a production line for the assembly of automotive bezels; and developed products for the medical and electronics industries. In 2010, he was also the first to obtain the certification as expert in the mechanical design software SolidWorks in Mexico.
Dr. Reynoso's entrepreneurial experience includes cofounding a product-development company that developed consumer electronics and founding a company which provided training and consulting services for product-development teams.
Teaching Interest
Technology Entrepreneurship

Innovation Management

Corporate Entrepreneurship

Commercialization of Advanced Technologies
Research Interests
Opportunity Identification

Innovation Management

Industry Dynamics

Problem Solving

Complexity Theory