Heather Sorcha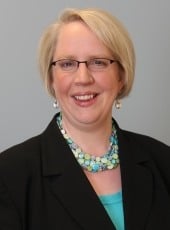 Contact
906-487-2771
Academic Office Building 124
Associate Professor, College of Business
PhD, Finance, Washington State University, 2011
MA, Applied Economics, Washington State University, 2010
BA, Actuarial Science, Roosevelt University, 1999
Biography
Dr. Sorcha earned a Bachelor of Arts in Actuarial Science from Roosevelt University in 1999, working in industry as a pension actuary. Sorcha earned a Master of Arts in Applied Economics (2010) and Doctorate in Business Administration – Finance (2011), both from Washington State University. Sorcha researches financial technology (FinTech), insider trading, and investor sentiment, with publications in the Financial Analysts Journal, the Journal of Business Research, the International Review of Economics and Finance, the Journal of Financial Education, and Managerial Finance.
Dr. Sorcha teaches Derivatives & Financial Engineering, Equity Analysis, Financial Risk Management & Decision Making (MBA), FinTech Foundations, Investment Analysis, and Principles of Finance. Sorcha has been nominated multiple times for Michigan Technological University's Distinguished Teaching Award. Sorcha was inducted into Michigan Tech's Academy of Teaching Excellence in 2018 and into Michigan Tech's Dean's Teaching Showcase in 2017. In 2013, Sorcha received the College of Business Administration Dean's Teaching Award as a faculty member at Central Michigan University. In 2010, Sorcha received Washington State University's Graduate Student Teaching Excellence Award.
Dr. Sorcha currently serves as President for the MBAA International Academy of Finance, on the Editorial Advisory Board for Managerial Finance, and as a board member on the Finance Council for the Roman Catholic Diocese of Marquette. At Michigan Technological University, Sorcha serves as chairman of the College of Business Faculty Scholarship (Research) Committee, as a member of the College of Business Undergraduate Programs Committee, and as the faculty advisor for the Finance Club.
Teaching Interests
Derivatives and Financial Engineering
Equity Analysis
FinTech
Investment Analysis
Principles of Finance
Research Interests
FinTech
Insider Trading
Investor Attention
Market Efficiency
Selected Publications
Knewtson, Heather, Russ Louks and Tom Merz, Scorecasting: Framing Effects in a Finitely Repeated 2x2 Zero-Sum Game, Journal of Economic Insight (forthcoming)
Knewtson, Heather, Dean Johnson and Joel Tuoriniemi, Student Managed Investment Funds: Maximizing Learning Opportunities by Increasing Student Control, Advances in Financial Education, Summer 2020.
Knewtson, Heather and Zachary Rosenbaum, 2020, Toward Understanding FinTech and its Industry, Managerial Finance, 46(8), 1043-1060.
Knewtson, Heather, W. Paul Chiou and John Nofsinger, 2019, Paying Attention to Social Media Stocks, International Review of Economics and Finance, 59, 106-119.
Knewtson, Heather and Howard Qi, 2019, Managing Risk for Sustainable Microfinance, Journal of Risk Finance, 20(1), 2-13.
Knewtson, Heather, 2018, Paying Attention to Student Learning in Principles of Finance, Journal of Financial Education, 44(2), 246-261.
Knewtson, Heather and John Nofsinger, 2014, Why are CFO Insider Trades More Informative? Managerial Finance, 40, 157-175.
Knewtson, Heather, 2014, Leading a Mock Trading Floor: Active Based Learning in a Business Context, Journal of Accounting and Finance, 14, 11-19.
Knewtson, Heather, Richard Sias and David Whidbee, 2010, Style Timing with Insiders, Financial Analysts Journal, 66, 46-66.
Knewtson, Heather and Richard Sias, 2010, Why Susie Owns Starbucks: The Name Letter Effect in Security Selection, Journal of Business Research, 63, 1324-1327.