Ulrich Schmelzle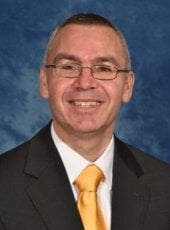 Contact
906-487-2710
Academic Office Building G010B
Assistant Professor of Supply Chain and Operations Management, College of Business
Affiliated Professor, Construction Management
PhD, Supply Chain Management, University of Tennessee, Knoxville, TN
Certificate of Advanced Study, International Business, Thunderbird, Glendale, AZ
MBA, Supply Chain Management, Arizona State University, Tempe, AZ
BS (equiv.) Industrial Engineering and Management, University of Hamburg, Germany
Biography
Prior to returning to academia, Dr. Schmelzle held different managerial positions in supply management, manufacturing, and logistics planning in Europe and the U.S. With more than 18 years of industry experience, he has worked as a consultant, entrepreneur, and senior manager primarily in the semiconductor and aerospace industries. His research focuses on managerial decision-making promoting efficiency and innovativeness. He is particularly interested in how supply chain and operations management can enhance the innovation performance of the organization. He regularly presents his research at national conferences from organizations such as the Decision Sciences Institute (DSI) or the Council of Supply Chain Management Professionals (CSCMP).
Teaching Interests
Operations Management
Purchasing and Supply Management
Logistics Management
Research Interests
Supply Chain-Driven Innovation
Purchasing Decision-Making
Interorganizational Integration
Supply Chain Resource Orchestration
Recent Publications
Schmelzle, Ulrich, and Wendy L. Tate. 2017. "Introducing a Supply Chain Resource Orchestration Framework." Council of Supply Chain Management Professionals:Proceedings of the 2017 Academic Research Symposium, Atlanta, GA. September 2017 (forthcoming).

Schmelzle, Ulrich, and Wendy L. Tate. 2017. "Integrating External Knowledge: Building a Conceptual Framework for Innovation Sourcing." Transportation Journal. 96(4): 477-512.


Tate, Wendy L., Lisa M. Ellram, and Ulrich Schmelzle. 2017. "A Little Help From My Friends: How Purchasing Gains Influence in Complex B2B Services: The Case of Legal." Journal of Business and Industrial Marketing 32(2): 206 – 217.


Schmelzle, Ulrich, and Wendy L. Tate. 2015. "Macroeconomic Influence on Procurement Strategy's SC Cost Performance: A Systems Dynamics Simulation Study." Proceedings of the 46th Annual Meeting 2015 of the Decision Sciences Institute, Seattle, WA. November 2015.