About the College of Business
The College of Business provides an AACSB-accredited curriculum in our undergraduate and graduate business program.
In alignment with the Michigan Tech Strategic Plan, the College of Business provides real-world business development experiences for our future business leaders. We prepare students for a culture where technology is impacting our lives faster than ever before and where business development will be the key to our students' success. Graduates leave with the knowledge of theory plus practical experience needed to bring innovations to market, solve business challenges using technology, and climb the ranks to become CEOs.
Building on the University's technological prominence, the College of Business is proud to offer our undergraduate and graduate students an education to create the future.
---
Points of Pride
Undergraduate business majors in accounting, finance, engineering management, management, management information systems, and marketing, plus two of our graduate degrees--Tech MBA® and a Master's of Science in Accounting--are accredited by the Association to Advance Collegiate Schools of Business (AACSB).

Our Applied Portfolio Management Program team has won annual RISE national investment competitions, and the GAME national investment competition in the value category, based on their actual investment results of $1.8 million of real money.

Students in the College of Business have participated in THE Project competition sponsored by the West Michigan Chapter of the Project Management Institute (WMPMI).

Our groups best other Michigan schools--placing first in 2017, third in 2018, and second in 2019.

In the accounting major, students give their time to help other Huskies and community members file their income taxes each spring through the Volunteer Income Tax Assistance program.
Entrepreneurial students from Michigan Tech compete for $30,000 in the New Venture Competition, a joint business plan competition between Michigan Tech and Central Michigan University.
The Silicon Valley Experience provides Michigan Tech students with the opportunity to travel to the innovation hub of the US, where they visit companies like Google, Cisco, Facebook, Handshake, and Tesla.
In recent years, two of our faculty have won the University's Distinguished Teaching Award. Our professors care about students and take the time to get to know their goals.
---
Location
Michigan Technological University is located in the Upper Peninsula of Michigan, an area attractive to students and faculty who thrive in a rugged and beautiful environment.
Houghton, home of the University, lies in the heart of Upper Michigan's scenic Keweenaw Peninsula. The campus overlooks the Keweenaw Waterway, a long, winding ribbon of water that divides the peninsula. Just a few miles from campus, on either end of the waterway, lies Lake Superior, the largest freshwater lake in the world by surface area.
Houghton is part of the Houghton-Hancock twin-city center of approximately 12,000 residents. The University's more than 7,000 students from many states and nations make the area a vibrant, multicultural community. Houghton is home to many exciting cultural activities, including the annual fall Parade of Nations, a celebration of the community's diversity.
Only minutes from campus, the Tech Trails offer nearly 40 miles of well-maintained hiking, biking, skiing, and snowshoeing trails located in the six-hundred-acre recreational forest adjoining Michigan Tech's campus.
---
Accreditation Means Quality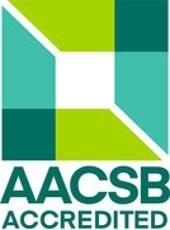 The College of Business is accredited by the Association to Advance Collegiate Schools of Business (AACSB). This voluntary review of educational institutions has been evaluating the practice of business schools for more than 90 years. AACSB accreditation represents the highest standard of achievement for business schools worldwide. Being AACSB-accredited means a business school is able to continuously pass a strict set of standards that are designed to ensure quality. This is why AACSB-accredited business schools are the best in the world.
Only a very small percentage of business schools worldwide hold AACSB business accreditation. Learn more: AACSB website.
---
Mission Statement
The Michigan Tech College of Business prepares graduates to innovatively respond to challenges and opportunities in a global environment. We enhance the University's technological prominence through influential scholarship, experiential learning, and stakeholder outreach.
Vision
The College of Business produces tech-savvy business graduates and business-savvy STEM graduates.
Educational Value Statements
Driving innovation through experiential learning
Global thinking, local action
Diversity, inclusion, and ethics