Curious how our world has been shaped by choices made in the past? A Bachelor of Arts degree in History from Michigan Tech could be key to unlocking your future. This degree program blends history with specialized subjects for an excellent liberal arts education. Think of history as society's collective memory. Like an individual requires an accurate memory to function effectively, a society must maintain an accurate collective memory to thrive.
By investigating and learning about the past, you lay the foundation for a variety of careers in law, government service, libraries and museums, education, and for information-gathering positions in businesses and non-profit organizations.
Why study history?
Peter N. Stearns, former editor-in-chief of The Journal of Social History, explains a number of reasons to pursue the field of history in his article Why Study History from the American Historical Association.
History helps us understand people and societies.
Understand the importance of history in our own lives.
History contributes to moral understanding.
History provides identity.
Studying history is essential for good citizenship.
What Will I Be Studying
Our curriculum is adaptable to your interests. Choose a general area of historical focus and study what you're most passionate about, such as American or European history, the history of technology, environmental history, or patterns of industrialization and deindustrialization.
Learn about patterns of change over time in three general areas: US history, European history, and global history. In addition, select more specific history courses within general categories and examine your area of interest from other disciplinary perspectives. As a capstone project, choose between a thesis or to research two questions of a historical nature and summarize your findings in essays written as class assignments.
Other electives and the University's general education program, allows you to pursue interests in other areas like business, communications, or the arts.
Our History program is also pleased to host the Michigan History Day – district 1 competition on campus each spring term.
"I was given a unique opportunity to interact with faculty, staff, and students to better understand, learn, and grow. In my recent professional work as well as my current masters curriculum, I constantly refer to the work I did for my history degree at Michigan Tech and with the faculty in social sciences. I have been able to build on the knowledge I gained to think critically and continue to ask questions. "
Questions?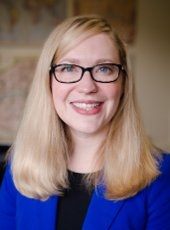 Associate Teaching Professor
Anthropology and History Program Advisor
Learning goals
The history program will develop your competency in:
Historical Knowledge. Identify major themes, issues, and developments in American history and in the historical experiences of other world regions; identify how those developments compare with larger historical patterns.
Historical Engagement and Critical Analysis. Understand and engage in interpretive discussions and/or debates about major societal changes, demonstrating a grasp of basic historiographical issues.
Historical Research. Work independently and conduct effective historical research using both primary sources and appropriate secondary sources.
Historical Interpretation, Synthesis, and Presentation. Develop the ability to present the results of historical research effectively in both written and oral form using varied and appropriate technologies.
What jobs will I have?
Our program prepares you for graduate school, law school, business and management, and a myriad of professions. So set your sights high and follow your passion. A bachelor's degree in history sets you up for teaching, law, the ministry, business, governmental administration, journalism, archival and museum work, and historical preservation. History alumni have diverse positions including:
Head Librarian
Attorney
Strategic Intelligence Officer
Law Firm Administrator
Archivist
Executive Officer, US Army
History teacher
Professor of history
Technical Writer
Business Owner
Beyond the classroom
Our low student-to-faculty ratio means individualized attention in classes and advising. Your instructors will know you personally, so ask about how to gain real-world experience: internships, study abroad, research opportunities, Enterprise projects, or completing Air Force and Army officer training programs.
Professional development
Whether you plan to apply to graduate schools or interview for employment, our professional development course prepares you. From guidance on writing cover letters and graduate school essays to preparing for the GRE, LSAT, and your first job interview.
Specific courses also provide professional development opportunities such as using geographic information systems (GIS) to analyze problems spatially, interviewing people, and conducting archival research. Husky grit and tenacity guaranteed by graduation.
Research opportunities
Social sciences share the goal of understanding how human behavior is organized, how people make collective choices, and how social structures and daily practices change over time. Michigan Tech faculty conduct research to help communities and policy makers make informed choices in environmental and energy policy and industrial heritage.
A number of historical sites of national importance can be found in Michigan Tech's backyard. Michigan's wildly beautiful Keweenaw Peninsula has a rich mining history from prehistory to the twentieth century. The setting of the country's first copper boom in 1843, the Keweenaw boasts the world's largest native copper deposit. It also has a rich and diverse cultural heritage, with ethnic groups from all across Europe settling here in the second half of the 19th century. Students interested in industrial archaeology have the opportunity to research this history in original ways.
Faculty are eager to guide students' independent studies, either in their field of research, or in one you identify. Many students have earned a Michigan Tech Summer Undergraduate Research Fellowship (SURF).