The Department of Social Sciences depends on alumni and friends to help advance its educational and research mission in ways that are transformative for students, the university, and larger community. You can have sustainable and substantial impact by supporting the department's undergraduate and graduate programs.
Questions About Your Gift?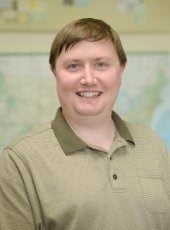 Department Chair, Social Sciences
Director, Geospatial Research Facility
Professor of Geography and GIS
What Your Gift Could Accomplish
State of the Art Surveying Station
Students in the Department of Social Science's 2019 Industrial Archaeology field school have been documenting sites for the Isle Royale National Park and the Keweenaw National Historical park with a new "total station," thanks to a gift by Eloise and Bill Haller. A total station is a collection of electronic equipment and software for surveying a site and capturing and storing all the necessary data. The equipment it replaces dates back to 2002. As you can imagine, surveying and data collection tools have advanced considerably since then!
Eloise made the gift after asking Dr. Pat Martin about what unmet needs she might be able to help with. When Pat mentioned upgrading the department's old digital surveying equipment, Eloise did not hesitate. She was already familiar with the world of Industrial Archaeology because, after retiring, she and Bill had audited a number of courses at Michigan Tech, including The Archaeology of Industry. That course set the stage for the Haller's conducting research on a local Atlas Powder dynamite factory, which had all but disappeared from sight and memory, using collections in Van Pelt Library's Copper Country Archive. In 2007, Bill published his research as a book, Atlas Powder in Senter, Michigan, 1910-1960, a significant contribution to the industrial history of the Copper Country.
The gift includes a powerful laser-based survey station combined with a tablet-based data collector, two separate hand-held GPS units, and the software needed to connect everything seamlessly. According to Dr. Sean Gohman, who is leading this year's field school, the new equipment is an order of magnitude easier to set up and get into operation than the previous equipment. "The old equipment was a little clunky and took some time to learn how to use. Now, I can show a student how to set the equipment up in ten minutes and they're able to do it on their own the next day. In a teaching setting, this is a really important feature."
The combination of hardware and software associated with the total station allows students and researchers to produce accurate maps of complicated landscapes associated with past industrial activity. It also allows students to be trained on tools they will be using for years to come as they continue to research and gain insights into the past industrial activity of communities throughout the world.
Faculty and students in the department are grateful to Eloise for making the acquisition of the Total Station possible and to Bill, who passed away this past year, for being strong friends of the Michigan Tech community.