The Field School Experience
Learning archaeological fieldwork is an immersive experience where teamwork is essential. It takes weeks of work before a person can begin assembling the clues from each discovery into meaningful pictures of the past. As a result, students should expect the work to be exacting, often slow, and physically challenging, as one develops professional skills over time. We work eight-hour days in all conditions, five days a week throughout the six-week summer course.
2020 Field School
June 28 - August 13, Track B
(Rescheduled due to Coronavirus)
SS 3210 Field Archaeology - 6 credits (undergraduate)
SS 5700 Archaeological Field Methods - 3 credits (graduate)
This year's field school will include a series of projects that give students the opportunity to investigate places where archaeological remains might be damaged by repair and improvement projects this summer—a classic scenario in cultural resources or heritage management careers—while also practicing "public" archaeology. Students will have the opportunity to collect remote sensing and survey data for different landscapes and sites, help to design strategies for and complete excavation of potential sites, and analyze the results to yield recommendations on how to move forward. At the same time, the research team will share the research with communities, using both "real face-to-face" and social media interactions. The final site selections will occur in during the spring, working in collaboration with Fort Wilkins State Park, Michigan Technological University, The Keweenaw National Historical Park Advisory Commission, the Keweenaw Land Trust, and other agencies and landowners in the Keweenaw.
This summer, students will:
Survey and excavate potential sites of ancient and early industrial-era life in the Keweenaw, working at sites on Mont Ripley and Fort Wilkins, historic cemeteries in the area, as well as other sites.

Use Ground Penetrating Radar, LiDAR, and other pedestrian- and aerial ROV-based remote sensing and survey tools for visualization and analysis in a Geographic Information System (GIS) data structure

.

Assist in research design, mapping, documenting, and excavating features in order to provide guidance to agencies and landowners on the legal and ethical management of cultural resources.

learn practical archaeological skills which may include: interpreting soils/sediments/stratigraphy, survey and landscape visualization, survey design, phase I and II site assessment,

artifact analysis, and site formation processes.
Study sites may include areas of Fort Wilkins State Park, Mont Ripley recreation area, the historic Quincy Smelter, and others. As plans are finalized, updates will be posted here and emailed to students that have completed the Field School Application Form.
There might be camping! Students will be able to carpool to each worksite daily, but camping may be an option when sites are far from Houghton (like at Fort Wilkins).
What will I learn?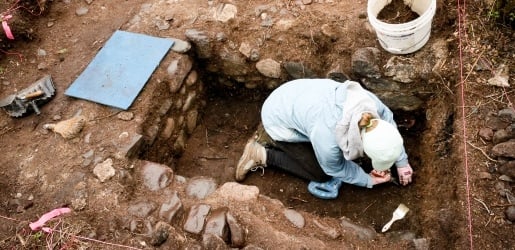 During the Summer Field School, students will learn a wide range of archaeological field methods and gain proficiency using important equipment and tools. Examples of what team members learn include the following:
consulting documents, maps, aerial photos, remote sensing data, and oral history during excavation and survey

using traditional and new mapping and remote sensing technologies, which may include tools like Global Position Systems (GPS), Total Station (EDM), terrestrial and ROV-platform LiDAR, Ground Penetrating Radar (GPR), and other instruments for GIS-based analysis

working with Shovel Test Pit survey for data recovery, including appropriate sampling methodology to ensure that artifacts are representative of the larger area, along with full excavation of grid units

ethically-driven decision making

about artifact collection, cleaning, identification, analyses, and conservation, considering industrial archaeological sites in particular

working with stakeholders of the site in the responsible conduct of public scholarship and research with industrial heritage, including legal and ethical issues surrounding industrial communities, sites, and landscapes

disseminating results using best practices for archaeological "SciComm" in social media and personal interactions
Current Michigan Tech Students
Michigan Tech undergraduate students can take SS 3210 Field Archaeology to complete up to 6 credits for any element of their general education degree requirements. The credits can count as either HASS (up to 6 credits) or STEM (up to 4 credits). Social Science majors (including Anthropology, History, and Social Sciences) may apply the credits to meet requirements of their degrees OR for general education. SS3210 may also be used towards completion of the Social Science minor in Historical Studies. Prior to enrolling, please confirm with your departmental academic advisor that the credits will count toward your desired degree requirements.
Register for the Field Archaeology course on Banweb. The undergraduate course number is SS3210, and the graduate course number is SS5700.
You can repeat credits for SS3210/SS5700, so you can take this course again for credit if you have already completed a field school.
Complete the Field School Application Form.
Domestic Undergraduate Students Enrolled in Outside Universities
To register for the Field Archaeology course as a guest student, complete the following steps:
Complete the Field School Application Form.
Visit the registrar at your home university and request a guest student application form. Using your own university's form streamlines the credit transfer process.
Note that you may enroll in whatever number of credit hours your institution requires. For example, some universities require their students to complete 4 credit hours of field school training. You should enroll for the number of credits appropriate to your home department's or university's requirements.
You may need to take the form to your university's registrar, and they will certify your application and forward the form to Michigan Tech's undergraduate admissions office; confirm this step with the registrar. You may be required to pay a $30 application fee. Tech's admissions office will submit the form to the registrar's office. If you have questions about registering for this course, email Tech's registrar's office or call 906-487-2319.
International Students
International students could participate on a tourist visa, since the Field Archaeology course only lasts for seven weeks.
Michigan Tech has a number of international cooperative and exchange agreements that can facilitate guest students from around the world. We encourage prospective students to email International Programs and Services for advice.