The Keweenaw Time Traveler (KeTT) is an online interactive historical atlas that is changing how we learn about, share, and research the history and heritage of Michigan's Copper Country.
The Keweenaw Time Traveler is a prime example of what can be done with history and technology at a flagship technological university like Michigan Tech.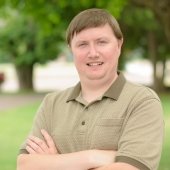 About the Project
Based in the Historical Environments Spatial Analytics Lab (HESAL) in Michigan Tech's Department of Social Sciences, the KeTT team works with local historical societies and heritage organizations including Keweenaw National Historical Park, Michigan Tech Archives and Copper Country Historial Collections, Carnegie Museum of the Keweenaw, and the historical societies of Houghton, Keweenaw, and Ontonagon counties.
Then and now: the Continental Fire Company Building, original home to Michigan Tech when it was known as the Michigan Mining School. (Image Credit: Nathan Frazier and MTU Archives)
---
Researchers and community groups in HESAL work together using geospatial technologies to understand how environments change over time. The lab specializes in big datasets, web-based and mobile GIS (geographic information systems), and spatial analysis.
The technology allows everyone to explore social, human built, and natural environments, sparking conversations and illuminating history.
Citizen historians are invited to document building use or transcribe a map.
Find out how to share your story using the Time Traveler Explorer App.
About the Researchers