The study of human cultures and their development–using biological, physical, written, linguistic, and ethnographic evidence–anthropology helps us to recognize the similarities and differences between cultures, providing insight into what members of different groups value, how they make meaning of life experiences, and adapt.
At Michigan Tech, professors who specialize in cultures and histories of different regions and time periods teach about regional histories and cultures, global change, world peoples and environment, language and culture, human evolution, and archaeology. You'll develop skills in finding and interpreting evidence to prepare for careers in investigative fields, community health, environmental protection, and education at all levels.
What Will I Be Studying
Our program introduces anthropology's four primary subfields and focuses on archaeology and cultural anthropology.
Archaeology is the recovery and analysis of the material remains of prehistoric and historic human cultures, as well as the interpretation of this material culture. Archaeologists study structures, artifacts, human remains, and landscapes.
Cultural anthropology is the study human cultures in a holistic fashion, using ethnographic methods to identify similarities and differences with other cultures and groups. Originally, cultural anthropologists focused largely on non-Western cultures, but the scope of their work has grown to include humans in any setting.
Physical anthropology focuses on the biological aspects of human and primate evolution, as well as on the fossil record of human development over time. Scholars in this area have devoted increasing attention to the DNA record.
Linguistics is the study of human language and speech, focused on similarities and differences in world languages. Linguistic anthropologists study how humans use language, how grammars develop among social groups, the symbols that hold meaning in cultural systems, and historical relationships between populations through language analysis.
Take courses you're most passionate about in anthropology, archaeology, history/sociology, and the environment. Other electives and the University's general education program, allows you to pursue interests in other areas like business, communications, or the arts.
"Anthropology at Michigan Tech provided me with experiences to get my hands dirty. From conducting multiple archeology digs in the Keweenaw, to spending a summer studying in England and traveling Europe. Being given all the tools for success, it is up to me to figure out where and what I wanted to do. Currently, I'm focusing on ethnography of natural disasters along side deploying mobile data collection in the field to better understand the needs of those who are affected by climate change."
Questions?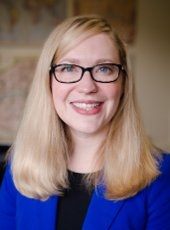 Associate Teaching Professor
Anthropology and History Program Advisor
Learning goals
Students pursuing a B.S. in Anthropology will demonstrate:
An understanding of the core concepts in anthropology of holism, evolution, cross-cultural comparison, and environmental change.
The use of reasoning, logic, and evidence when analyzing cultures.
The ability to design and carry out anthropological research in a professional and ethical manner, and deliver an oral and written report on the results.
What Jobs Will I Have?
Students with a B.S. in Anthropology can expect to work in less specialized areas, including administration, social work, and market research. Ethnographic market research is an emerging area where anthropologists examine consumer thoughts, motivations, and behaviors as part of product development.
Many anthropologists with a doctoral degree teach and conduct research in academia. Outside the academic realm, the federal government is a major employer of anthropologists (with a master's or PhD) in international development, cultural resource management, the legislative branch, forensic and physical anthropology, natural resource management, and defense and security sectors. Corporations, nongovernmental organizations, nonprofit organizations, and state and local governments also hire anthropologists.
Beyond the classroom
Our low student-to-faculty ratio means individualized attention in classes and advising. Your instructors will know you personally, so ask about how to gain real-world experience: internships, study abroad, research opportunities, Enterprise projects, or completing Air Force and Army officer training programs.
Professional development
Whether you plan to apply to graduate schools or interview for employment, our professional development course prepares you. From guidance on writing cover letters and graduate school essays to preparing for the GRE, LSAT, and your first job interview.
Specific courses also provide professional development opportunities such as using geographic information systems (GIS) to analyze problems spatially, interviewing people, and conducting archival research. Husky grit and tenacity guaranteed by graduation.
Research Opportunities
Social sciences share the goal of understanding how human behavior is organized, how people make collective choices, and how social structures and daily practices change over time. Michigan Tech faculty conduct research to help communities and policy makers make informed choices in environmental and energy policy and industrial heritage.
A number of historical sites of national importance can be found in Michigan Tech's backyard. Michigan's wildly beautiful Keweenaw Peninsula has a rich mining history from prehistory to the twentieth century. The setting of the country's first copper boom in 1843, the Keweenaw boasts the world's largest native copper deposit. It also has a rich and diverse cultural heritage, with ethnic groups from all across Europe settling here in the second half of the 19th century. Students interested in industrial archaeology have the opportunity to research this history in original ways.
Faculty are eager to guide students' independent studies, either in their field of research, or in one you identify. Many students have earned a Michigan Tech Summer Undergraduate Research Fellowship (SURF).
Each summer, you can work alongside graduate students and faculty members in archaeology field school to investigate our industrial past. Examples of previous field schools include: a nineteenth century foundry near West Point on the Hudson River; the ruins of historic Cliff Mine, the first profitable copper mine in the Keweenaw Peninsula; and a turn-of-the-century logging camp at Coalwood–a logging settlement in Hiawatha National Forest.