2045: The Michigan Tech Graduate

In 2045, automation is king. Cars are not only self-driving, they're getting ready to take flight. The US population is nearing 400 million, and the next evolution in urban renewal is underway. Technological advances are a daily occurrence, and robotization has changed the face of production and the workforce. Meet Camila Romero and Isaac Matthews. They are among the students preparing to graduate as part of Michigan Tech's class of 2045. Michigan Tech is 160 years old; the Portage Lake Lift Bridge is 86. Camila and Isaac were born in 2023, just six years from now. (Their parents may even be members of Michigan Tech's 2017-18 entering class.) These students have had an educational experience very different from that of today's students. But they are uniquely prepared to tackle the issues facing their generation.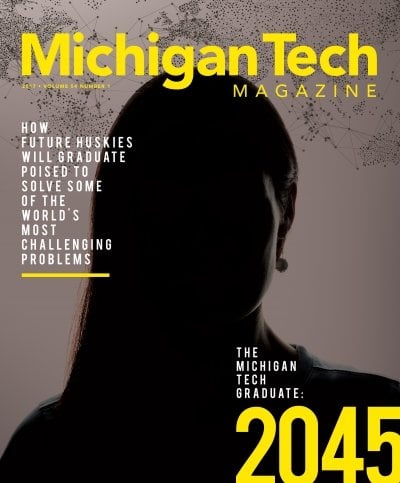 On the cover: How future Huskies will graduate poised to solve some of the world's most challenging problems.
---
Published by University Marketing and Communications
Ian Repp—Director of University Marketing and Communications
Stefanie Sidortsova—Managing Editor
Jackie Johnson—Art Director
Vassilissa Semouchkina—Graphic Designer
Sarah Bird—Photographer
Shannon Rinkinen—Articles Editor
Sarah Williams—Advancement and Alumni Engagement Editor
Crystal Verran—Director of Operations
Taj Mihelich—Freelance Artist
Marty Richardson—Guest Writer
Austin Thompson—Freelance Photographer
Ben Jaszczak—Multimedia Specialist
Megan Ross—Digital Services Coordinator
Comments to the editor
magazine@mtu.edu
Class Notes submissions and mailing address changes
alumni@mtu.edu