Larry Stambeck Jr. woke to sudden, sharp pain on a September morning in 2016. He shifted around on his extra-large twin bed in East McNair Hall. Ouch. Maybe he had slept funny. Maybe he pulled something. Maybe it would go away on its own? I'll give it a few days, he decided.
A week went by. The pain persisted.
He felt a couple of lumps, too. The sophomore studying electrical engineering technology Googled his symptoms. Cancer, as it's known to do, crept to the top of
the list.
Larry shrugged it off. Humor helped him express concerns tucked beneath the surface. "I told a few friends about what was going on, what I was experiencing.
I remember joking, 'I probably have cancer, haha!'"
Fall classes had just started. He didn't want anyone back home in Paw Paw, Michigan, to worry about him, especially not his mother, Cynthia Henderson, who was a
10-hour drive away
Eventually Larry scheduled an appointment to see a doctor.
Blood work, x-rays, a CT scan. Swift action from a team of up-north healthcare providers. All jokes aside, Larry, 20, had cancer. Testicular cancer.
And he had to call his mom.
Play Larry's Story video
Larry's Story
The Call No One Wants to Get
"My instinct was to get him home, to care for him down here," Cynthia recalls. "I felt stuck." But Larry was vehement he'd be staying on campus, staying in school, and seeking treatment at Aspirus Keweenaw in Calumet.
"Everyone I encountered—my urologist, my oncologist, my nurses—was kind, professional, and understanding. I didn't want to leave my friends. I didn't want to fall behind. I wanted to keep my studies going—I love it in Houghton," Larry says.
Huskies are known for keeping rigorous schedules. Larry's load quickly became even more full: Diagnosed September 28. Surgery to remove cancerous testicle October 14. Surgery to place chemo port November 18. Weeks of chemo began November 28. "Everything was lined up, planned, and ready to go," he says.
He's still regaining energy chemo stole away. He hesitates, then laughs, as he summarizes that crazy, challenging semester: "One man. One nut. One mission."
Between surgeries (the chemo port was finally removed in February), appointments, and treatment, there were the holidays, too. For Larry, that meant more traveling to and from campus. "He had surgery on a Friday and drove 500 miles the
next day," his mom says.
Navigating four classes, cancer, and chemo was grueling Larry recalls. "Appointments and tests every other day. Chemo made me feel sick and sometimes irritable. It felt overwhelming at times." Eventually, and at the urging of Erica Denofre '98, a civil engineer turned registered nurse in Aspirus Keweenaw's Outpatient Infusion Department, Larry dropped two of his most challenging classes.
Huskies Stick Together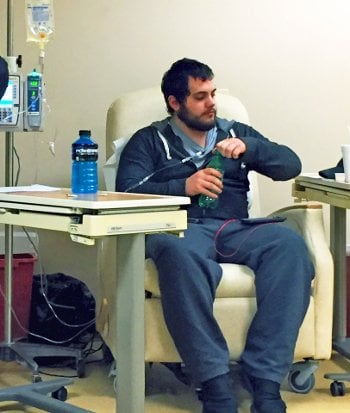 In his home-away-from-home, surrounded by a close-knit second family, Larry got through it, and beat cancer. "I'd come back to the dorms after chemo and crash. I was too weak to make it to the dining hall. Friends helped grab me lunch and dinner, or something to drink. They drove me to and from appointments. They rallied around me and stepped up to do anything I needed."
Cynthia adds: "Just imagine a bunch of college kids dealing with testicular cancer. They gave him funny notes to cheer him up. Cheeto balls. Peanuts. They kept his spirits up, and as his mom, that meant everything to me."
As the one-year anniversary of his diagnosis approaches, Larry's working 10-hour days at a door engineering company and gearing up for another semester.
"It's sort of an inside joke between me and my friends."
"These kids are a family. They are kind, considerate, polite, funny, and mature. They are more than roommates. More than party buddies. Maybe it's because they all are so far away from home?" Cynthia wonders.
Through cancer, Larry learned a little about himself, too: "I'm tougher than I ever knew, and there's no challenge or setback I can't handle."
Michigan Technological University is a public research university founded in 1885 in Houghton, Michigan, and is home to more than 7,000 students from 55 countries around the world. Consistently ranked among the best universities in the country for return on investment, the University offers more than 125 undergraduate and graduate degree programs in science and technology, engineering, computing, forestry, business and economics, health professions, humanities, mathematics, social sciences, and the arts. The rural campus is situated just miles from Lake Superior in Michigan's Upper Peninsula, offering year-round opportunities for outdoor adventure.