Michigan Tech's Visual and Performing Arts alumni are in the spotlight—and behind it, from Cirque De Soleil to Radio City Music Hall. They bring audiobook characters and Marvel Comics superheroes to life. They're aspiring stuntwomen, and international ambassadors creating soundscapes for studios, stadiums and world-renowned concert venues.
In St. Petersburg, Florida, 2014 Theatre and Electronic Media Performance graduate Paige Borel is training: aerial arts classes, gymnastics, dance classes, and intensive workouts. "I'm passionate about acting and stunt work, and I'm planning to attend and graduate from a stunt school in the next year," says Borel, a lifelong dancer. "I always knew that I wanted to have a career in the performing arts industry. When I enrolled at Tech I was a business major. It was what my grandpa, Papa, thought would be sensible for me in the 'real world.' " But the night before classes began her junior year, Borel spontaneously added some VPA courses. By the end of the week she'd switched majors. Her favorite classes at Michigan Tech were scene studies and performer flying. "Learning how to fly, flip, and perform in harnesses paved the way for me to expand into becoming a stuntwoman."
"Learning how to fly, flip, and perform in harnesses paved the way for me to expand into becoming a stuntwoman."
Somewhere in the US, 2015 visual and performing arts graduate Tyler Harry is on tour as assistant performance rigger with Feld Entertainment's Marvel Universe Live: Age of Heroes. He joined the previous Marvel show when it toured Europe in August 2016. "The largest part of my job is to make sure everything is safe to use because at the end of the day I'm going to have someone's life in my hands. We had a little over two months of building this show in the shop, which is in Florida, and started touring June 12. We work our way from the west to east coast the next two years. I love my job right now. Not only do I get to work in the field that I am most interested in, and travel all around the world—I get to fly super heroes. Who else can say that? One of my best moments during a show: one of my cues was to fly Spiderman on a line; he swings over the audience. There was this little boy dressed up as Spiderman who jumped out of his seat and reached up to wave to the real Spiderman. This little boy was jumping up and down and grabbing his mom. I never realized until then how much I enjoy seeing people so excited and so into the show I am working on."
"I love my job. Not only do I get to work in the field that I am most interested in, travel all around the world—I get to fly super heroes!"
In L'Anse, Michigan, 2016 theatre and electronic media performance graduate Dollcie Mueller fits in a recording session for her fourth audiobook while her six-month-old daughter sleeps. Mueller works from home in a sound-treated closet. "Me 'in action' consists of reading the book, rereading it a chapter at a time, recording that chapter, and then spending an hour or so editing on the computer before I submit it for the author to listen to. I'd like to upgrade to a whisper room (an independent, essentially noise-canceling room) but those cost thousands of dollars so right now I'm making do with quilts, carpeting, and foam padding attached to the walls," she explains. "I have my mic hanging over a heavy-duty music stand, running an XLR cable to my preamp in the main room. It's a nice setup. I just pull up Reaper on the computer, click record, and take a couple steps to the closet where I can start reading."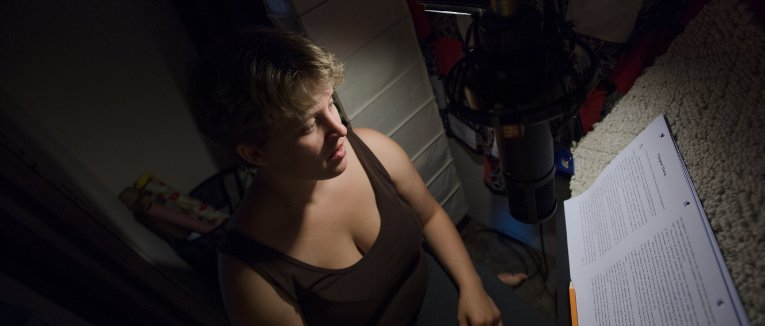 In New York City, 2007 sound design graduate Ken Showler is sipping an orange juice in his room at the corner of 51st and 6th avenues, on break from site work at Radio City Music Hall. "I'm working here for a few weeks with an awesome little team from my company, 7thSense, and an Orlando-based AV integration/installation company called Pro Sound. We've hired Pro Sound's support to help us finish fit out, wiring, and installation of a new house video playback and distribution system at Radio City, utilized foremost for the Rockettes shows. We've been fortunate to have an ongoing relationship with Radio City/MSG since our company first delivered a handful of video servers back in 2011," says the 7thSense chief experience officer, whose most memorable projects at Michigan Tech include the Alan Parsons residency on campus: "Involvement in multiple nights of a huge live rock show with full orchestra, with multi-channel studio record feeds, multi-camera video coverage, in conjunction with pre-event and post-event documentary video coverage of many practice sessions, interviews, Q&As, classroom sessions with the band and techs."
No People Like Show People
No matter where they are, these Huskies credit faculty that works alongside them—and leverages solid career and alumni networks—to open industry doors. "You have amazing professors helping you out, they are there long into the night building the show with you, so they know what's going on. Working so closely with your professors you become colleagues, which is what they want it to be. So when you leave the VPA you know how to work with people in your job," says Harry, who scored his job thanks to a fellow VPA grad who was leaving the position and reached out.
Another case in point: Faculty and alumni are strengthening Michigan Tech's Cirque De Soleil connection.
2017 graduate Jason Scott, who completed bachelor's degrees in both theatre and entertainment technology and mechanical engineering, was the first VPA student to intern with Cirque, in summer 2015, says professor Mary Carol Friedrich, theater and entertainment technology program director.
In summer 2016 two more majors, Devin Miller (working as a rigger at Disney World where several alumni started their careers) and Michael Schmitz (who worked for the Ringling Brothers and Barnum & Bailey Circus until the show closed), also interned with Cirque.
"As they normally receive 400 applications from all over the country and only interview 40 for 26 slots, it is rare for any university to provide more than one intern, much less three. That was when we were contacted by Cirque's employment and internship coordinator. We've had several subsequent conversations with Cirque at the United States Institute for Theatre Technology (USITT) annual conference, discussing our program and what we can do to continue to enhance the student experience here to make it advantageous for their future careers," says Friedrich. "As is not uncommon in a small program, we have graduated some groups of students so right now the students are younger overall. We did not have any interns at Cirque last summer but expect to in the near future. We have had many students in all sorts of summer stock positions."
A Market for Voices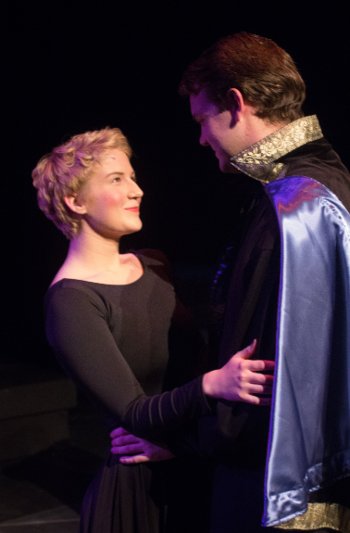 "The best piece of advice I received is that working in this industry is going to be tough (and that's an understatement), but if it's your true passion, something that makes you feel alive, then you must do it," says Borel. "After graduation I moved to Chicago and landed my first role with a small theatre company. After the first show closed I signed a contract with the company to be a principal actor and dance captain. I did a few shows and musicals with the company and loved every minute of my first paid acting contract."
Competition for traditional acting jobs is fierce. "You really have to be diverse to be employed as a performer," says Patricia Helsel, program director for theatre and electronic media performance. "It's a combination of talent, persistence, training, and entrepreneurship."
Through the 1950s, new theater programs sprang up. In the '70s programs remained theater-centered, as TV and radio broadcasting programs began popping up. "Even now, rarely do you see programs like ours that cross over into all realms of the business," says Helsel. But she was an early adapter. Helsel has her MFA in acting and directing, but her first paying gig was a phone recording on an answering machine.
"It created a real turnaround for me. I started to be aware of where voices are recorded …" Like subways, elevators, grocery stores. Retail landscapes are also a large piece of the work available to set and sound designers.
"Here we are in Houghton. We can work from our studios."
After the difficult birth of her daughter, Mueller scrapped her straight-to-grad-school plan. "I'm content to be alive and just be here with my family. Grad school will still be there once I'm ready. I'm starting my fourth book, so still considered a fresh-faced newbie to the industry. Most professionals agree 40 to 50 books in you're 'experienced.'" The voice actor auditions through ACX, an audible/Amazon company. Authors listen, and choose their preferred voice.
Audiobook voice actors are paid either per finished hour or via royalty share contracts. Total time for a project: about seven hours of narrating, recording, and editing not including reading, researching, and prepping the book.
Young Program, Sound Success
"These programs are very new," says Visual and Performing Arts Department Chair Jared Anderson. The first VPA degrees, in sound and theatre technology, began in 2005. But adding the A to science, technology, engineering, and is rapidly gaining STEAM. "Ken (Showler) is one of our very early grads."
"Dude, step it up a notch. Dude, you can't do every project. Anything from Christopher (Plummer) starting with 'Dude …' is worth listening to."
Showler won an award in 2011 for his work on the Rockettes Christmas Spectacular at Radio City Music Hall, was lead AV (audiovisual) integrator on Ferrari Theme Park in Dubai and now heads the North American Office of 7thSense Design, a creative software and technology company with offices in the US and based in the UK, where it awarded the prestigious Queen's Award for Enterprise Innovation. Currently based in lower Michigan, Showler worked at Forest Post in Detroit as a sound for picture designer. He's worked on systems for massive outdoor spectacles, indoor aquariums, planetariums, and numerous other installations all over the world.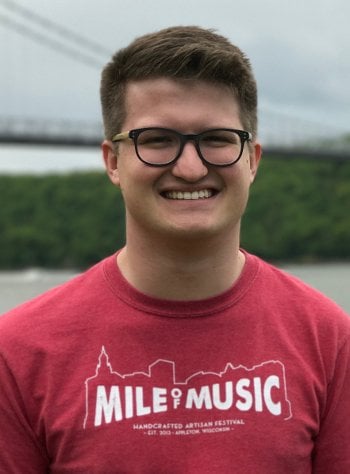 Showler, and VPA students like audio production and technology major Zachery L'Italien, 2018, work with professor and sound and audio programs designer Christopher Plummer. The industry pro has deep experience and a broad career base ranging from sound system consulting and design to live sound reinforcement. Recognized nationally for his innovative teaching, Plummer has live-mixed for renowned performers like Ravi Shankar and recorded the Czech Philharmonic Orchestra.
L'Italien, currently spending his second semester abroad in Uruguay, interned with Walters-Storyk Design Group in summer 2017. "I have a minor in International Spanish. I would love to be involved with a firm that takes on projects in all parts of the world to keep international ties, much like the firm I was working for this summer," says the Michigan Tech International Programs and Services ISA (International Studies Abroad) global ambassador.
So You Wanna Be in Show Biz . . .
Michigan Tech graduates share their favorite memories, tips for current students, and career advice:
Ken Showler: Don't Lock Down Your Story
"Pursue a job doing something you think you are good at, and doing something you believe you could enjoy for a long time, but don't lock down your story. Give great consideration to the sort of recurring themes of good or bad comments/advice about your skills or personality that you receive from people you respect in your career and personal life. And try to recognize when an opportunity comes your way, or doesn't, and why. While it's important to try very hard, and have self-confidence in what you think you want and what you think you're good at, also keep listening to what the world is telling you, and consider if/when a change of direction could be the best path for your happiness. You're likely to be a lot happier, and more effective, if you land in a company of people who recognize and appreciate your skills and efforts."
Mark Henshaw: Got a Show Idea? Pitch it!
"Pitching a show is relatively easy, I've learned. Production companies are constantly in search of new material. If you have an idea for a show, watch the genre, see what companies produce them, then send or call them with your ideas. Seriously, it can be that simple."
Zak L'Italien's favorite classes (so far):
Live Sound Design Intensive— "I was on a systems design crew of five for two live theatrical performances. (Designing the way sound is physically implemented in the space with speakers, computers, software, networking, cable, etc.) This taught me the importance of relying on a team and how much easier a job can be when you work together. It also showed me how conflicting ideas and learning curves can set you back. We learned a ton during this class about how your ideas can incorporate with the ideas of others on the team, as well as how to communicate across different aspects of the show (i.e. sound designers, set designers, props, etc.)."
Advanced Sound Practicum—"You propose your own project, and work on something you are truly interested in. This helped me learn acoustics, manufacturing, and prototyping concepts. I was involved in designing cost-effective acoustic diffusers. Classes like this inspire creativity, and dive into the topics that help you choose a career."
One of Dollcie Mueller's favorite memories:
"At a tech rehearsal for Brighton Beach Memoirs, my character was supposed to read this heartbreaking letter to the audience. I opened the letter, walked downstage and started reciting the monologue—then I glanced down at the letter and saw what was actually written in it: a tirade about Nicki Minaj and Avatar Korra and some other ridiculous thing. It was absolutely hysterical. I completely broke character and started laughing—ruining this beautiful moment on stage. I found out later that one of my friends had been asked to help write up the prop letters, but was not given details about the contents or purpose. It was her letter that had been out on the props table and used in that scene. It wasn't intended to be read by anyone. We had to start the scene over. The director was miffed, but my friend and I still laugh about it today."
Tyler Harry on Road Life—and Four-foot Dinosaurs
"Time is the most tedious part of working in the field. This kind of work is not 9-to-5, 40 hours a week, with weekends off. You work at night and weekends for shows. You will miss birthdays, holidays, and other big days. You will be moving around a good amount in your early years. You put up with all of this because you love doing your job."
"My favorite class was advanced backstage technology. We learned how to scale objects up and down. Our professor had us enlarge an eight-inch dinosaur to a four-foot built of plywood. The project took three weeks and about 100 hours, but making a four-foot dinosaur is one of the coolest things I've ever done in school."
Archaeology Grad is in on the Act
Industrial heritage and archaeology graduate Marc Henshaw parlayed a passion for his major into a show business gig. Henshaw, a 2007 undergraduate who went on to earn his PhD in industrial archaeology from Tech (he earned his master's in anthropology from Western Michigan University) became an onscreen consultant for the National Geographic Show Diggers right out of school.
"I graduated in August 2014 and by the end of the month I was with the film crew!"
The Pittsburgh, Pennsylvania-based firm Michael Baker International called him after it was hired as consultant for Diggers, which like other shows in the metal-detecting, dig-it-up reality TV genre, faced growing backlash concerning ethical practices. Henshaw had been following the controversy. "They showed all manner of horrible looting, from the use of backhoes to monetizing the artifacts. I wrote a scathing blog post denouncing these shows and worked with my local avocational archaeological societies in letter-writing campaigns. The Society for American Archaeology (SAA) and the Society for Historical Archaeology (SHA) also began an aggressive campaign to have these shows pulled off the air," he says.
"The producers were feeling the pressure to turn the show around and work with the archaeological community. They were partnering with the SAA and SHA to review every episode before it aired and to remove the monetization of the artifacts. Baker wanted someone with a high ethical standard and who wasn't afraid to be a stickler for regulations, recording of finds, and treatment of the artifacts. The producers of the show were worried I'd be too hard on them, and in some cases I was hard on them."
"The show had its detractors, even after I was on," says Henshaw, who continued working with Michael Baker International into 2017, when he helped open a Detroit branch of the company. Currently he's focused on publishing the research he conducted at Tech and his archaeology blog, archaeologydude.com.
"I think I helped build relationships with communities, teaching that artifacts have a context that adds to their meaning. By simply ripping artifacts from the ground, they lose that meaning," Henshaw says.
"The value of artifacts is not monetary. Value cannot be placed on an item that tells part of a larger story of the past. Alone, an artifact ripped from its wider context has no value, but placed into a larger view of a site, then it's invaluable."
Michigan Tech Scientific and Technical Communication graduates are also represented in the TV and film industry. A former feature film development executive with Steven Spielberg's DreamWorks Studios, 1982 graduate Suzanne Jurva's impressive list of film credits includes Amistad, Deep Impact, and Saving Private Ryan. The producer and filmmaker has made several documentaries, including The Fabulous Ice Age and Yoopera! Her work has been seen on national networks, PBS to NBC.
Most recently, another STC graduate, Eric Michael Johnson landed a two-episode role in the 2016 premiere season of the NBC hit series This is Us, as the drummer at a fitness camp.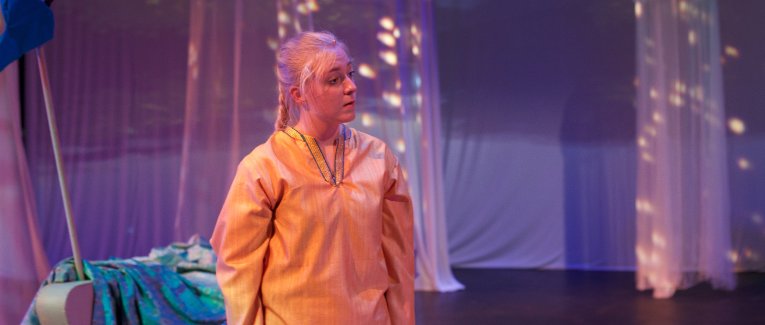 Where Smart Meets Art
Students, faculty, and staff conceptualize, experiment, create, and crew in gallery, studio, and performance spaces, many centered in the Rozsa, the region's premier performing arts center here on campus adjacent to the Walker Arts and Humanities Building.
"I tell my students that as they become more confident in their creativity it will make them a better engineer, mathematician, or forester." Noted watercolorist and Visual and Performing Arts professor emerita Mary Ann Beckwith's words come alive on campus, where students from all disciplines connect with the arts.
Just ask chemical engineering major—and actress, vocalist, and dancer—Clara Peterson, who serves as vice president of Michigan Tech's Alpha Psi Omega chapter of the National Theatre Honor Society. Finding time between intense schoolwork (Peterson also minors in international Spanish), and working co-op or part-time jobs, is a feat well worth the effort, she says. "Being involved with VPA and the arts is nice stress relief. Theatre and music keep me sane in a world of math and science, so I put in the time to commit to a production and several concerts each semester.
"The arts bring real magic into this world. All it takes is one step on stage to become fully immersed in the beauty and awe of artistic passion."
"The friendships I have made with my fellow theatre and choir geeks will last a lifetime! There are no other people like drama and music people! The VPA is honestly one big family."
Michigan Technological University is a public research university founded in 1885 in Houghton, Michigan, and is home to more than 7,000 students from 55 countries around the world. Consistently ranked among the best universities in the country for return on investment, Michigan's flagship technological university offers more than 120 undergraduate and graduate degree programs in science and technology, engineering, computing, forestry, business and economics, health professions, humanities, mathematics, social sciences, and the arts. The rural campus is situated just miles from Lake Superior in Michigan's Upper Peninsula, offering year-round opportunities for outdoor adventure.