Two things can be said of Michigan Tech men's ice hockey coach Joe Shawhan: he knows hockey, and he's a Yooper through and through.
On May 30, Joe Shawhan became the 22nd head coach in the storied history of Michigan Tech hockey. He spent the previous three seasons as an assistant for Mel Pearson.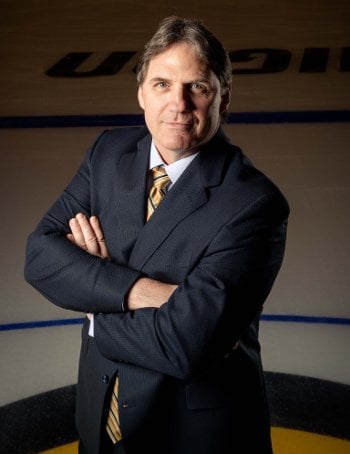 A native of Sault Ste. Marie in the far eastern Upper Peninsula, Shawhan has coached for all three UP NCAA Division I hockey programs—Lake Superior State, Northern Michigan, and Michigan Tech. As a junior hockey coach, he led the Soo Indians to a 475-162-8 record in 10 seasons to become the winningest coach in North American Hockey League history.
During his three years as an assistant at Tech, working primarily with goaltenders and defensemen, the Huskies went 75-34-14, with two NCAA appearances, a Western Collegiate Hockey Association (WCHA) title, and a WCHA tournament championship. The Huskies were ranked second in the WCHA and in the top 10 nationally in goals against average all three years. Goalies Jamie Phillips and Angus Redmond flourished under Shawhan, breaking Tech records. Both have signed with the NHL.
As Michigan Tech Vice President for Student Affairs and Advancement Les Cook said at the press conference announcing Shawhan as head coach, "Winning seems to follow Joe wherever he goes."
Q: First off, congratulations. This coaching vacancy created a lot of interest in hockey circles. What makes the head coach of Michigan Tech such a desirable position?
A: It's a Division I head coaching position, and that's always going to attract interest. But it's more than that. The excitement in [the UP] for the game of hockey and the tradition and commitment from the University make it a special place. The talent pool of candidates for the job was very high, maybe the best of any of the coaching vacancies that occurred this off-season. I am blessed to have been selected.
Q: You're the first new Huskies head coach in 35 years to replace a coach with a winning record, so you aren't tasked with "rebuilding" a program. Do you feel there's added pressure to take the program to the next level?
A: Pressure is internal. I try not to look at it in those terms. I know where we stand—our strengths and weaknesses both collectively and individually. What we've lost in the off-season and what we've gained. We have a long way to go, a lot of new faces in key positions. My job is to teach in a way that we get a little better every day.

Q: What can Huskies fans expect Husky Hockey to look like under Coach Shawhan?
A: Hopefully the same. We play the game the way I like the game played. We skate, we compete, we swarm. I was not hired to change Husky Hockey. I was hired to continue the trend. The staff we put in place was selected because they share the same philosophies. Different tactics and wrinkles, but the same philosophy.
Q: You're known for your expertise in defense and goaltending. Do you agree with the well-worn notion that "defense wins championships"?
A: Players win championships. People win championships. Defense and goaltending are a big part of it, but commitment to a common goal, team chemistry, and self-sacrifice are equally if not more important. There are no short cuts, no chance of reaching your best level of performance without leadership that has a deep-rooted foundation of accountability.
Q: Taking a look at your team, what do you feel are the strengths and where do you hope to improve?
A: The strength of Michigan Tech hockey is the character of the players sitting in the stalls. Going in, we're most experienced at the forward position. That's no secret, but there are no guarantees. We have to show up prepared mentally and physically to make strides. The best chance a team has of success is with individuals that expect it and work hard toward it. Every day. All the time. We have those types of individuals.
Q: You're from Sault Ste. Marie and have coached at all three UP Division I hockey programs. Obviously, you feel the UP is a great place to live and raise a family. But, what is it that makes UP hockey so special?
A: That's a hard question. I know that people in the UP, in the areas I've lived, almost treat hockey as a religion. What makes the UP special is the people. I love the region. I would have been fine if I could have made my living fishing or hunting or camping or boating or riding a sled. What I do is not a job. Honestly, I hope I never wake up from my dream. I'm thankful I don't have to get a real job.
Michigan Technological University is a public research university founded in 1885 in Houghton, Michigan, and is home to more than 7,000 students from 55 countries around the world. Consistently ranked among the best universities in the country for return on investment, Michigan's flagship technological university offers more than 120 undergraduate and graduate degree programs in science and technology, engineering, computing, forestry, business and economics, health professions, humanities, mathematics, social sciences, and the arts. The rural campus is situated just miles from Lake Superior in Michigan's Upper Peninsula, offering year-round opportunities for outdoor adventure.