Smart athletes, Air Force funding, a new cybersecurity program, and the anatomy of the Husky Statue.
You Already Know Michigan Tech Athletes are Smart—But Just How Smart?
average GPA (general student population–3.07)

received Academic All-Conference recognition

Academic All-Americans
Huskies are here to work hard in the lab and classroom—and out on the field, court, and ice. "Our athletic teams are as dedicated to earning their degrees as they are to winning championships. Their 'smarts' are an advantage in high-pressure situations—and it really sets us apart. Michigan Tech student-athletes raise the bar with their overall GPA, retention, and graduation rates," says Suzanne Sanregret '93 '06, athletic director, Michigan Tech.
engineering majors

retention rate

graduation rate (five-year average)
---
MIT, Johns Hopkins, Caltech, Georgia Tech, and Michigan Tech
Earlier this year, Forbes named the top 25 colleges and universities in the nation for STEM (science, technology, engineering, and mathematics) and—no surprise—Michigan Tech made the cut.

The prestigious list includes MIT, Caltech, Carnegie Mellon, Johns Hopkins, and Georgia Tech.

Read and share, Huskies!
"It is exciting to see the increasing recognition of the high quality and accessibility of a Michigan Tech Education."
---
Air Force Funds Michigan Tech Research
What's magnetic, ionic, and can turn spiky like a hedgehog? Ferrofluids. What's the big deal? Michigan Tech researchers are looking to these needle-like jets of ionic fluid in hopes they'll one day propel small satellites through space.
Approximately 1,300 active satellites currently orbit the Earth. Some are the size of a school bus, others the size of a smartphone. And more than 9,000 new satellites will be launched in the next 10 years. Most small satellites don't move by themselves, so researchers are looking at ways to propel them once launched into low-Earth orbit.
One method of micropropulsion involves microscopic, hollow needles that use electricity to spray thin jets of fluid, pushing the spacecraft in the opposite direction. But the needles are intricate, expensive, and easily destroyed.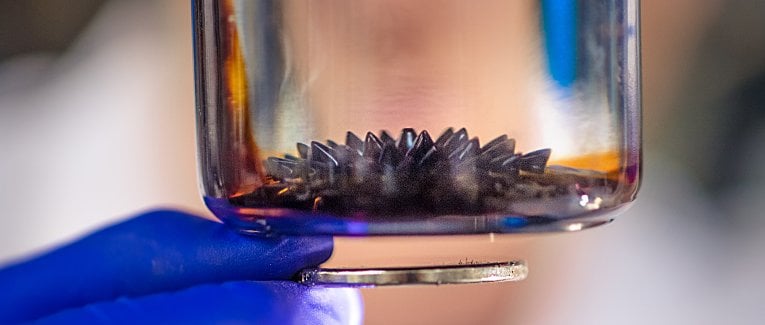 To solve this problem, L. Brad King, Ron and Elaine Starr Professor in Space Systems at Michigan Tech, is creating a new kind of microthruster that assembles itself out of its own propellant when excited by a magnetic field.
"We're working with a unique material called an ionic liquid ferrofluid," King says, explaining that it's both magnetic and ionic, a liquid salt. "When we put a magnet underneath a small pool of the ferrofluid, it turns into a beautiful hedgehog structure of aligned peaks. When we apply a strong electric field to that array of peaks, each one emits an individual micro-jet of ions."
This year, the Air Force Office of Scientific Research (AFOSR) awarded King a second contract to continue researching the physics of ferrofluids. "Instead of modeling a single peak, we'll scale it up and model multiple peaks."
The team is also collaborating with Juan Fernandez de la Mora, a professor of mechanical engineering and materials science at Yale University, one of the world's leading experts in electrospray.
In addition to spacecraft propulsion, ferrofluid electrospray technology could be useful in spectrometry, pharmaceutical production, and nanofabrication. Michigan Tech has a pending patent for the technology.
Get a look at what's happening inside our Ion Space Propulsion Laboratory.
---
Defend. Protect. Secure. Michigan Tech's New Master's in Cybersecurity Program
"Cybersecurity is both a research problem and an education problem," says Jean Mayo, associate professor and graduate program director, computer science, Michigan Tech.
Attacks on computer systems are new, innovative, and fast. Michigan Tech is helping create a workforce ready for the challenge.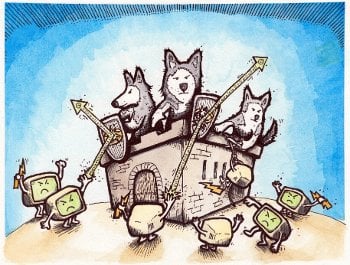 Launched in 2016, Michigan Tech's master's degree in cybersecurity was the first graduate program of its kind in Michigan. Other schools are catching on, but our program is still unique.
"Our MS in cybersecurity is special because of the combinations of learning environments. Our computer science department, the electrical and computer engineering department, and our School of Technology joined forces to provide a foundation in information confidentiality, integrity, and availability across disciplines. This gives our students exciting education and research opportunities," says Min Song, Dave House professor and chair, Department of Computer Science, Michigan Tech.
Students choose from one of three specialized tracks: Trusted Software Engineering, Critical Infrastructure Protection, and Network Security Management.
The program is also available as an accelerated master's degree (bachelor's and master's degree in five years).
Electrical engineer Ryan Olson '14 was working for an oilfield service company when he started to think about pursuing a master's degree. "The company I was working for was going to transfer me out of the country. My academic advisor told me about this new option, and I decided to pursue it. I'm using my electrical engineering background to focus on industrial control system security."
Olson, one of the first students to enter the program, aims to graduate in 2018. "It's nice to be back 'home' at Michigan Tech, and I'm excited about where my new career will
take me."
Know someone who might be interested? Get the details and apply for free.
Michigan Technological University is a public research university founded in 1885 in Houghton, Michigan, and is home to more than 7,000 students from 55 countries around the world. Consistently ranked among the best universities in the country for return on investment, the University offers more than 125 undergraduate and graduate degree programs in science and technology, engineering, computing, forestry, business and economics, health professions, humanities, mathematics, social sciences, and the arts. The rural campus is situated just miles from Lake Superior in Michigan's Upper Peninsula, offering year-round opportunities for outdoor adventure.