Reunion recap, giving back and serving others, littlest diaper, supporter and donor.
Reunion Recap
40 stuffed mascots. Nearly 400 pasties. And more than 40 Golden M inductees.
A record 677 alumni and friends attended Reunion 2017 to honor our past, see what's new, and find out what awaits.
This year's featured classes—2007, 1997, 1992, 1987, 1977, 1967, and 1957—raised $876,146 in class gifts, and $4,000 was raised during a silent auction for the Women of Michigan Tech scholarship fund.
Save the Date!
Make plans to join us for Alumni Reunion 2018, August 2-4.
The featured classes will be the Golden M's (Class of 1968) as well as the classes of 1958, 1978, 1988, 1993, 1998, and 2008.
---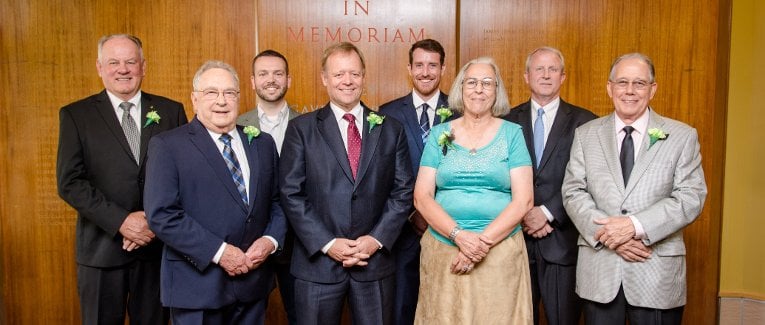 Giving Back. Serving Others. Creating the Future.
Eight individuals were recognized by the Michigan Technological University Alumni Board of Directors at its annual Alumni Dinner and Awards Ceremony during this year's Alumni Reunion.
President Glenn Mroz presented the Michigan Technological University Board of Control Silver Medal to John L. Drake '64 '69 and Norbert J. Verville Sr. '60. These alumni and friends also were honored for their achievements: Outstanding Young Alumnus Kevin C. Baker '04 '05; Honorary Alumnus John C. Dau; Outstanding Service Paul H. Mikkola '66; Distinguished Alumnus John J. Rockwell '79; Humanitarian Sanna B. Roling '67 and Nicholas H. Schreiner '11.
---
Tech Alumna Designs Littlest Diaper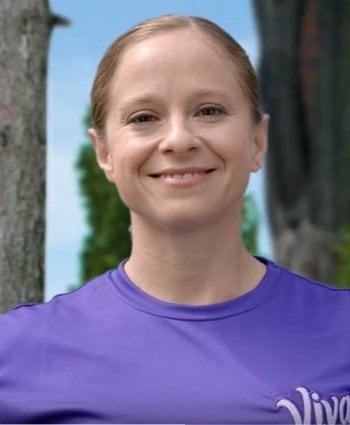 Angela Johnston works for one of the largest consumer products companies, and she's developed a product to help the smallest human beings.
The Michigan Technological University chemical engineering alumna developed, tested, verified, and commercialized a new diaper designed especially for premature babies.
"As a scientist and a mother, it is something I'm proud to be a part of," she says.
Solving problems is what Johnston, a 2000 Michigan Tech graduate, does every day in her role as product technical leader for Huggies® Little Snugglers at Kimberly-Clark Corporation. She's worked with hospitals and neonatal intensive care units to design the best diaper for preemies.
Her path to Kimberly-Clark started at Michigan Tech, where she followed in the footsteps of her older sister, Maria Thielbar, a 1997 chemical engineering graduate. She credits Tech's impressive job placement rate and a University Board of Control Scholarship for helping her earn her degree.
Michigan Tech teaches you how to think, Johnston says.
"Like many teenagers, I didn't know what chemical engineers did," she says. "Chemical engineers think about a situation or problem from multiple angles, are creative, and unafraid of working hard to come up with solutions."
In her 17 years at Kimberly-Clark, Johnston has traveled across the globe, seen products she's developed on store shelves, and accepted Product of the Year Awards for Kimberly-Clark in Times Square.
"I really love what I do," she says. "Being a champion for the target consumer means I put myself in someone else's shoes and imagine better solutions."
Johnston met her husband, Jim, when he was also studying chemical engineering at Michigan Tech. The couple lives in New London, Wisconsin, with their daughters Jane, 11, and Kate, 10.
Have you invented a product or gotten a patent? Send us your story: alumni@mtu.edu.
---
Supporter. Donor. Huskies Fan.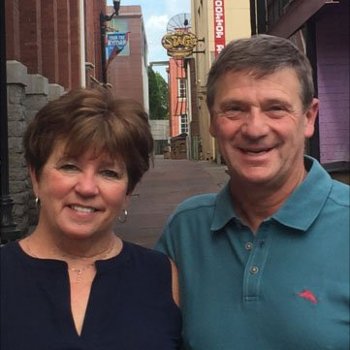 Jim Sarazin has donated to Michigan Tech every year for almost 40 years, and the last 20 of those years have been as a member of the President Club. And for nearly 40 years, he and his wife Linda, both avid hockey fans, have been season ticket holders to Michigan Tech hockey games.
Supporting Michigan Tech is just part of Sarazin's life.
His eyes were first opened to giving during a conversation with Bert Whitten, Sarazin's biology professor and advisor at Michigan Tech.
"He was starting a medical alumni scholarship and asked me to donate," Sarazin recalls. And so began a lifetime of giving to Michigan Tech.
"A moderate amount of giving over time makes a difference," he says.
Sarazin is the fourth generation in his family to live in the Keweenaw. His great-grandfather traversed Canada to settle in the Bootjack area in the 1800s. There the Sarazin family built what is now Dreamland Restaurant and Bar. Two of Sarazin's siblings operate the establishment today.
Sarazin is a dentist in Hancock, serving the community for nearly 42 years. He and Linda have been married for 45 years. Their son, Tyler '07, is also a dentist, working alongside his dad at their practice, Sarazin Dental on Quincy Street. Son Ryan is a history teacher and hockey coach in Fond du Lac, Wisconsin. The couple enjoy spending time with their three grandchildren.
After graduating from Lake Linden High School with Linda, Sarazin enrolled in pre-medicine at Michigan Tech, taking the pre-med/pre-dental curriculum with an emphasis on chemistry and biology.
He attended dental school at the University of Michigan, returning to the Keweenaw to open his practice.
"I have a deep appreciation for the education I received at Michigan Tech," says Sarazin.
"Michigan Tech got me where I am today. It's part of me."
Learn about ways your gift can support Michigan Tech, or make an end-of-year gift.
Michigan Technological University is a public research university founded in 1885 in Houghton, Michigan, and is home to more than 7,000 students from 55 countries around the world. Consistently ranked among the best universities in the country for return on investment, Michigan's flagship technological university offers more than 120 undergraduate and graduate degree programs in science and technology, engineering, computing, forestry, business and economics, health professions, humanities, mathematics, social sciences, and the arts. The rural campus is situated just miles from Lake Superior in Michigan's Upper Peninsula, offering year-round opportunities for outdoor adventure.