When people consider transformative, effective leadership, they often think of larger-than-life, egocentric personalities like a Lee Iacocca or a Jack Welch. During my eight-year term on Michigan Technological University's Board of Control (now the Board of Trustees), I came to understand that the most effective person in Michigan Tech's presidential chair is, rather, an executive with personal humility and intense professional will.
Leadership guru Jim Collins specified a Level 5 leader—the ultimate level of leadership—to have certain characteristics:
Does not rely on charisma
Shy yet fearless, with ferocious resolve
A blend of genuine personal humility with intense professional will
Surrounded by the right people
Looks in the mirror when assessing blame, but out the window when apportioning credit
Asks more than tells
Doesn't talk about self, but about the organization and especially the contribution of others
Shuns public adulation, is never boastful
Sets up successors for even more greatness in the next generation
Sound like anybody we know? Yes, Glenn Mroz certainly has exhibited these characteristics as president, and shown exceptional results in the process.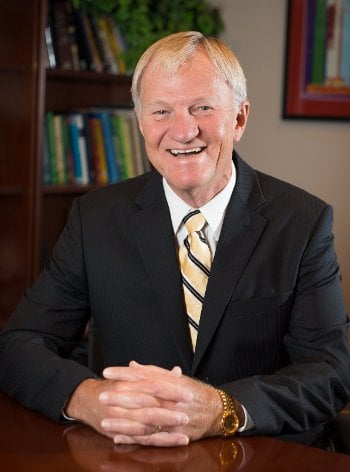 During Glenn's tenure as president, Michigan Tech reached record-breaking enrollment levels for undergraduate, graduate, and women students. The University expanded its research spending to more than $72.5 million—the highest ever—and correspondingly increased the significance, value, and renown of its creative work. Under Glenn's leadership, Michigan Tech has taken a prominent role as steward of a vital natural resource with the Great Lakes Research Institute—and it's only fitting. As Glenn says, "After all, the Keweenaw Peninsula is right in the middle of Lake Superior—who better than Michigan Tech to lead Great Lakes research efforts."
Bolstered by consistent marketing and branding programs, people know more about Michigan Tech than ever before, and are taking notice. Forbes says we're one of the top 25 STEM (science, technology, engineering, and math) schools in the nation. Our endowment has doubled to more than $106.4 million, and with Glenn's guidance, we have achieved fiscal stability and eliminated accumulated debt.
But numbers alone don't tell the complete story. The man behind the Office of the President has shown time and again that he "bleeds Husky blood." There is no freshman who could demonstrate more enthusiasm at a hockey game—I've heard Glenn scream himself hoarse. My fellow board member and current board chair, Terry Woychowski, told me, "Glenn has an amazing and unwavering passion for his university and his students. At every commencement ceremony, we witnessed first-hand his heartfelt love for the students and mission of Michigan Tech."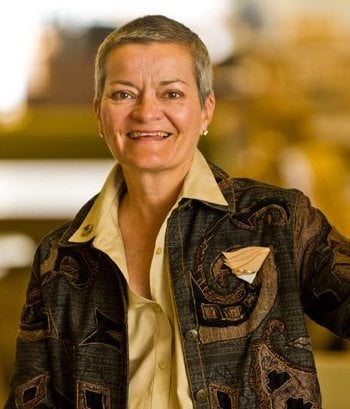 I have also witnessed Glenn's connection and loyalty to students. He has an apparently unlimited capacity to care about each and every one. I sat beside him once at a board meeting as he gave a moving tribute to a recent ROTC grad who had just been killed while on military duty in Afghanistan; tears rolled down Glenn's cheeks.
I've heard him vehemently refuse a salary increase because he felt that the faculty deserved it more.
He also has a deep connection to alumni. Terry Woychowski said he always appreciated when Glenn "would travel to southeastern Michigan and meet with alumni engineers at General Motors to deliver a State of the University address. It helped keep our associates connected and involved. When it came time to field a recruitment team to travel to Houghton," Terry continued, "we never had a problem. Just the opposite—we would need to turn people away."
Indeed, Michigan Tech's career fairs continue to be regularly oversubscribed. Thanks to Glenn's leadership, the University has established a Career Fest to accommodate even more employers.
The role of president is all consuming; year after year, Glenn has never really been "off duty." And during that time, his wife Gail has been standing right beside him, as supportive of Michigan Tech as she is of her spouse. The two of them have made an unbeatable Husky duo, and the University is better because of their significant contributions. I know the extended Michigan Tech community wishes them the very best as they return to faculty life here at the University.
Thank you, Glenn, for your leadership.
"During his 15 years of service as president, Dr. Mroz has ensured that Michigan Technological University remains a thriving university that provides an exceptional educational experience for Michigan's next generation of innovators. Dr. Mroz understands Michigan Tech's important role in the economic comeback of our state, as well as smart development in northern Michigan's rural communities. In addition to his academic leadership, I applaud Dr. Mroz for his commitment to regional initiatives, such as MTEC SmartZone's collaborative deployment throughout the UP and promotion of STEM careers for Michiganders of all backgrounds. Thank you, Glenn, for your leadership."
Michigan Technological University is a public research university founded in 1885 in Houghton, Michigan, and is home to more than 7,000 students from 55 countries around the world. Consistently ranked among the best universities in the country for return on investment, Michigan's flagship technological university offers more than 120 undergraduate and graduate degree programs in science and technology, engineering, computing, forestry, business and economics, health professions, humanities, mathematics, social sciences, and the arts. The rural campus is situated just miles from Lake Superior in Michigan's Upper Peninsula, offering year-round opportunities for outdoor adventure.