Origins of Orbion: When Preparation Meets Opportunity

Houghton is the launch pad for Orbion Space Technology, one of the brightest stars in a newly imagined space economy where small satellites are huge game changers. Research ingenuity and the right timing coalesced to propel Orbion forward following its establishment in 2016, says CEO Lyon (Brad) King, Michigan Tech's Richard and Elizabeth Henes Professor of Space Systems. King leveraged two decades of on-campus research and education to launch the off-campus company and lead the world, and perhaps the solar system, into a new space age.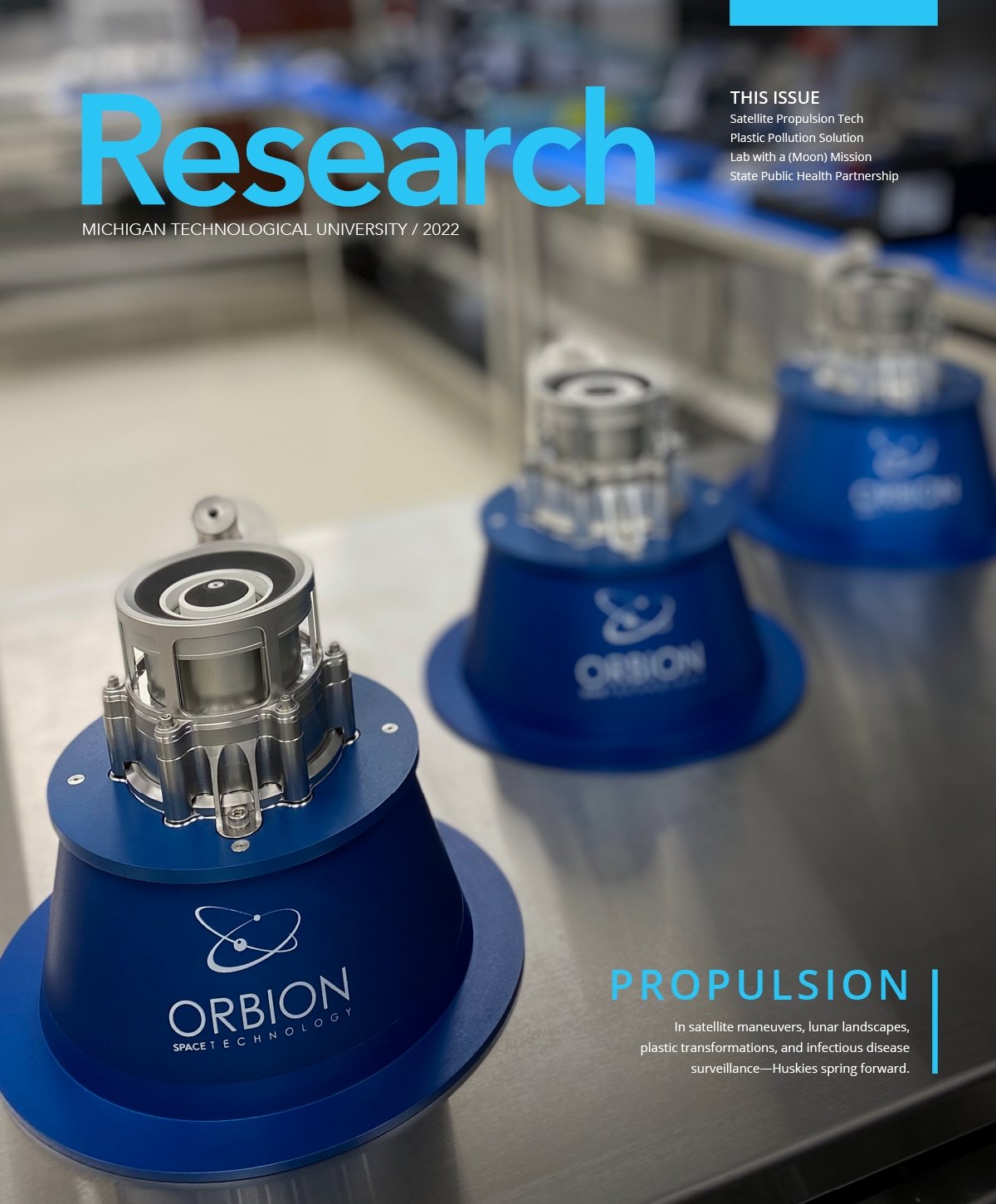 On the cover: In satellite maneuvers, lunar landscapes, plastic transformations, and infectious disease surveillance—Huskies spring forward. Image Credit: Jason Makela
---
Research is published by University Marketing and Communications and the Vice President for Research Office at Michigan Technological University, 1400 Townsend Drive, Houghton, Michigan 49931-1295.
Nicole Kelly—Creative Director
John Lehman—Vice President for University Relations and Enrollment
Ian Repp—Associate Vice President for University Marketing and Communications
David Reed—Vice President for Research
Cathy Jenich—Assistant to Vice President for Research
Natasha Chopp—Research Office
Cyndi Perkins—Senior Content Specialist
Jessie Tobias—Copy Editor
Sarah Atkinson—Studio Production and Creative Manager
Ben Jaszczak—Multimedia Specialist
Megan Ross—Digital Support Manager
Jen A. Miller—Freelance Writer
Joel Van Diepenbos—Student Photographer
Comments to the editor
magazine@mtu.edu
Address changes
gccolaro@mtu.edu
Learn more about research at Michigan Tech online.