Therapeutic horseback riding. Education in remote communities. Clean water for an island nation. Across the globe, Huskies work and live for a cause.
Ranontsika means "our water" in Malagasy, the primary native language spoken in the island nation of Madagascar. And water—safe, drinkable water—for the people of Madagascar has become Luke Barrett's life's work.
Barrett, a Michigan Tech Peace Corps Master's International (PCMI) program alumnus who received his MS in Environmental Engineering in 2013, is the founder of Ranontsika, a non-governmental organization (NGO) that builds small water production plants to treat and deliver safe drinking water to communities in rural and urban Madagascar.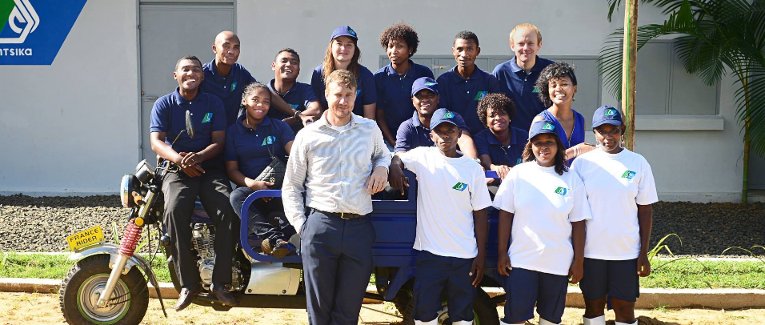 Located in the Indian Ocean off the southeast coast of Africa, Madagascar presents a plethora of problems for environmental engineers like Barrett, who would make potable water readily and affordably available. Believed to have split off from the Indian peninsula some 88 million years ago, the entire eastern coast of the fourth largest island in the world is ridged by a steep, rocky slope. The rest of the island ranges from tropical rainforests to dry, desert-like shrublands, to mangrove swamps. Not the most hospitable terrain for people or for engineering projects.
"There's a lack of reliable infrastructure in the urban areas, a lot of poverty, and about 70 percent of the people live in small villages and towns with limited accessibility," says Barrett.
He's facing other challenges, too: electricity that goes off without warning, Internet service that grinds to a halt, government bureaucracy that slows things down to a crawl.
Barrett's interest in drinking water began in a lab, where he hoped to develop a natural coagulant for water treatment. That project didn't pan out, and after his Peace Corps service in Madagascar, he took a job with BushProof, a humanitarian enterprise that specializes in developing custom water supply technologies for remote regions. There, his attention turned to water quality and analysis.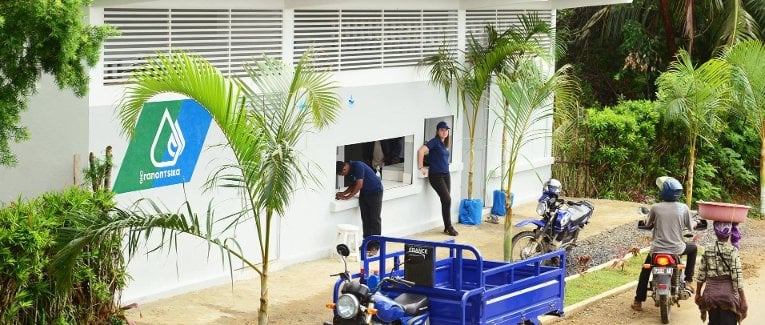 "It's drinking water in the context of engineering and design, business and international development that really interests me," Barrett explains. So he joined a French NGO called 1001fontaines, whose goal is to bring safe drinking water to 1 million people by 2020. As 1001fontaines' Madagascar project manager, he founded Ranontsika to implement 18 new water stations—micro water treatment plants run by locally recruited entrepreneurs. "Kind of a franchise model," Barrett calls it. So far the NGO has completed 11 stations. They aim to complete the other seven by
mid-2018.
"We then plan to spend about a year going back and looking at the details of how the stations work, tweaking the technical, managerial, and business aspects," Barrett says.
He's particularly engaged with 1001fontaines' service model. "They not only focus on water quality, but on developing a viable business model for delivering it to the beneficiary.
"It's drinking water in the context of engineering and design, business and international development that really interests me."
Engineering a quality product as well as making sure it can be implemented in a sustainable fashion is something that keeps me interested in the work.
What does the future hold for Luke Barrett? At least five more years in Madagascar, perfecting and documenting what he calls an "operator-friendly, modular technology and service model that can be scaled elsewhere." He wants to stay engaged with the details of the work. "I guess that means developing as a research and development professional. At least that's one track. The other track is to build a small cabin on a river somewhere and go live quietly."
Based on Barrett's work so far, track two may be appealing, but it's much less likely.
---
It was the honeymoon of a lifetime. Jim and Jan Tanis traversed the slopes of Mount Kilimanjaro, crossed Tanzania on safari, and finished their journey by visiting the mountain gorillas in Bwindi National Park in southwestern Uganda.
At least they thought they were finished. While they were in Bwindi, they met Brian, a child of clear promise whose access to education was virtually non-existent. Their hearts were touched; they couldn't get Brian out of their minds.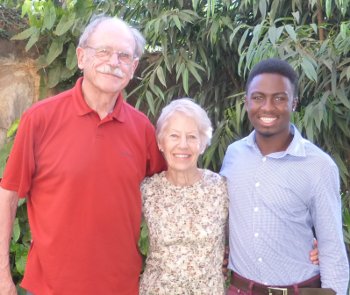 For a year, they sponsored the boy in secondary school in Rukungiri, a rural town not far from Bwindi. He has since gone on to law school, where he is studying human rights law with the help of another sponsor. But there were so many more children in Bwindi, in a village called Buhoma. Public schools in Uganda are few and far between, and while there is some government support for secondary schools, they are not free, so the children in poor, remote areas like Bwindi make do with spotty education, if that.
So in 2010, the Tanises established a charity called the Bwindi Community Program (BCP), at its heart, a primary school called Bwindi Watoto. (Watoto means children in Swahili). They sought sponsors for children to attend the school. The first year, there were 20 sponsored children. By 2015, that number had grown to 131, and their education ranged from primary through secondary school, vocational training, and university courses.
A Michigan Tech alumnus with a BS in Geological Engineering and an MS in Geophysics, Jim Tanis '57 '58 is a retired oil company exploration geophysicist who spent 21 years with ConocoPhillips Worldwide and eight years with Shell Oil. He has lived in six countries and traveled extensively in developing regions. His life and work have given him a deep understanding of cultural diversity and the value of education in lifting people out of poverty and despair.
"The challenge keeps us actively engaged in helping a part of the world that so greatly appreciates the time and effort it takes to educate and support their children."
Jim is president of the BCP board of directors, which is made up primarily of US and Ugandan volunteers, and Jan is its treasurer. Jan is a retired controller for First Martin Corporation who has worked in commercial real estate development and management and served on a planning and zoning commission. Her role as treasurer is a key one: ensuring that the nonprofit stays in compliance with 501c3 regulations. She also is the link between the sponsors and students in the program, communicating with the students, reporting on their academic progress to sponsors, and coordinating the care of students with support on the ground in Uganda.
BCP is constantly seeking sponsors for students: children like Linnet, who loves science and wants to be a midwife. She has six brothers, only one of whom attends school. She will graduate from primary school this December (2017). But her education will stop there, Jim says, unless a sponsor is found.
The charity has also undertaken a number of school improvement projects, such as stabilizing the water and power on the campus. Currently they are trying to raise $70,000 for an e-Library, to provide Internet connectivity for research. The library will have study space for 140 students, open to the community. "It will be the first such facility in the district, and it's warmly anticipated by all," the Tanises say.
"The challenge keeps us actively engaged in helping a part of the world that so greatly appreciates the time and effort it takes to educate and support their children," he says. "We saw a need and are trying to fill it."
You can sponsor a child or donate in some other way to Bwindi Community Program.
---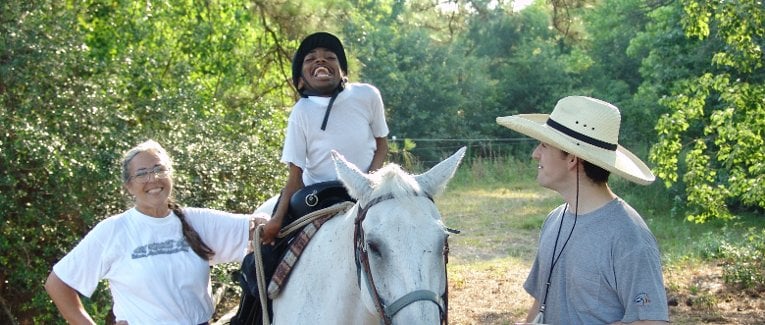 Living Life Without Labels. That's the motto of Sanna Roling's Dream Catcher Stables, an all-volunteer public charity in Houston, Texas, that teaches disabled and at-risk youth how to ride horses.
Roling, a Michigan Tech alumna who earned a BS in Biological Sciences in 1967, fell in love with horses while she was growing up in Wheaton, Illinois—but she never owned one. Instead, she earned her Girl Scout horsemanship badge and went to work at a nearby stable in exchange for riding lessons. "I spent my summers at the stable," she recalls.
Now her Dream Catcher Stables has nine horses—including thoroughbreds, cutting horses, dressage horses, and a mutt named Smut—all donated and used in its therapeutic riding program. Volunteers—134 of them—teach people with disabilities to ride and care for horses, while helping their families navigate their challenging lives. These volunteers contributed 4,174 hours during 2016. By mid-2017, 48 youth had already received riding lessons.
Running an operation like Dream Catcher wasn't always part of the plan. Roling initially wanted to become a veterinarian before majoring in biology at Michigan Tech. She then headed to the University of Massachusetts to work on her master's degree in chemistry. She met her husband, Paul, there, then raised two children before getting certified as a special education teacher in Texas.
And Roling never stopped riding. She learned that the San Jacinto Girl Scout Council had a riding program, but wouldn't allow disabled girls to ride. Roling was incensed. "Of course these girls can ride horses," she insisted. She took disabled Girl Scouts to the horse camp and demonstrated that they could ride. She went on to head a special ed riding program at the San Jacinto Girl Scout Camp.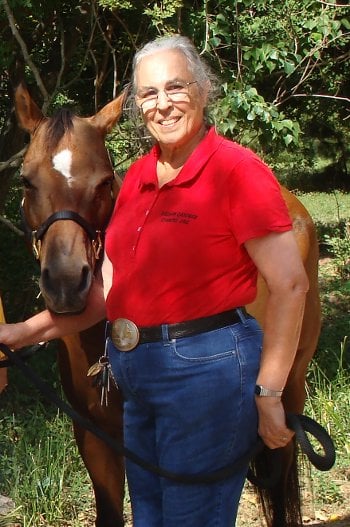 Roling also brought a special ed program to the Spring, Texas, Independent School District. She taught academics through horse language: math meant measuring food for horses, English involved horse and riding terminology. "And it worked" she says. "But we had no horses." So the program shut down.
In 1987, the Special Olympics Texas Area 4 asked her to bring riding to the games. She served as equestrian event director for seven years and world games equestrian coach for the 1995 Special Olympics.
Inspired by the impact she saw that horseback riding had on Special Olympics athletes, Roling established a riding program in the Houston area, but internal politics prevailed, and it did not work out. In August 1999, Roling tried again, incorporating Dream Catcher Stables. After two struggling years, she obtained a lease on 98 acres of raw land where Dream Catcher Stables now stands, inside the city limits of Houston. The land has since been sold to an investor who is permitting Roling to keep her stables there until he sells the property.
The work Dream Catcher does is not "therapy," Roling stresses. "I have no medical or therapeutic training. What we offer is recreation/education/sport riding. We teach them to ride and to groom and saddle a horse."
The stable also works with youth ordered by the court to do community service. "These are troubled kids," Roling says frankly. "They come thinking they are going to get to ride horses. I hand them a rake or a shovel or an old-fashioned push mower and put them to work. And 95 percent of them straighten their lives out."
"Of course these girls can ride horses."
Dream Catcher Stables has been named a GuideStar Platinum Seal Charity—the nonprofit evaluation program's highest ranking. Great NonProfits, another charity assessment organization, ranked it a Top Rated Charity in 2016 and 2017. The Michigan Tech Alumni Association recognized Roling with its Humanitarian Award this year.
But Roling is far from satisfied. She's launched a capital campaign to buy a permanent home with an indoor arena and a classroom, and she has more plans: become accredited by the Certified Horsemanship Association and Path International, establish an endowment fund, start a weekday program (the riding is now only on weekends), and increase the number of volunteers to serve more people.
Roling sums up her passion in Dream Catcher Stables' mission: "to provide a place where people with disabilities can be equal, capable and successful, growing to their maximum potential through interaction with horses in a positive environment."
Meet some of the kids whose lives have been changed by Dream Catcher Stables.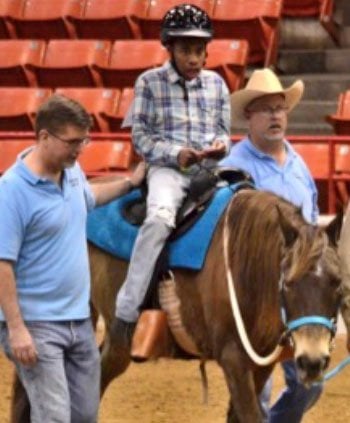 Draylon first came to Sanna's stables as an elementary school student in a wheelchair. Today he rides horses—and walks. "His parents swear that he walks because he rode our horses," Roling says.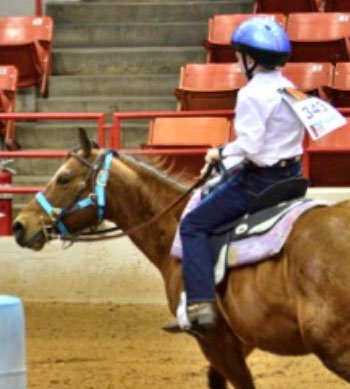 Blake had some behavioral issues when he arrived at Dream Catcher Stables. Within a year, he became an independent rider. Next came walking and trotting. Now he's working toward a lope. And he has been inducted into his school's National Junior Honor Society two years in a row.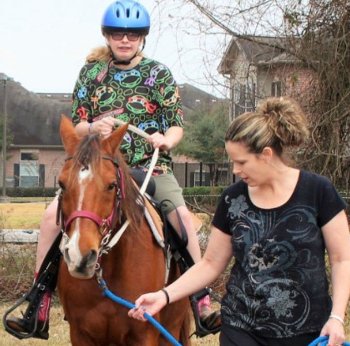 Gracie needs structure and clearly defined goals to avoid seizures and process ideas properly. Her horse-oriented mother leads the girl around on her horse, but Gracie's personal goal is to ride independently.
Michigan Technological University is a public research university founded in 1885 in Houghton, Michigan, and is home to more than 7,000 students from 55 countries around the world. Consistently ranked among the best universities in the country for return on investment, Michigan's flagship technological university offers more than 120 undergraduate and graduate degree programs in science and technology, engineering, computing, forestry, business and economics, health professions, humanities, mathematics, social sciences, and the arts. The rural campus is situated just miles from Lake Superior in Michigan's Upper Peninsula, offering year-round opportunities for outdoor adventure.