Have you ever wondered who lived in your house before you? Not the people you bought it from, but the people who built it more than 100 years ago? Were they Finnish or German or Cornish? Did they work for the mine, or were they shopkeepers?
What did people do during winter of 1978, when 355 inches of snow fell, and the roads were snowed in for days at a time?
Did the mine bosses like your great-great-grandfather, or did they think he was a bit too ornery?
The Keweenaw Time Traveler enables us to answer these questions, to travel through time, and to explore the Keweenaw Peninsula with the click of a mouse.
A Digital Time Machine
The Keweenaw Time Traveler (its official name is the Copper Country Historical Spatial Data Infrastructure) is an online, map-based application that uses maps, historical documents, US Census data, and personal narratives to create a database about the changes that the natural, social, industrial, and built environments have undergone from 1850 to present. Using participatory Geographic Information Systems (GIS), the project builds a historical record of the Copper Country that is interactive and constantly evolving.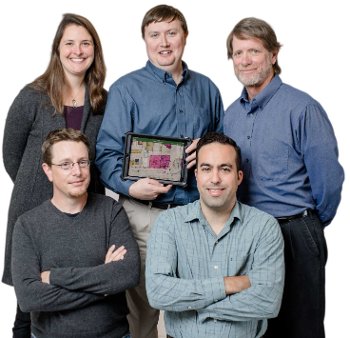 The project is supported in part by a three-year, $259,882 grant from the National Endowment for the Humanities. But ongoing participation comes from community members interacting with the Time Traveler.
Community participation in telling the story of the Keweenaw has shaped the project from the very beginning. Don Lafreniere, assistant professor of geography and GIS, and Sarah Fayen Scarlett, assistant professor of history, conducted a series of design charrettes around the community to test beta versions of the Time Traveler's builder apps, the participatory GIS interfaces that allow people to input information into the Time Traveler.
Robert Pastel, associate professor of computer science and affiliated associate professor of cognitive and learning sciences, collaborates on the project with Lafreniere and Scarlett. Lafreniere notes that Pastel's students assisted with the project by testing the Time Traveler in various computer science courses. Those students also helped during meetings with community groups to improve the app's interactive design
Currently there are four ways people can add information. The document-building-materials-app inserts information about a construction material a building is made from—brick, wood, stone, etc.—while the document-building-use app inserts information about how buildings have been used through time. The transcribing-maps app allows users to transcribe handwritten notes on old maps computer algorithms can't read. The explore app allows people to view the historical data on the map while also contributing information at the same time. Eventually, the explore app will be the primary way to input data into the Time Traveler.
To prevent inaccurate data—to err is human, after all—the apps use a consensus model that requires three people to agree on a particular data point before the information is added to the system. With the transcription component, the program runs an algorithm and parses the text to see if someone typed in the same or similar text.
"The Time Traveler is a great way to connect students with community and to build viable GIS skills."
"We want to make it fun for people so that while they are helping to build the Keweenaw Time Traveler, they're having a good time, and come back and interact with it in different kinds of ways. We're trying to figure out how to make it the most fun for the most people," Scarlett says.
Through beta testing, the researchers discovered different age groups seem to prefer interacting with the Time Traveler in different ways. Younger people seem to prefer a game-like environment, in which inserting information comes from specific tasks prompted by the program. Other people prefer to navigate to places of their choosing to add data.
"We say, 'Where do you live? What's your favorite place in the Keweenaw? Let's find it.' We can then zoom in to a familiar place," Scarlett says. "People have a better experience when they feel oriented with the maps to a place that they know. When they get to a place or building that's familiar, we can show them how to look at that building with maps from different years, to see how it's changed through time."
Stories of the Keweenaw—From Anywhere in the World
Scarlett and Lafreniere emphasize that the Time Traveler allows people who have connections to the Keweenaw but live elsewhere to enter the discussion about area history and contribute their stories.
"Just like sitting around the coffee shop talking about old times, we're providing a way for people to do that in a digital space."
Keweenaw Time Traveler isn't meant to only record what happened 100 years ago. The researchers say that while they have a bevy of historical information, they also encourage people to enter their personal stories from their lifetimes, whether from last year or decades ago. Use the explore app to enter a memory about a specific place and upload up to three images, whether photos or files.
In the future, Lafreniere and Scarlett plan to do themed calls for data input, such as one that focuses on memories from the winter of 1978–79, or a call to alumni to contribute favorite memories from their college years in specific buildings on campus.
"I think it'd be fun to do one in the depths of winter this year around Winter Carnival," Lafreniere says. "What if we did one about the hockey championship from last winter? We want to really emphasize this doesn't have to only be about really old stuff."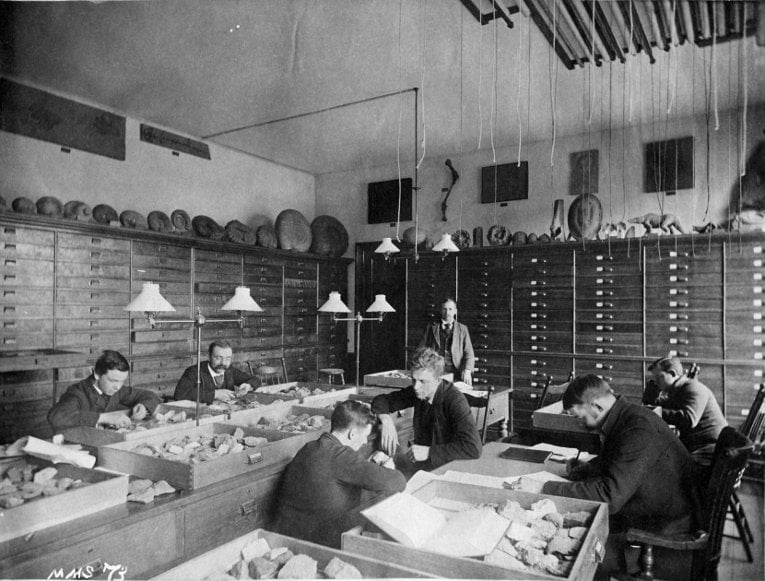 Just the Beginning
History is made every day; each of us participates in the construction of our community's history. The Time Traveler is another way to contribute to the historical record of the Keweenaw Peninsula.
"This is the very beginning. We are just getting data in," Scarlett says. "This is intended to have a long life and to keep growing dramatically and in ways people want to see it happen. We want it to be a tool that people in the community can use to record what they think is important. There are all kinds of opportunities—limitless."
Share your story about a favorite place on campus or in the Copper Country. Start the Time Traveler.
Michigan Technological University is a public research university founded in 1885 in Houghton, Michigan, and is home to more than 7,000 students from 55 countries around the world. Consistently ranked among the best universities in the country for return on investment, Michigan's flagship technological university offers more than 120 undergraduate and graduate degree programs in science and technology, engineering, computing, forestry, business and economics, health professions, humanities, mathematics, social sciences, and the arts. The rural campus is situated just miles from Lake Superior in Michigan's Upper Peninsula, offering year-round opportunities for outdoor adventure.