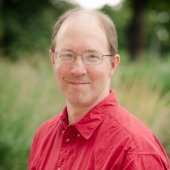 Will Cantrell
Dean, Graduate School
Welcome to Michigan Tech!
We are glad you have chosen Michigan Tech to pursue your graduate studies, and we look forward to welcoming you on campus. Graduate school will require you to grow academically, professionally, and socially in order to achieve your goals. We look forward to helping you achieve your goals. Many groups on campus are eager to welcome you to campus and details about these groups are below. Welcome again, and Go Huskies!
---
Schedule and Description of Graduate School Events
Welcome to Graduate School
Monday, August 21, 2023
2:30-3:30pm | Presentation | Rozsa Center

On campus students: Please register on your portal so we can plan for your attendance!
Online students: This event will be livestreamed on Facebook and recorded. You may attend in person without registering if you are on campus.
Meet the Dean, Graduate Student Government, Career Services, and more.

3:30-4:30pm | Reception | Rozsa Center Lobby
Join us to meet new students and interact with Career Services, Library, Graduate School staff, and more!
Orientation to Graduate Studies and Research
This required training program will be offered online on Canvas. You will be introduced to the expectations for graduate students and the basics of responsible conduct for research. Enrolled students will be emailed specific information based on their degree program.
Please contact the Graduate School with any questions.
Graduate Student Government
The Graduate Student Government sponsors social events for students throughout the semester.
Van Pelt and Opie Library Introduction
The Van Pelt and Opie library is here to help you succeed! At this event, librarians will share tips and tricks for getting the most out of the library's electronic and physical resources. After that, we'll tour the library so you can find your favorite study room, check out a GoPro, take a peek at the 3D printers, and learn where to get research help once the semester has started.
This event will take place in the library's East Reading Room. Enter the library through the main doors and walk straight ahead. Walk all the way down the central area; the East Reading Room will be to your left and signs will highlight the event.
Fall dates and times are coming soon!

January 9, 11:00a-12:15pm - Register to attend January 9th

January 10, 1:00p-2:15pm - Register to attend January 10th
For more information about the library's resources and services, visit our Ask Us page.
Graduate Teaching Assistantship Orientation
The GTA Orientation Schedule is available on the Center for Teaching and Learning (CTL) website and takes place before the start of fall semester.
Program Orientation and Safety Training
Individual programs may also have orientation sessions. Please contact your graduate program director for more information.
International Student Information
The office of International Programs and Services will welcome international students to campus and provide additional information.