Michigan Technological University began as the Michigan Mining School in Houghton in 1885. Established by the state of Michigan to train mining engineers to better operate the local copper mines, the school started with four faculty members and 23 students on the second floor of a building on Montezuma Avenue in Houghton. The building, operated as the Houghton Fire Hall for decades, is now a nightclub and restaurant.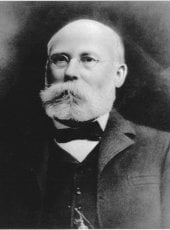 The Michigan Mining School and the subsequent Michigan College of Mines trained nationally and internationally recognized mining engineers. Our first president, Marshman E. Wadsworth (1887-98), oversaw creation of a strong faculty, movement to our present campus location, and a college mission.
---
Under President Fred W. McNair (1899-1924), the college consolidated its faculty, added several buildings and modified the academic programs. McNair also led the school through the lean World War I years, and he placed the College at the disposal of the armed forces for war training.
---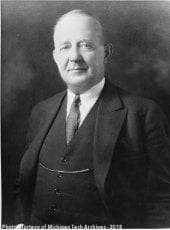 The next era was a difficult one. As the Michigan College of Mining and Technology, money was tight, and, at times, department heads and President William Hotchkiss (1925-35) took pay cuts. The College was able to succeed, however, keeping current with changes in society, notably assembly line production and forest management and wood utilization. To these ends, programs in chemical, electrical, civil, and mechanical engineering, and in forestry were added.
The enrollment numbers in 1931 were: 130 in electrical engineering, 117 mining engineering, 88 metallurgy, 79 civil engineering, 75 mechanical engineering, 71 chemistry/chemical engineering, and a total of 591.
---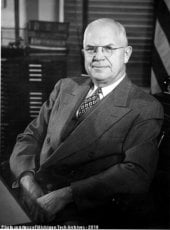 President Grover C. Dillman (1935-56) oversaw dramatic changes in the College, including the establishment of a branch campus 250 miles east in Sault Ste. Marie. Also noteworthy was the creation of the Memorial Union Building (MUB), which (now remodeled) remains the center of campus, with a cafeteria, billiards, meeting rooms, student organization offices, and lounges. The original bowling alley was in 2017 converted to a MakerSpace, where the campus community has tools and space to work on innovative projects. During Dillman's tenure the College also procured the village of Alberta, Michigan, with its sawmill and 4,000-acre forest from the Ford Motor Company, and acquired Portage Lake Golf course. Post-war enrollment blossomed and in 1948 was 1,789 in Houghton and 384 at the Sault branch, and temporary housing was established for the influx of veterans. Programs added during this era included engineering administration, physics, and geological engineering.
---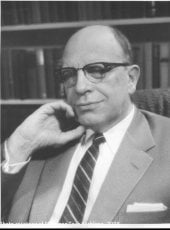 During J. Robert Van Pelt's tenure (1956-64), Michigan Tech moved from a college to a university. He also revived the long-dormant PhD programs and began an aggressive research initiative. There was a lot of major construction, such as the Civil-Geology Building, Wadsworth Residence Hall, Fisher Hall (classrooms, labs, and mathematics and physics offices), the first phase of Daniell Heights housing complex, and most importantly, a new Library.
By 1963, enrollment had reached 2,700, with only 44 in mining. The need for a new name to better reflect the academic programs (now including nuclear engineering and biological sciences) was great. The students also wanted a new name that would downplay mining. By the end of Van Pelt's tenure, they would get their wish.
---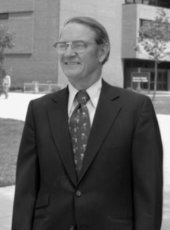 We became Michigan Technological University in 1964 and, with a new president, Raymond L. Smith (1965-79), enrollment would grow from 3,400 to more than 7,600, and the number of faculty would increase to near 300.
During Smith's tenure, a long-range physical plan was developed, resulting in major renovations to the campus. US Highway 41 was relocated, and a campus mall was developed. New high-rises included the Mechanical Engineering-Engineering Mechanics Building, Chemistry-Metallurgy Building, Electrical Energy Resource Center, and the Administration and Student Services Building. Coed Residence Hall was also built, and a new upper campus was developed. Located on a hilltop south of the main campus, new buildings "up on the hill" included the Student Development Complex with Student Ice Arena, the Gates Tennis Center, and the Forestry Building.
Physical expansion was equaled by growth in curricula. New programs were created in bioengineering, computer science, forest engineering, industrial engineering, science teacher education, transportation, water resources, and engineering science. The University was organized into the College of Engineering, College of Sciences and Arts, School of Business and Engineering Administration, School of Forest Resources and Environmental Science, and School of Technology.
During Smith's tenure, research dollars were increased 250 percent, and nearly 66 percent of faculty had PhDs, compared to 27 percent in 1964. Laboratory equipment and computer facilities were also improved, and the Sault Branch was given autonomy after it was elevated to a baccalaureate institution. (It is now Lake Superior State University.) Read more about Smith and his enduring legacy in "Once a President, Always a President," in Michigan Tech Magazine.
---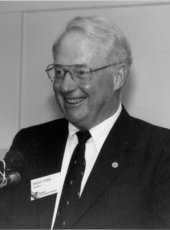 Dale F. Stein (1979-91) was president when Michigan Tech began to place more focus on the Graduate School and research. The Governor's Commission on the Future of Higher Education named Michigan Tech as one of the state's four nationally recognized research universities, along with the University of Michigan, Michigan State, and Wayne State, which cleared the way for special research funding consideration by the state.
State funding didn't keep up with enrollment gains, however, and President Stein had to make cuts soon after taking office. Through effective budgeting and fund raising, MTU was able to compensate for reduced state assistance. Michigan Tech added faculty, increased their salaries, increased cultural activities and support for Library acquisitions, and upgraded the computer mainframes and other computer systems.
The University's centennial was celebrated in 1985, and the Century II Capital Campaign was launched. "Spheres of Excellence" were identified for future funding and included undergraduate engineering and science; materials and material processing; computer-aided engineering; forest, bio-tech, and natural resources; environmental engineering/science; wood products development; manufacturing; and scientific and technical communication.
Spurred by the campaign, funding levels reached new heights under the Stein era. By the end of the 1980s, annual giving would top $1.8 million per year, and research funding would exceed $10 million annually. The $47-million Minerals and Materials Engineering Building was the pinnacle of the Stein years.
---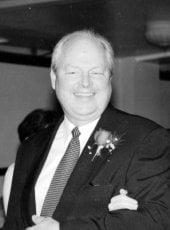 Curtis J. Tompkins (1991-2004) provided stability to Michigan Tech after a severe fiscal crunch in 1991 and repeated lean years of financial assistance. Under Tompkins' leadership, the University gained new academic stature. Several undergraduate and graduate programs have received recognition from U.S. News and World Report. Money Magazine included us in the "Best Buys in College Education." Michigan Tech had some of the nation's largest enrollments in several engineering programs, and the scientific and technical communication program.
Construction in the Tompkins era included the Rozsa Center for the Performing Arts, which features a 1,100-seat performing hall and brings world-class events to the campus and community. The $44-million Dow Environmental Sciences and Engineering Building brings together scholars from civil and environmental engineering, geological engineering and sciences, and biological sciences. The Noblet Forestry Building, greatly expanded, encompasses the Center for Ecosystem Science.
---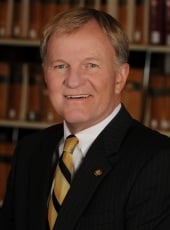 During the tenure of Glenn D. Mroz (2004-2018) Michigan Tech reached record-breaking enrollment levels for undergraduate, graduate, and women students. The University expanded its research funding to more than $72.5 million—the highest in Michigan Tech history. And the University stepped forward to take a prominent role as steward of a vital natural resource through its Great Lakes Research Center. Tech also increased its state and national presence with establishment of the Michigan Tech Research Institute (MTRI), in downstate Ann Arbor, Michigan. During the Mroz tenure spinoff technologies, the average rate of two to four annually, have flourished on Innovation Shore. The University completed Rekhi Hall, the expansion of J.R. Van Pelt Library, now the Van Pelt and John and Ruanne Opie Library; the Advanced Technology Development Center; Hillside Place apartment-style housing; renovation of Fisher Hall, home to Michigan Tech's mathematical sciences and physics departments as well as the Elizabeth and Richard Henes Center for Quantum Phenomena; and Wadsworth Residence Hall renovations.
New initiatives on campus under his leadership, outlined in the University's Strategic Plan, include a successful $215 million capital campaign, attaining 108 percent of its original goal. Sponsored programs continued to grow, topping $48 million annually. During Mroz's tenure, Michigan Tech raised more than $364 in philanthropic support.
For more highlights of the Mroz presidency, read "Glenn Mroz: Level 5 Leadership," in Michigan Tech Magazine.
---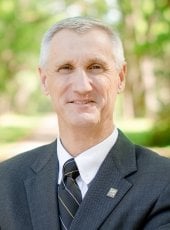 Richard J. Koubek began his tenure on July 1, 2018, bringing 30 years of experience in academia as a faculty member, administrator, and leader—and a commitment to working alongside students, faculty and staff to fulfill Michigan Tech's mission to lead as a global technological university.
In Fall 2018 Koubek spearheaded Tech Forward, an all-campus effort to provide a framework for future development. Nine institutional initiatives emerged based on developing solutions for natural resource, water, and energy problems; building autonomous and intelligent systems; creating technological solutions to enhance human health and quality of life; preparing culturally receptive leaders for a diverse world; and redefining education for the next generation.
To meet the technological, economic, and social needs of the 21st century, on July 1, 2019 Michigan Tech established the College of Computing—the first and only of its kind in the state of Michigan. During Koubek's tenure, construction began for the H-STEM Engineering and Health Technologies Complex, a $44.7 million capital outlay project, and the University launched Global Campus, home to its online and continuing education programs.
Learn more about Koubek and his vision for Michigan Tech in "Michigan Tech's 10th President," in Michigan Tech Magazine.