Untamed state parks on Lake Superior shores, the snowiest city in the Midwest, a 500-acre trail system, and temperate Keweenaw Peninsula summers ideal for hiking, biking, camping, and paddling—four seasons of wow await at Michigan Tech.
Indoor recreation at our Student Development Complex offers endless ways to enjoy leisure time and improve fitness. Ice rink to climbing wall, dance studio to weight-training room, tennis courts to pool, Tech offers campus and community programs for all ages, interests and athletic levels.
---
Activities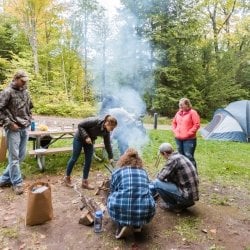 With outdoor activities for every season, the Keweenaw is an ideal place to take a camping staycation. Why drive several hours when you can set up a wilderness retreat just minutes from campus? Enjoy the Keweenaw's relaxed summer atmosphere—take summer classes and camp out during the weekends. Immerse yourself in the Upper Peninsula fall and experience firsthand the changing of the seasons. Camp at Fort Wilkins in Copper Harbor and take a trip back in time. Check out Michigan Tech's Outdoor Adventure Program website, and you'll see there's no shortage of campsites in the Keweenaw.
---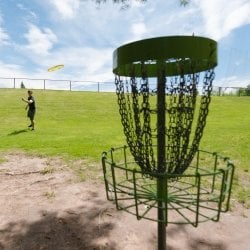 Birdies, drives, putts—and baskets. Disc golf is fun, inexpensive, and easy to try. Find the nine-hole course, opened in 2006, near A. E. Seaman Mineralogical Museum, across from the Intramural Fields on Sharon Avenue by the Advanced Technology Development Complex. The new, 18-hole course (signage going up in spring 2017) is on the other side of Sharon Avenue. Park by the softball diamonds and enter the Tech Trails. You'll see the first tee on the right. Weekly league play (including winter play on SDC courts when available) is arranged via listserv. Email ksgulan@mtu.edu to get on the list.
---
Hiking
Whether you'd prefer to blaze your own trail or just stick to the beaten path, the Keweenaw offers a plethora of hiking opportunities. Admire the view of Lake Superior atop Mount Houghton and see for yourself why the Keweenaw Peninsula is known as "Michigan's Top of the World." Or take a hop, skip and a jump to the Tech Trails. Explore historic mining towns, or venture into the woods and spy wildlife. Not one for mountaineering? Get outside and have an out-the-door experience on a guided hike with Michigan Tech's Outdoor Adventure Program. No matter where you go, one thing is for certain when you're afoot in the Keweenaw, you're sure to witness something amazing—so don't forget your camera!
---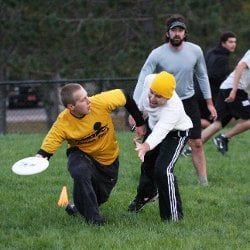 The Michigan Technological University Intramural Recreational Sports Services Program mission is to provide a wide variety of recreational activities that will appeal to the leisure-time pursuits of the students, faculty, and staff. We encourage that participation be for fun, fitness, and friendship. We promote and honor individual and team sportsmanship. We provide the opportunity for students to compete against and interact with other students, thus promoting good citizenship and socialization. Student employees develop social and leadership skills that are essential for lifelong learning. The Intramural-Recreational Sports Services program is designed to be consistent with the educational objectives of Michigan Technological University.
---
Paddling
With an abundance of rivers and lakes, the Keweenaw is a paddling mecca. Tour the beautiful shorelines of Lake Superior, which has the largest surface area of any freshwater lake in the world. Meet fellow paddlers at a weekly social paddle hosted by the Keweenaw Paddling Club at Michigan Tech. In the winter, brush off the snow and brush up on your skills—the club holds lessons on basic paddling maneuvers, including kayak rolling, in the Student Development Complex pool. Don't know where to start? Launch yourself into something new with Michigan Tech's Outdoor Adventure Program. Try your hand at paddling on a day trip with the program and scout out wildlife from a rental kayak or canoe on a serene river.
Canoeing and Kayaking in Copper Harbor, Paddling in the Keweenaw
---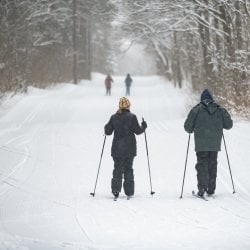 Skiing
Whether downhill or cross-country skiing is your pleasure, the Keweenaw offers some of the best terrain and trails in the Midwest. Our area is powdered regularly, receiving an average snowfall of 200 or more inches a year. Mont Ripley welcomes all snow enthusiasts with beginner areas and lessons, as well as more advanced terrain, including more than 30 features with jumps and slides to challenge your abilities. Mount Bohemia is not recommended for beginners; designed for the backcountry thrill seeker, this hill has the longest runs with the highest vertical and deepest powder in the Midwest. If you prefer the quietude of the woodlands, have a cross-country adventure on one of the Keweenaw's many trail systems. The Tech Trails and Recreational Forest, located right here on campus across from the Student Development Complex, spans 500 acres with 35 kilometers of trails, half of which is lighted during the winter months.
Copper Harbor Trails Club, Keweenaw Trails, Mont Ripley, Mount Bohemia, Nordic Ski Club, Tech Trails, Keweenaw Trail Annual Memberships, Up North Trails
---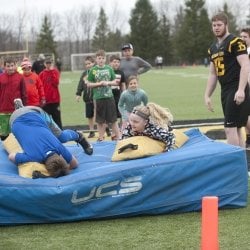 Michigan Tech Sports Camps are for a wide range of ages and interests. Participants develop confidence and skills in a sport or activity and receive guided lessons and valuable practice from Michigan Tech coaches and assistants. Practicing with other dedicated players and coaches will push your child to be his or her best. Participants may elect to stay in Michigan Tech's residence halls, and get a taste of college living, or commute from home.
---